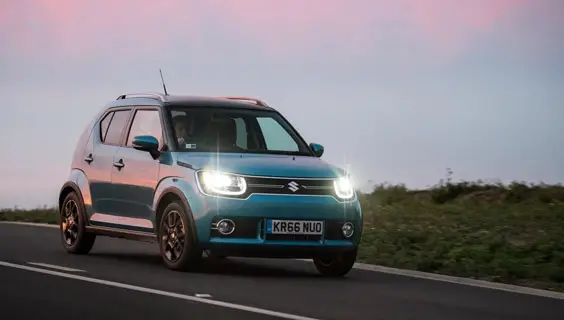 By Liam Bird
Since it went on sale in the UK in January this year, Suzuki's new and rather cheeky little Ignis seems to have gone down rather well. On the global stage it bagged third place in the new Urban Car category of the 2017 World Car of The Year, whereas more domestically certain fellow motoring writers have liked it so much they've even placed their own orders for one. This week – coincidentally the week in which Suzuki let me borrow one from their press fleet – the Ignis has won yet further applause: Mrs B took to it as soon as it arrived – I've practically had to prise the Ignis's keys from her grasp in order to drive it.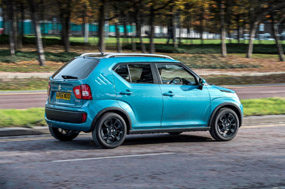 Measuring just 3,700mm long, 1,660mm wide, 1,595mm high and weighing in at just 810kg in its most basic spec (or 920kg fully loaded), the Ignis sits on Suzuki's Next 100 platform, as first used on their Baleno. It is, say Suzuki: "The first of a new genre: a city-car crossover". Quite what FIAT, makers of the similarly sized and similarly four-wheel drive Panda have to say about that I couldn't comment. But at least the Ignis's 21st century retro styling means it's sure to stand out from the more sober-suited urban-bound crowd. That sloping C pillar complete with three creases deliberately alludes to Suzuki's SC100 Whiz-kid.
"Comes with with either front-wheel or four-wheel drive"
In the 1970s the Whiz-kid was rear-engined and thus rear-wheel drive. Whereas the Ignis, like many a cross-over, is front-engined and can be had with either front-wheel or four-wheel drive. It gets a slightly higher ride height than much of its city-car sized competition too. But let's not get carried away. The Ignis might have Suzuki's ALLGRIP Auto system, hill descent control, and Grip-Control – if you pick the SZ-5 that is – but its design is for snowy driveways and such-like. It's not for crossing deserts or rain forests.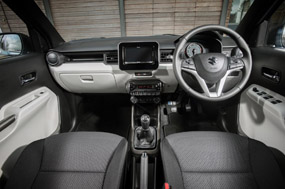 It was the top-specced SZ-5 that Suzuki lent me, complete with their SHVS mild hybrid system. Here's the science bit… Adding just 6.2kg to the Ignis's overall weight the SHVS incorporates an Integrated Starter Generator (ISG) which acts as both a generator and starter motor. The ISG is belt driven and assists the engine during vehicle take off and acceleration.
It also generates electricity through regenerative braking which is then stored in a separate lithium-ion battery placed under the front passenger seat. By detecting when the brake pedal is depressed the SHVS recharges both the lithium-ion battery and the conventional 12 volt battery. It also helps helps Suzuki reach a top class CO2 emissions figure of 97g/km plus achieve a fuel consumption figure of 65.7mpg on the EC combined cycle – in the 2WD model.
 "Take it out of the city and things can feel rather frantic"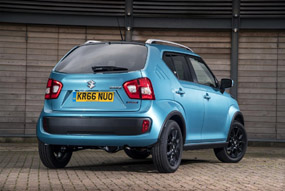 From a driving perspective, were it not for a graphic on the Ignis's beautifully clear dashboard telling you which way the power is flowing and when, you wouldn't know the SHVS (that's Smart Hybrid Vehicle by Suzuki incidentally) system was there.
Power – all 89bhp of it – comes from Suzuki's 1.2 Dualjet engine. It loves to be revved and matches the five-speed gear-box perfectly. Drive goes to the front wheels predominately with the rears only joining in when or if the ALLGRIP sensors detect a need.
Across town it's perfect. Diminutive dimensions and near goldfish bowl visibility make nipping in and out of traffic gaps a breeze. It's comfy too. Take it out of the city though and things can feel rather frantic. There's wind noise and road noise as a result of the Ignis's squared-off corners and hard interior plastics that do little to suppress things. The short wheel-base, small wheels and un-sophisticated suspension sometimes get caught napping by uneven surfaces. Plus, the extra ride height means there's more body roll than you might expect from something so feather-light.
"Responds readily to your inputs"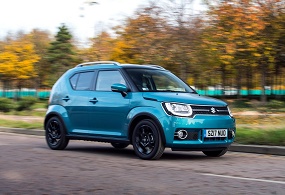 Nevertheless the Ignis always responds readily to your inputs and its need to keep things on the boil in a bid to maintain momentum is actually rather fun. And anyway, the Ignis's small boot and 30-litre fuel tank mean you're hardly likely to embark on a round the world trip in it. Unless, that is, you travel light and plan to fill up every 300 miles or so.
It's cheap, and if I'm really honest in places it feels it. But it's cheerful too. Few other cars pack this much personality and such a wide range of talents in to such a tiny package. If you're in the market for a city car try the Ignis. You'll be pleasantly surprised. That is if you can get your hands on the keys!
Suzuki Ignis SZ-5 SHVS 4×4 MT
Engine: 1,242cc 4Cyl Petrol
Power: 89 BHP @ 6,000rpm
Torque: 88.5 lbft @ 4,400rpm
Transmission: 5 speed manual, four-wheel drive
Performance: 0-62mph 11.5 sec
Max Speed: 103 mph
MPG: 60.1 Combined.
CO2: 106 g/km
Price: From £13,999