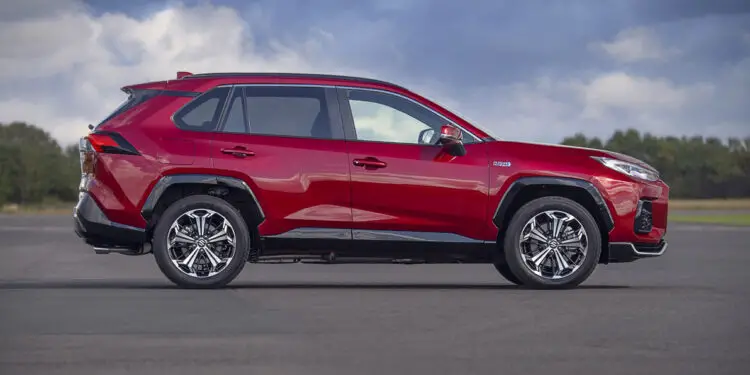 By Liam Bird
I emailed Toyota's press office the other day, as I occasionally do, to see if they would be willing to lend me one of their cars. It's been 11 years now since I first started tapping out my thoughts about the various vehicles I've been fortunate enough to have borrowed and driven, so that must mean it's been nearly 11 years since I first emailed Toyota. Various variants and models from their catalogues have been consigned to history since that first request left this desk; many new ones have been launched too. All have eluded me. The largest motor manufacturer in the world won't lend me a thing, and rarely do they answer their emails either. Even Bugatti sent me a reply. In 11 years of writing about all things automotive, I've yet to drive a press-fleet Toyota.
Or, have I?
"Badge engineering"
If you're reading this questioning what any of that's got to do with the new Suzuki Across mentioned in the title, may I suggest you take a longer, harder look at the accompanying pictures. Does not the Across look in any way familiar? Do you not think that from certain angles it looks like a bit – a lot – like a Toyota RAV4?
Badges, wheels, panel part-number stickers, and a different grille aside, the Across – pronounced A Cross, not across, incidentally – is a Toyota RAV4: It's a Toyota RAV4 PHEV to be precise. Toyota you see, took a 5% stake in Suzuki in 2019, which means that Suzuki, whose profit margins have been affected by European emissions regulations (that's why you currently can't buy a 4-seat Jimny, and all UK bound Suzukis are hybrids), were keen to indulge in a little badge engineering. Should you so wish, you can buy a Suzuki badged Toyota Corolla estate too. It's called Swace.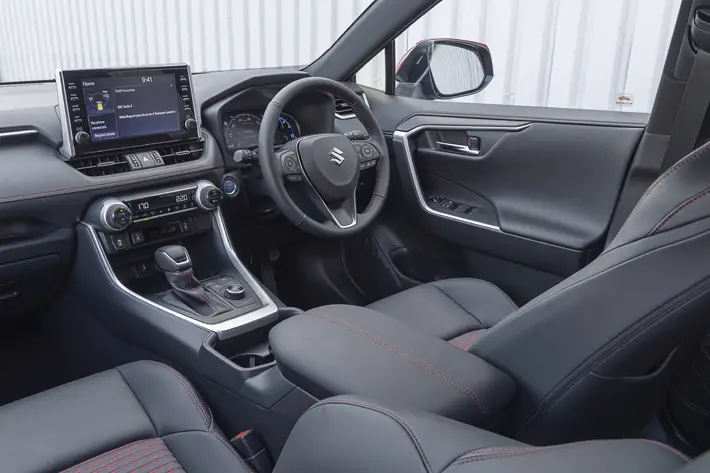 "Drives nicely"
If you're already a little bit confused by all this parts-sharing/car-sharing malarkey the good news (perhaps) is that the Across comes only in one spec. For £45,999 pounds – I know, for a Suzuki! (or a Toyota, for that matter…) you get a 5 seater Plug-in Hybrid SUV with 4-wheel drive, an automatic gearbox, a decent sized boot which contains a proper spare wheel, and a very tough, and long-lasting looking interior – think functional rather than funky, and there's no built in sat-nav. Not only that the Across has a combined (petrol and electric) power output in the region of 300bhp, the ability to sprint to 60 mph in 6 seconds, and say its makers (which one, I'll let you decide), the capability of doing 282.4 mpg.
No, that's not a typo. Then neither is it reality either. Yes, with an electric only range of 46 miles, you could potentially commute to work and back solely on electric power and a couple of charges a week. The Across drives nicely in electric only mode, it's swift (no Suzuki pun intended) and it's responsive.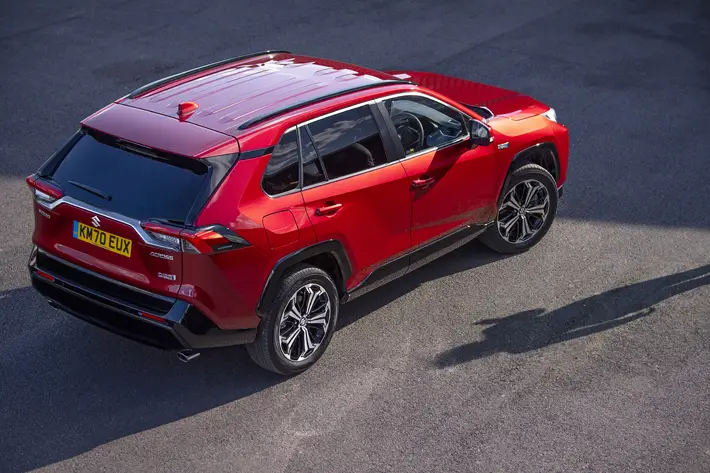 "Feels very uncomplicated"
It's quiet too. Nevertheless, it's even more eager in hybrid mode where the electric motors plug the gap in the petrol engine's torque curve, and as long as you don't attempt to drive the Across as if it were a, ahem, sporty, Sports Utility Vehicle, everything remains comfortable, predictable, and goes it where it should. Push a little harder however and the CVT transmission shows just how coarse the engine can sound, and the ride does become a tad choppy. One look at the Across though is probably all it takes to know that track days and lap records are probably not its thing. Driven sensibly you should easily achieve mid to high 40s mpg.
If all of that makes the Suzuki Across sound a little humdrum, rest assured it's not meant to. The Across, is a very easy car to get on with and although it contains some no doubt very complicated software and engineering, it feels very uncomplicated in everyday use.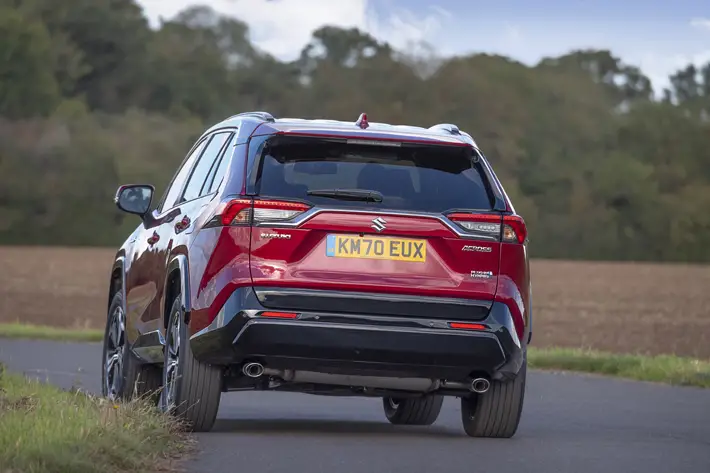 "Surprisingly quick"
It's practical, very well built, surprisingly quick, and it does its claimed electric only mileage. There are not many hybrids out there you can say that about. It is expensive though, you could but a Land Rover Discovery Sport for a similar outlay – quite whether that will be as reliable…
Your decision to purchase an Across or RAV4 might well simply come down to which dealer is closer or offers you the better deal. There's really that little in it. Me? I'd buy the Suzuki, simply because I've always got better service from them.
Suzuki Across
Engine: 2,487cc, 4Cyl, 16V, Petrol.
Power: 182.5 BHP @ 6,000 rpm
Torque: 167 lbft @ 3,200 – 3,700 rpm
Electric Motor Front: 134kW. 199 lbft
Electric Motor Rear: 40kW. 89 lbft
Combined Electric Motor Output: 302 bhp
Transmission: E-CVT Automatic
Performance: 0-62mph: 6.0 sec
Max Speed: 112 mph
MPG: 42.9 (WLTP Combined).
Weighted Combined MPG: 282.4