Suzuki Jimny (2019) – Review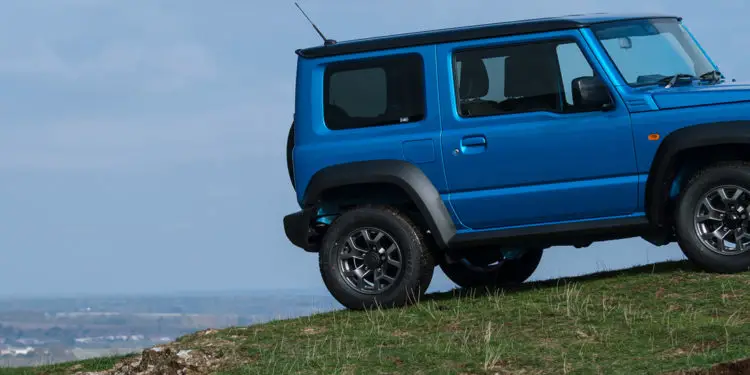 By Liam Bird
"But would you drive it to Goodwood and back?" It's a question that often gets asked in our house, either by Mrs B, when we're out and about in whichever press car that happens to under scrutiny that week, or by me when I'm struggling to decide if I could actually live with whatever it is I happen to be driving at that particular time. And it's never an easy one to answer.
The opening question, you see, encompasses so many different things that have to be taken into consideration: Is said vehicle comfy enough? It's a nearly 600-mile round trip from our place to Sussex; comfort and quiet are prerequisites. Is it capacious enough? The amount of stuff we take to The Goodwood Revival increases year-on-year; clothes, hats, shoes, camera gear, kitchen sinks… you name it, thus a large boot is essential.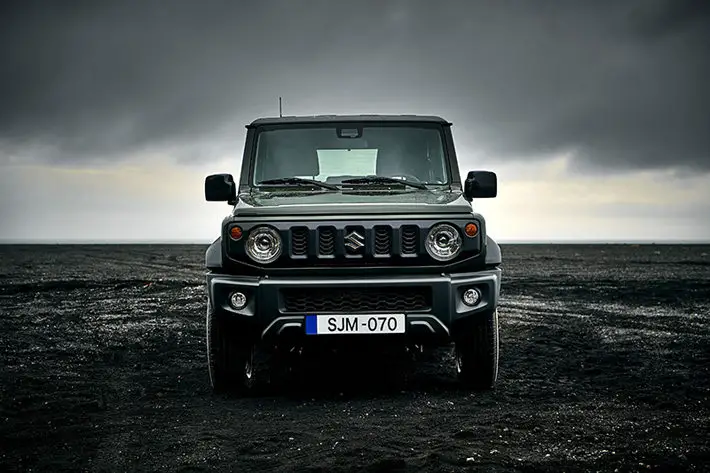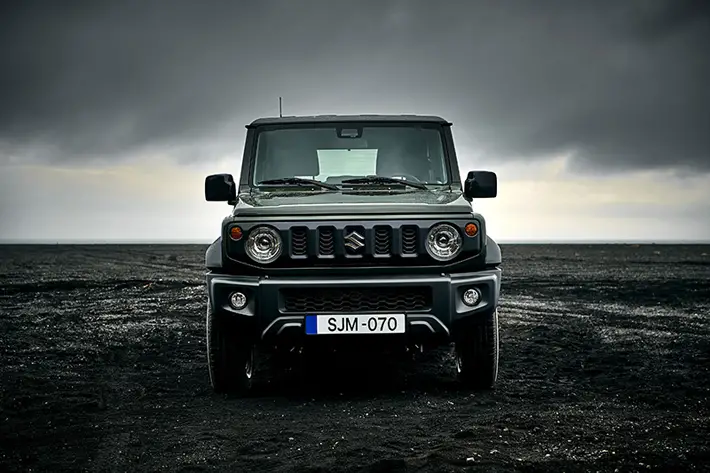 "Keeps me involved"
Is the car in question economical enough? No one wants a big fuel bill after all. Is it entertaining enough? As the person who's doing the driving, and over a variety of different roads, I'd rather something that at-the-least keeps me involved. And not let's not forget the big one: If it chucks it down with rain, will I be able to get off the car park without the aid of a tractor? Having been to a wet Goodwood Revival and having witnessed the resulting quagmire car parks first-hand I always make sure I've got something equipped with four-wheel drive booked over the second weekend in September – just in case.
This year I booked the new Suzuki Jimny.
Now, if you've read anything about the new Suzuki Jimny it no doubt says something along the lines of this: "Sizewise this new Jimny differs little from the car it's replacing; it is in fact just 20mm higher, 45mm wider (that helps with stability) and believe it or not, 30mm shorter. Luggage space therefore is tight to say the least."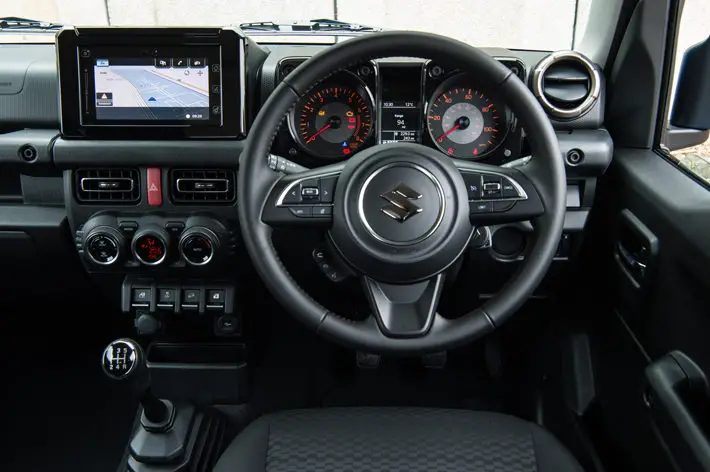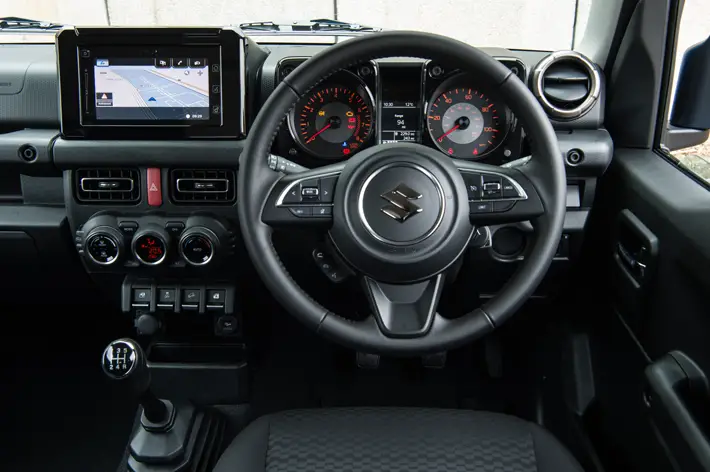 "It will go almost anywhere"
This: "The short wheelbase means it does still hop around a little. And should you go barrelling into a corner with too much enthusiasm there's still a generous helping of body-roll on offer."
And this: "Not that you'll be going anywhere particularly fast that is. Power – a modest 100bhp – comes from a 1,462cc inline four that's coupled to a rather lovely old-fashioned feeling long- throw 5-speed gearbox. 0-62 mph takes around 12.6 seconds and some short ratios mean motorway cruising speeds equate to in excess of 3,000 rpm. Overtaking too, requires planning".
Hmm… That's probably not really conducive to something you're considering a five hour each-way drive in. And me of all people should know. I wrote all of the above.
However, and in my and the Jimny's defence, I also wrote: "The Jimny's trump card is not the way it behaves on the road, but rather the way it copes when off it. Stop, pull the stubby lever behind the gear-stick back a notch, then press down it and pull it back another. In doing so you've selected low-ratio 4-wheel drive. You've also transformed the Jimny into a four-wheeled mountain goat; even on its factory-fitted road-biased tyres it will go almost anywhere you care to aim it."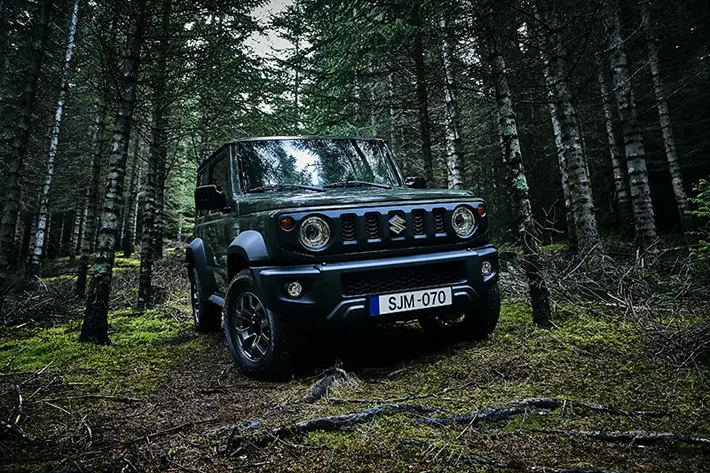 "Good views"
At least I didn't have to worry about the muddy car park bit.
The truth is I needn't have worried at all. Yes, on the M5, and the M4 – and the A417, the A419, and the A34 for that matter – the aforementioned short gearing made me wonder why Suzuki didn't fit the Jimny with a 6-speed, or even a 7-speed, gearbox (75 mph means a near electric blender-like 3,650rpm). But once free of the faster flow, the Jimny comes into its own. The higher driving position gives good views of the road ahead – handy for those planned overtaking manoeuvres – and the squared off corners and near goldfish bowl visibility make it a doddle to park and punt around town. The Jimny's flat refusal to do no more or no less than 40 mpg regardless how I drove it made calculating its range – and thus where to stop for fuel – a breeze.
But what of that tiny boot? Like all Jimnys that have gone before, the rear seats are best considered as occasional use items – no one over 4 feet tall will ever thank you for making them in the back of one for more than about half-an-hour. However… the backs of the rear seats are covered in the same chequer-plate plastic as what little there is of a boot-floor, they also fold completely flat. As a two-seater the Jimny makes for capacious companion – a four-wheel drive sports-car if you will (albeit one with limited performance).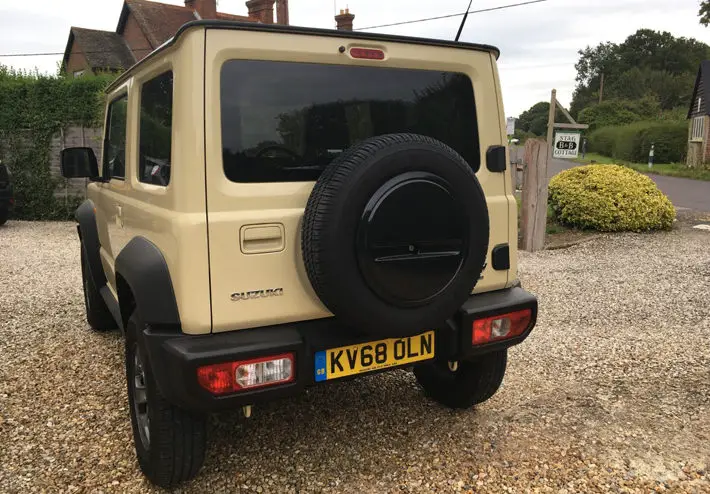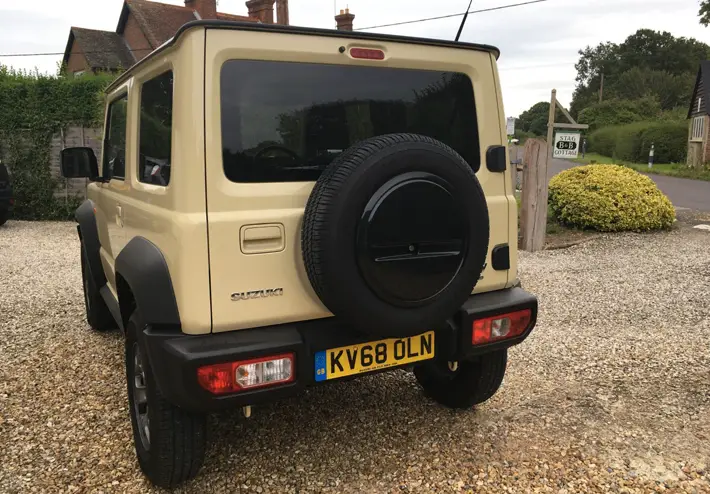 "Bumpy"
And then there's the character and, at present at least, the rarity. Few cars costing as little as the Jimny does are capable of making you feel as engaged – you really do have to drive it. Few cars too are as capable of drawing such attention. Every time we stopped, someone would ask about it. And if the amount of hand prints on the windows upon our return to it in the Goodwood car parks are anything to go by, many more took a not-so sneaky peak inside when we weren't there. But in seven days and 600-miles we didn't see another one. In comparison the priceless classics that packed the Goodwood paddocks seemed ten-a-penny.
OK, so the Jimny's bumpy, and yes it's noisy too. Point it at a corner with too much conviction and you'll be sawing its wheel like a Le Mans legend chasing a lap-record too (Google Andre Lotterer's epic Goodwood pole lap). But after a long day at the races its digital radio, heated seats, and should you need it, four-wheel drive, mean you'll be back at your B&B in no time at all, whatever the weather. And you'll be cosy, warm and well informed whilst doing so.
The truth is I wouldn't want to drive long distances in a Jimny every day, but given the chance I'd drive one to Goodwood again in a heartbeat. It's far from perfect, and yet it's almost the perfect go anywhere car.
Suzuki Jimny 1.5 AllGrip manual SZ5
Engine: 1,462cc 4Cyl 16V petrol
Transmission: 5 speed Manual, Selectable Four wheel drive with low range option
Power: 100 bhp @ 6000pm
Torque: 95 lbft @ 4,000rpm
0-62MPH: 12.6 Sec
Max Speed: 90 mph
CO2: 154 g/km
MPG: 41.5 combined
Price: from £15,499
A gallery of Liam's trip to Goodwood is below
All pictures: Rebecca Thomas
[Best_Wordpress_Gallery id="103″]