Range Rover Autobiography Ingenium – Review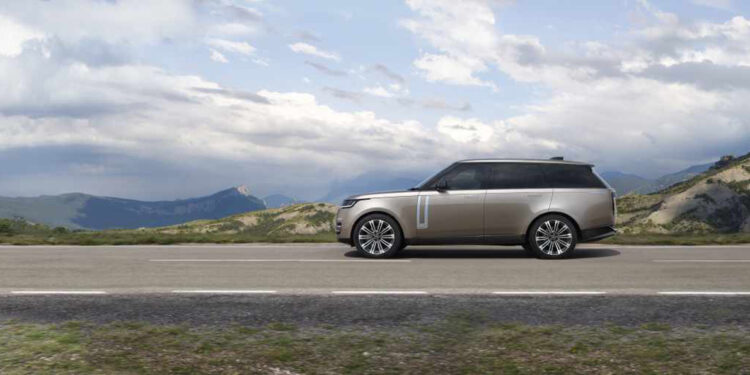 By Liam Bird
Usually when someone in PR hands you the keys to their brand new car it goes without saying (and more than likely with an accompanying wodge of paperwork you have to sign first, insisting…) that you're going to be careful. Kerbing an alloy wheel on a Porsche or a Ferrari is unlikely to win you any friends back at the press office.
Land Rover however, are different. While there's still a mutual understanding that you're not going to bend, break, or unnecessarily scratch anything during your custodianship of one of their vehicles, the Solihull-based manufacturer of all-things 4×4 positively encourage you to explore the limits of what it is they've lent you. Which is why only hours after having first set eyes on it, I found myself deep within the forests of Eastnor Castle, with over £120,000 worth of all-new Range Rover axle-deep in mud and pine branches brushing its lustrous Charente Grey paintwork.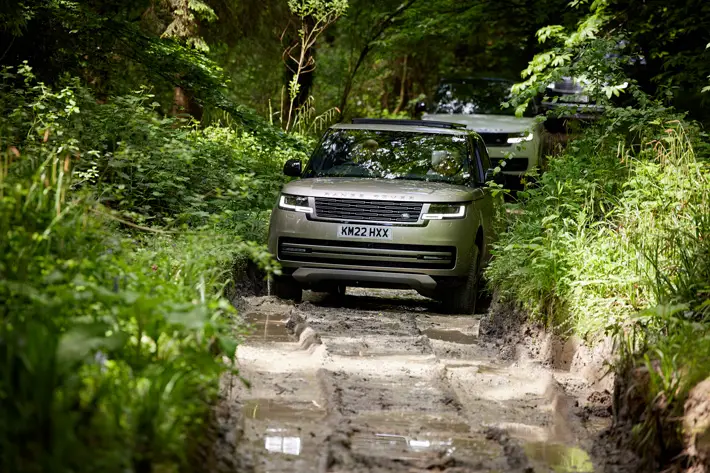 "Much improved"
The grounds of Eastnor Castle have been used by Land Rover to test and develop their vehicles since the early sixties, so perhaps it was inevitable that when introducing the fifth generation of the world's most recognisable luxury off-roader to the great and the good, (and me too), we'd end-up deep in the Herefordshire woods. Quite what the roots of those pines were capable of doing to Range Rover's bin-lid sized diamond turned alloy wheels (22 inch are standard; 23 inch are optional) as we threaded our way over and around them I tried not to think about.
The fact of the matter is a Range Rover simply wouldn't be a Range Rover without near-legendary off-road capabilities. Air suspension can be raised to give over 400mm ground clearance; the Terrain Response 2 system allows myriad combinations of locking differentials, driving modes, low ratio gears and of course, four-wheel drive; the parking cameras can be set to off-road mode. It even comes with the capability to wade through three feet of water. All handy stuff, y'know, for when the Waitrose Cheltenham car park next floods.
Whether most buyers will ever choose to stray far from anywhere more rugged than their manicured gravel driveways is of course their prerogative. Nevertheless, the good news for those less adventurously inclined is the new Range Rover's on-road manners are also much improved.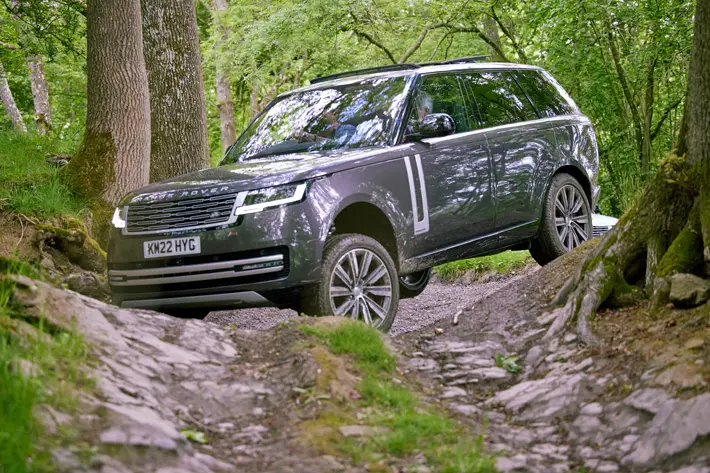 "Steering is sharper"
Where once you could feel every kilo a Range Rover carried, and the old car would pitch and roll like a tug on a heavy tide every time you attempted to alter its course, the L460 – to give this new model its correct nomenclature – feels altogether more composed. A slow-in, swifter-out approach to cornering is still rewarded – this is an SUV, not a sports car – however proceedings are now significantly more waft than wallow.
Anti-roll control, torque vectoring, and intelligent all-wheel drive, all work in harmony with a new five-link rear suspension set-up, and… rear-wheel steering; the turning circle is now smaller than that of an Evoque. The body is stiffer, as is the new MLA-flex aluminium chassis. The steering is sharper. Everything feels more alert, more responsive, and, well, altogether more connected. It's quieter too, much quieter. Our press car was a straight-six diesel – hybrids will arrive soon, an all-electric in 2024 – on moderate throttle you could barely a hear it. There's wind noise, even on this the sleekest, most aerodynamic Rangie to date, with its flush-fitting glazing and hidden guttering, but it's nothing too intrusive.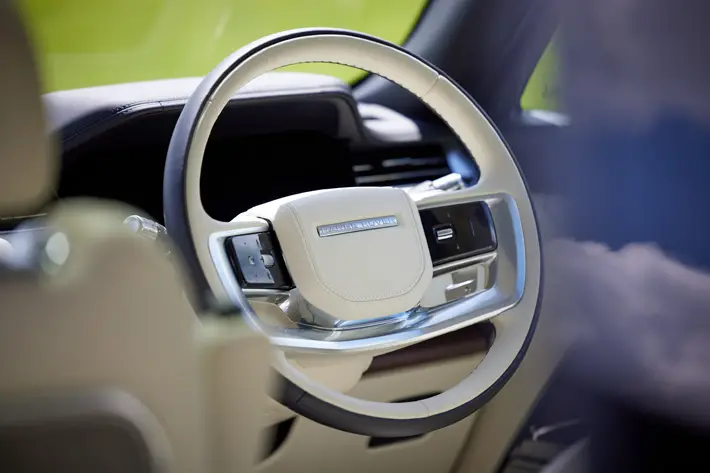 "Takes a little bit of acclimatisation"
And yet, from the driver's seat, everything still feels oh-so very familiar. The trademark Command driving position means you're sat higher than you would in a Transit van; visibility over the clamshell bonnet is excellent. The column stalks are the usual chunky affairs, the doors feel bank vault thick, and everything else – seat and mirror adjusters etc – seem to be exactly where you'd expect to find them.
Ahead of you lies a new digital driver display – as standard on all versions – to the left of it, a dashboard mounted 13.1inch touchscreen infotainment system which incorporates, sat-nav, DAB, various camera functions and displays, Apple CarPlay and Android Auto so you can run your phone apps and Amazon Alexa. It takes a little bit of acclimatisation to get used to all the new tech, even the heater controls have gone electric, but it all seems to work nicely (not something you used to be able say about Land Rover electrics!) and it's all crystal clear. One other thing: If you like leather, this interior smells gorgeous.
Vegan alternatives, I hasten to add, are also available. Clearly Range Rover interiors have come a long way from brushed velour, and hose-down rubber mats.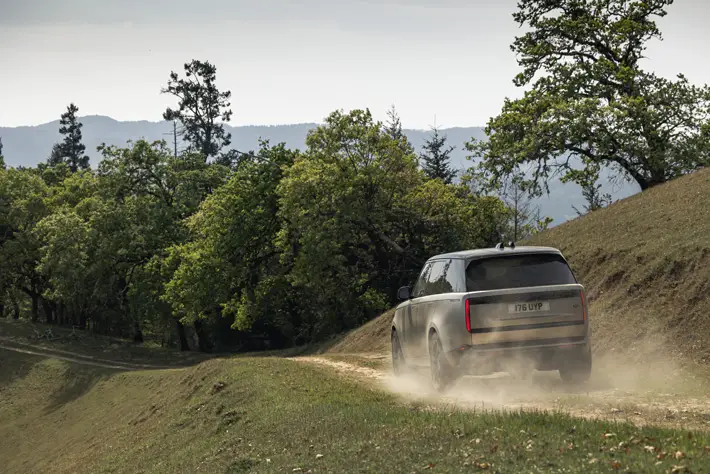 "Breadth of talent"
Believe it or not, it is 51 years since the launch of the first Range Rover, and still, no other car seems to have encapsulated such a breadth of talent in a single package. There are faster SUVs, there are more rugged 4x4s, and there are more luxurious and better riding and handling cars (2.5 tonnes can't glide all of the time no matter how sophisticated the software). And alas, Land Rover's reliability hasn't always what it should be either… But, a Range Rover won't ever look out of place parked outside the best of restaurants, at the polo, towing a boat, or deep within the woods. And it will get you wherever you need to be whatever the weather, with ease.
It may be all-new; sleeker, quieter, more luxurious, better connected, and better looking? That's perhaps for you to decide. But half a century on the original ethos of the Range Rover still remains. The faithful need not fear; they haven't really changed it, they've just made it better.
Range Rover Autobiography Ingenium 3.0 litre Diesel MHEV
Engine: 2,997 cc, 34 Valve Straight 6 Cyl, twin-turbo diesel.
Transmission: 8-speed. Automatic. Four Wheel Drive – with Terrain Response and selectable low range
Power: 300 bhp @ 4,000 rpm
Torque: 516 lbft @ 1,500 rpm
0-62 Mph: 6.9 sec
Max Speed: 135 mph
MPG: 35.8 (WLTP)
CO2: 207 g/km (WLTP)
Price: from £117,800 (as driven £120,615)