The Punch and Judy Man (1963) – Film Review
Director: Jeremy Summers
Cast: Tony Hancock, Sylvia Syms, John Le Mesurier
Certificate: U
by Roger Crow / @RogerCrow
While Tony Hancock was a master of radio comedy, the 'glass half empty' funnyman struggled with TV. Reading from idiot boards when 'The Blood Donor' transferred to the small screen looks obvious now, but at the time a less sophisticated audience probably didn't mind a jot.
The follow up to 'The Lad's' classic The Rebel at one point looked like it would be The Day Off, also penned by Ray Galton and Alan Simpson, the genius writers who were one of the main keys to Hancock's success.
Shot in sulphurous black and white by Gilbert Taylor, later to work on Star Wars, it also features a wonderful appearance by that movie's Eddie Byrne as an ice cream man. The scene in which Hancock's character takes a bedraggled kid under his wing and treats him to a sundae is a delight.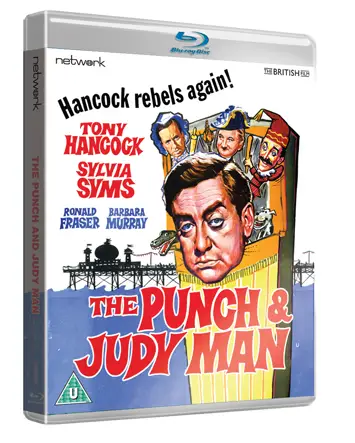 In fact there are so many familiar faces in the movie, it's a feast for lovers of classic British cinema. From John Le Mesurier and Hattie Jacques to Hugh Lloyd, Peter Vaughan and Ronald Fraser, it's bursting with much missed favourites. And Sylvia Syms is terrific in support as the hero's estranged wife.
"Fascinating curio"
Okay, it might not be as structured as a Galton and Simpson piece, but it's a fascinating pet project for one of British comedy's best loved and most troubled funnymen.
Laced with dark comedy, The Punch and Judy Man looks terrific, and is a must for any collector of vintage British cinema. The influence of Chaplin, especially during the ice cream scene, is obvious, but no less charming.
Hancock co-wrote the script with broadcaster Philip Oakes. Neither were trained scriptwriters, so the tale of seaside Punch and Judy man Wally Pinner isn't as polished as those masters of their craft Galton and Simpson, but Hancock had a chance to pursue his quest of realism.
The film goes nowhere slowly, but is still a fascinating curio as the climactic gala ball celebrating the 60th anniversary of Piltdown-on-Sea turns into chaos. It also marked Hancock's final leading role, though he did pop up in Those Magnificent Men In Their Flying Machines and The Wrong Box.
So, not entirely a success, but no failure either. It's one of those movies that deserves a fresh look, and will no doubt attract the attention of a new generation of cineastes. The fact it's a mere 97 minutes is a perfect length for any comedy.
Supporting features are thin on the ground, but the trailer, like the film, is engaging enough. There's also a great selection of stills in the image gallery. Recommended.
The film has been scanned to 2K resolution from the original 35mm camera negative and restored in its original theatrical aspect ratio of 1.66:1, re-instating footage missing from previously-released versions. The restoration carried out involved careful grain management, both automated and manual removal of film dirt and damage, and correction of major instability, warping and density fluctuations.
'The Punch and Judy Man' is released on Blu-ray by Network, £11.50