The Pixies – Live Review – Leeds O2 Academy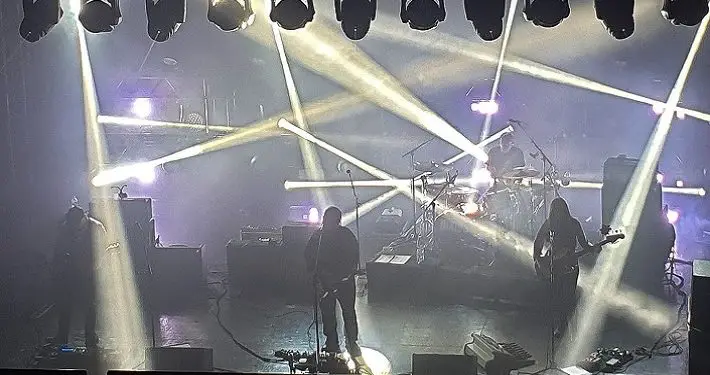 By David Schuster, September 2019
One of the challenges for bands that have been around for as long as the Pixies is the set list: Do you play your new material, and risk alienating the fans that only like the classics? Or, do you play the old material, missing the chance to create new favourites?
Ever the musical experimenters, the American indie rockers have devised an innovative solution: As the lights dim and the crowd cheers in anticipation, they take up positions and set off like a rocket at blistering pace. No introductions, no banal pleasantries, just the music speaking for itself. It's only much later, when I review the song list that I realise the audacity of their cunning plan: In a breakneck gig they cover not only all nine tracks from their latest album, Beneath the Eyrie, but they play these in a set that also delivers twice that many from their extensive back catalogue.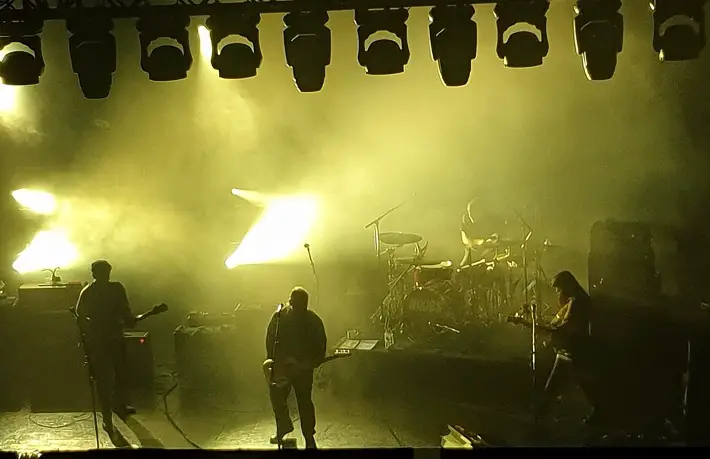 "Loud but crystal clear"
And they've got quite a back catalogue to go at; the first few numbers are a fantastic Pixies sampler: 'Gouge Away', with its insistent drum beat and clanging guitar, followed by 'Crackity Jones', both from 1989's genre-defining album Doolittle. Then 'Bone Machine' with its Cure-style heavy bass intro, from Surfer Rosa, had the crowd jumping. Reassuringly though, 'On Graveyard Hill' was also ecstatically received. This bleak and sinister slice of Tarantinoesque Americana comes from their latest release and stands comparison with the best of their work. There's room too for their excellent cover of The Jesus and Mary Chain's 'Head On' from Trompe le Monde.
Old school speaker stacks flank the stage, the sound quality from which is some of the best I've ever heard; loud, but crystal clear. And, whilst the lighting rig is top end, it's used with restraint, mostly to flood the stage with single colours, which nicely aligns to the pared down approach to the music.
"Rattles like a machine gun"
Looking around, the audience reflect the diversity of the song choices; at the end of my row there's someone sporting the full 70's Mohican and tartan trousers/kilt combo. He's standing just behind a couple of youths with Slipknot hoodies. Generously built blokes with beards and faded band t-shirts nod heads to the rhythm, beside flailing teenage girls wearing merchandise from this tour. For a band cited as influences by the likes of Nirvana, Radiohead, Weezer and Arcade Fire, it appears that the Pixies legend rightly continues to grow.
"How can he do that, night after night?", marvels my wife, as Francis belts out the unprintable lyrics of 'Nimrod's Son'. How indeed? It's clear in everything they play that they love being on stage; Joey Santiago rips into his guitar like a man on a mission, Lovering's drums rattle like a machine gun and Paz Lenchantin, on bass, grins from ear to ear throughout most of the show. The latter half of the gig includes 'Catfish Kate', your everyday American ballad of boy meets girl, girl meets giant catfish, 'Cactus' and the psychedelic 'Where is My Mind?' Crowning it all, a massive cheer greets the timeless lovelorn anthem 'Here Comes Your Man'.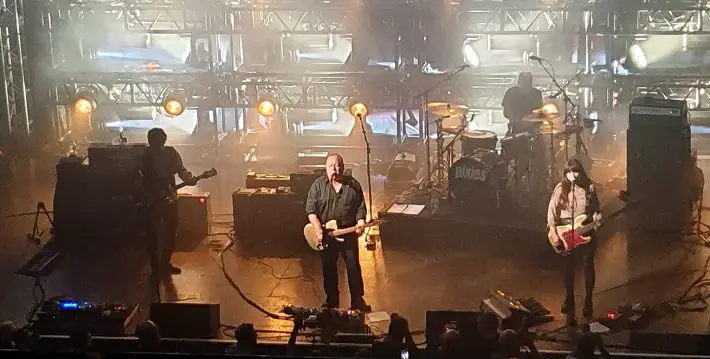 "Brave choice"
There's almost a surfeit of riches, and towards the end a bit of concert fatigue begins to set in. Even in the presence of genius, less is often more, and they could easily have trimmed six songs without anyone feeling cheated. That said, the lady to my left was still dancing energetically, though I was beginning to worry for her health. Still time though to cram in the remaining tracks from the latest album and most of Doolittle, including 'Monkey Gone to Heaven'. Then finally they pause.
Black Francis effortlessly exudes cool; silent whilst the crowd roars for more. As the feedback wail of 'Tame', dies away he's joined by the rest of the band at the front of the stage. Linking arms, they take a bow, before the frontman comedy mimes whether the drummer is up to playing an encore. I'd be disappointed, but I wouldn't blame him if he wasn't; after all he's been going flat out like the Duracell bunny for a mammoth 36 numbers. Appearing to reach an agreement, all the musicians take up their positions for just one more tune. They choose to play 'Daniel Boone' from their brand-new album. It's a brave choice, a great track with soaring sustained guitar chords, and possibly the next single, but a slow builder. Not a decision the average band would make. But then this is the Pixies, and they don't do average.