The Soap Factory, Leeds – Restaurant Review
The Soap Factory, Leeds
Restaurant Review
by Robert Siddle
Approaching this new and potentially exciting cocktail lounge and kitchen, the mind wonders what the lower level of a hotel space in Leeds could offer. Just a stone's throw from Leeds Train Station, the cute little spot proves to be a modern and stylish addition to the Leeds cocktail and food scene.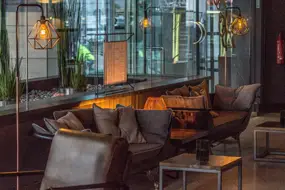 The bar area has a glass front, and looks out on to busy Whitehall Road. But the hustle and bustle of the city outside is easily forgotten as you settle into this trendy-looking and definitively cosy bar. The menu is modest, but offers a number of classics and some more creative ideas. Although The Soap Factory sits in the lobby of the hotel, it stands on its own as a place to head for cocktails and food alike.
Grabbing a drink at the bar, there is a wide selection of beers, lagers and, of course, cocktails. The board offers a large range of options for your tipple of choice. We settled for a pint of Kronenburg and Birra Moretti and watched the world go by before taking to our table.
"Gets the taste buds tingling"
Small, but welcoming, the cocktail lounge and kitchen has a range of chic seating, high, low, hard or comfy – the choice is yours! We are shown to a large farmhouse-like table with low benches – a great addition for a group. A range of background music plays throughout, giving the venue a great vibe for all occasions.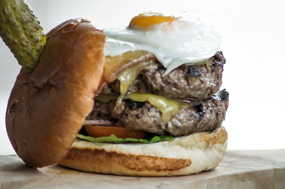 For dinner, Pop Over Puds (£4.00) are three mini Yorkshire puds, filled with beef brisket, beautifully presented on a small plate with a shot of flavoursome gravy. It is to die for! My friend opts for the Pulled Ham Bon Bons (£4.00), which is breaded ham with wholegrain mustard relish. It really gets the taste buds tingling.
For mains we plump for the C.L.T Burger (£8.50). This is grilled chicken breast with lettuce, tomato, red onion and house relish, house fires and an extra side of onion rings (£3.00). My guests takes 'A Proper Ploughman's' (£7.50) – locally-sourced cured meats, Wensleydale and Yorkshire blue cheese, boiled hen's egg, Yorkshire chutney and a granddad John's Pork Pie. The bulging platter has everything you'd ever expect from a ploughman's. Both present immaculately. Portion sizes are good and the food is among some of the best I have sampled from a small establishment.
"A rum fan's paradise"
After all the above, it would be rude not to sample some of the wonderful desserts on offer. My friend is an avid fan of the traditional cheese board, and you'd be suprised how hard it is to find a modern menu that offers this simple delight. But yes, you're right, The Soap Factory does not let us down. The cheese board comes with a splendid variety of cheese and crackers and it makes for a very happy guest.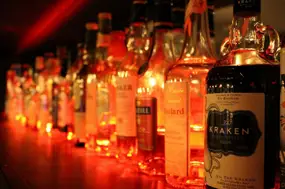 For me, it's warm chocolate brownie with caramel ice cream in a chocolate cup. It has my mouth watering from start to finish. Overall, it is a wonderful meal!
Before leaving it is time to sample the cocktails. A 'Zombie' carries a warning for its content – and it's a rum fan's paradise. Using three types of rum and fruit juice, and serving with a flaming passion fruit on top, this cocktail is sure to start any party.
The Soap Factor offers a wide range of cocktails, each served in true cocktail bar style. There are varying shapes of glasses, funky straws and all are at a reasonable price. This is definitely a new spot to add to the must-visit cocktail bars of Leeds.
Oh – and be sure to check out their Selfie Corner too, tucked near the bar resembling a shower area. This booth is sure to get tongues wagging!
The Soap Factory, Whitehall Road, Leeds, LS1 4HR
8AM – 11:45PM
0113 242 6446
facebook.com/SoapFactoryLeeds