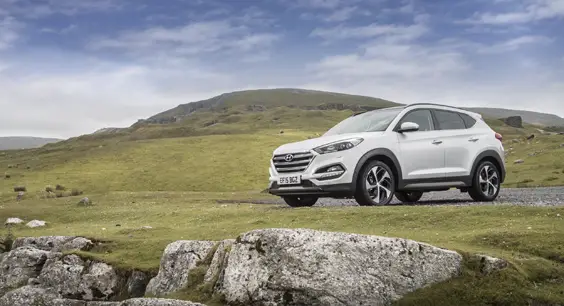 By Liam Bird
As is so often the case, the after-dinner conversation at a recent gathering of fellow motor-noters turned quickly to the 'what have you driven lately?' variety.
"Have you sampled the new Tucson," enquired the man to my right. "It's excellent."
"Not yet," I politely replied.
As the night went on, said scribe continued to extol the virtues of the Tucson. So much so that the very next morning I made a point of emailing Hyundai's PR department asking whether they'd be willing to lend me one. Kindly, they said yes.
"Striking looking"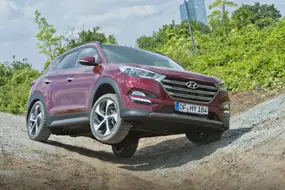 Now, despite the fact that it was named 'Best Family Car 2015' by a top technology website, I'll readily admit that up until that evening, Hyundai's all-new Tucson, a car that was conceived as a replacement for their solid but somewhat forgettable IX-35, wasn't really on my radar. Clearly I should've been paying more attention. It was also recognised as the 'Best Mainstream Small 4×4' in Business Car's annual awards. And, since its market launch in September of last year, the Tucson has gone on to become the fastest-selling Hyundai in the UK and across Europe.
The Tucson certainly grabs your attention on first acquaintance. It's a striking looking thing, designed by ex-Audi style guru Peter Schreyer. With its squared-off wheel arches, z-shaped shoulder crease and frankly huge front grille, it's arguably one of the best looking SUVs available in a class that also includes the Ford Kuga, Skoda's Yeti, the Mazda CX-5 and Nissan's (they-can't-build-them-fast-enough) Qashqai.
"Stretch out in comfort"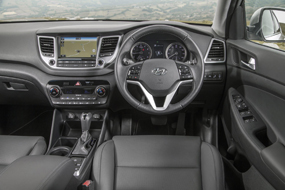 Inside it's huge, or at least feels like it. It's not a seven-seater – you'll need the larger Santa Fe, with which the Tucson shares its looks, for that. But there's room enough five people to stretch out in comfort. Even if (as in our case) the panoramic sunroof is fitted, there's still headroom aplenty. Those sitting in the back will also appreciate the fact the rear seats recline. In certain specs they're heated too. You don't have to remove the headrests to fold them down either. The result is an (almost) flat boot-floor.
Up front things are easily, if not more, comfortable. Hyundai's interiors have come on in leaps and bounds recently. They are now at a stage where they're rivalling some so-called premium brands. Hyundai haven't ditched all of the hard and scratchy type plastics yet, but what you touch feels virtually indestructible and moves with precision. Everything's clearly and logically laid out. There are more cubbies and storage bins than you can shake a stick at. Standard equipment on our albeit flagship specced Premium SE included niceties such as a heated steering wheel, dual zone climate-control, park assist, touchscreen sat-nav and DAB, an electric tailgate, and heated and cooled seats – a first in this class.
"Well-equipped"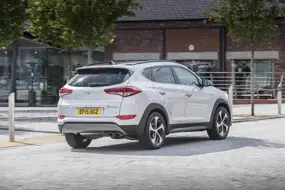 The Tucson therefore is rather comfy. It rides well – even on 'our' car's 19" alloys. It's quiet too, albeit prone to the inevitable road-rumble on what passes for tarmac out here in the sticks. Also while we're nit-picking, the Tuscon's steering feels a tad vague around the straight-ahead. And the automatic gearbox has a tendency to hold on to gears slightly too long. Plus, the 34mpg we attained over a week's mixed driving falls short of Hyundai's claimed 43.5 combined. Perhaps the manual is better – we can't say – but it is cheaper.
So, is the Tucson excellent, like the man on my right said? Not quite. But it's attractive, well built, affordable (in certain specs at least) and it comes with a five-year warranty. It's not the most exciting of cars to drive, but it's spacious, it's comfortable and it's well equipped. In a market-place that's ever expanding, surely that's close enough.
Hyundai Tucson Premium Se 2.0 CRDI 4WD
Engine: 1,995cc, 4Cyl, 16V DOHC Turbo-diesel
Transmission: 6 speed. Automatic with manual mode and selectable Four-Wheel Drive
Power: 182 bhp @ 4,000 rpm
Torque: 295 lbft @ 1,750rpm
0-62mph: 9.5 sec
Max Speed: 125 mph
MPG: 43.5 combined.
CO2: 170 g/km
Price: from £30,750