An Interview with Tom Daley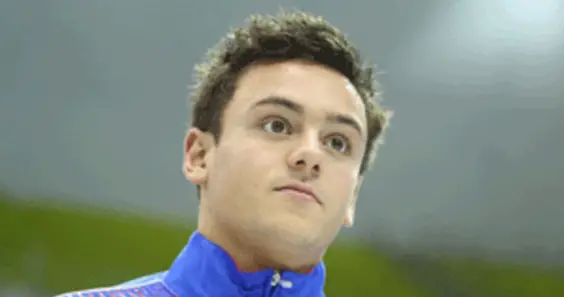 Tom Daley Interview
A Springboard to Success
Olympic diver Tom Daley on life in the media spotlight and his Olympic aims…
With the 'etched on' dimples and poster boy good looks, it's easy to see why Tom Daley has become a pin-up for British Diving. But thanks to his disappointing performance at the FINA World Cup – his first big pre-Olympic dive meet – the youngster is now being branded 'the Anna Kournikova of the high board'. The Russian bombshell, better known for her curves than her curve balls, had a promising start during the initial stages in her career, once reaching the semi-finals of Wimbledon. But while her media profile flourished, her sporting career sank, some industry experts predict handsome Daley, who cultivates a celebrity name for himself with media appearances and glossy photoshoots, may be heading in the same direction.
"One of the best in the world"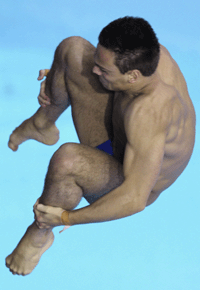 All a bit unfair? Well, naturally, 17-year-old Daley has hit out at these claims, which were led by British Diving performance director Alexei Evangulov after a poor seventh-placed finish on the 10-metre board with synchronised dive partner Peter Waterfield. "He is entitled to his opinions and, of course, I listen to them," Daley remarked. "He is one of the best performance directors in the world and I still have a lot more to learn from him, that goes without saying.
"But to throw a crack like that when Alexei has had full approval over everything that I have done in terms of my commercial work since 2011 is a bit unfair. I haven't done any personal sponsor appearances yet in 2012 and interviews like this take place over the phone or in Plymouth. They are rare. The rest of my media work is for British Swimming, for whom I have done one appearance this year.
"Our performance at FINA was down to injury, plain and simple. I could only train for two weeks before, so of course I wasn't going to be at my peak. That's for the Olympics; that's my main goal right now." Daley, who tragically lost his father Robert to brain cancer last year, picked up some recent flak for an amateur spoof video which depicts him and his friends larking about on an Australian beach. The diver maintains it was just a bit of fun.
"It's crazy right now"
"For God's sake, I'm young, I'm with my friends, I want to have fun!" he laughs. "We're all so caught up in training all the time, if we don't let go and blow off some steam, then what's the point? I even get criticised for being on Facebook and Twitter, because apparently, both impair on my training! It's such rubbish, everyone's on Facebook and Twitter – social media's part of my generation."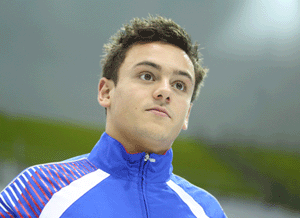 Previously the youngest competitor to reach an Olympic dive final at the age of 14 in Beijing, Tom went on to be crowned world champion in 2009, and won two gold medals in the 2010 Commonwealth Games. Now, with just under 100 days to go until Daley takes to the Olympic diving boards in Stratford, the athlete's training has reached the optimum. "It's crazy right now," he says. "I'm doing ten sessions a week; so I've got two on Monday, two on Tuesday, one on Wednesday, two on Thursday, two on Friday and one on Saturday. Normally the morning sessions last about two hours and the evening sessions about three hours. My life's in the pool but that's how it has to be in the run-up."
"Maybe I can do a Redgrave"
The ambassador of Adidas Ice Shower Gel, Tom admits he spends a lot of time grooming his poster boy good looks. Although apparently it's just to stave off chlorine rash. It has nothing to do with vanity! "I'm in chlorine all the time. I have to make sure I wash my skin off properly otherwise I get chlorine rash and that's not cool. All swimmers use body care products because they're small and easy for me to take to the pool or gym. Oh, and they make me smell good! It's one of those things a lot of people don't consider, but chlorine can be pretty bad for you!"
Having made it clear he'd like a career in the media after retirement, Daley maintains he's still got a good 15 years on the high board. Or three more Olympics after the London Games. "As divers, we peak between the ages 20 to 24, and I'm 17 at the moment. So going into my second Olympics I'll be 18. Which is still quite young for a diver. I'd love to get in five Olympics in total. Maybe I can even 'do a Redgrave' and scoop five golds, although that's a tough ask!"
Editor's note: Since this archive interview, Tom Daley has fulfilled his potential, winning bronze at the 2012 Olympics and gold at the World Championships