An Interview with Keith Senior
An Interview with Keith Senior
by Duncan Thorne
Watching rugby league in winter is a bit of an oddity nowadays. Gone are the mud bath pitches, the freezing weather and forwards dominating an up-the-jumper style game.
So it was strange to see the Leeds Rhinos doing battle on a cold and frosty Sunday evening in February in the World Club Challenge even if it has become a yearly occurrence since the club's Super League dominance started to take consistent shape over the last three years.
Another oddity was a Rhinos defeat in a major final given the amount of success they have been accustomed to in recent years. But perhaps the biggest shock came after the final whistle with Keith Senior's rant at referee Richard Silverwood, following a night when Melbourne Storm's professional spoiling tactics ruined what should have been a great spectacle of the best two club sides in the world trying to out-skill each other with some fast flowing, exciting rugby.
Senior's outburst was borne of frustration, one shared by the fans, commentators and everyone who witnessed the evening. As one of Great Britain's most celebrated players, he has become accustomed to winning following a glittering career that has seen him win every honour in the domestic game.
"I made my feelings about it clear at the time and I apologised and got punished accordingly," he explains. "I accept you can't say what I said and that referees have a hard job to do. It was simply a case of me hating to lose, especially to the Aussies."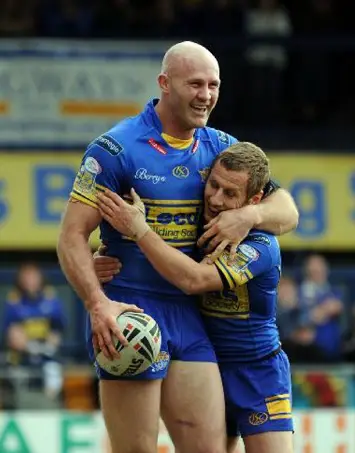 Talking of the Aussies, why do English clubs and Great Britain in particular continue to struggle at the hands of the southern hemisphere sides despite coaches and players from Down Under having featured heavily in the domestic game for many years?
"Very competitive"
The Rugby Football League's decision to switch to summer rugby in 1996 was meant to improve the game with faster running rugby encouraging better handling skills that in turn would help Great Britain close the gap on Australia and New Zealand's international domination of the sport.
It has not worked out that way however, and recent results suggests the gap could even be increasing as was evident in the 52-4 hammering the Australians dished out at the World Cup in Melbourne a couple of years ago. It was a low point for all concerned with the British game, especially Senior whose international success was limited before his retirement in 2009.
"The Australians have much more strength in depth than we have and could put out two or three sides that would be very competitive, whereas we don't have that. One or two injuries leave us weak and we can't match them. Tactically they are better too, but that is something we can learn from. We look to score at every set of six tackles but they play a much more patient game based on strong defence and really turn the screw.
"It's their national sport and they educate their kids from a very early age and this is something we have to look to do. The grass roots of our sport have to be addressed because we currently have lads getting to academy level and then looking to make a big step up but it's too late because in Australia they are already of a high quality. Until this changes then I think we will always struggle even though summer rugby has made the sport more appealing to youngsters."
Up-and-coming players could do a lot worse than attempting to emulate Keith Senior. Undoubtedly a modern day great and already firmly cemented as a Leeds legend for his try scoring and offloads, as well as his rock solid defence in the centre. With all the accolades and success the Rhinos have achieved since becoming the leading club in the Super League, it is easy to take for granted his contributions to the club that he joined 11 seasons ago following his move up the M1 from the Sheffield Eagles.
But, as with all top sports-people, he only concentrates on the present. The sour taste left by the Storm defeat didn't improve in much of a hurry for the Rhinos and the start of the current season saw them lose three of the first four games but, as ever, the cream should still rise to the top.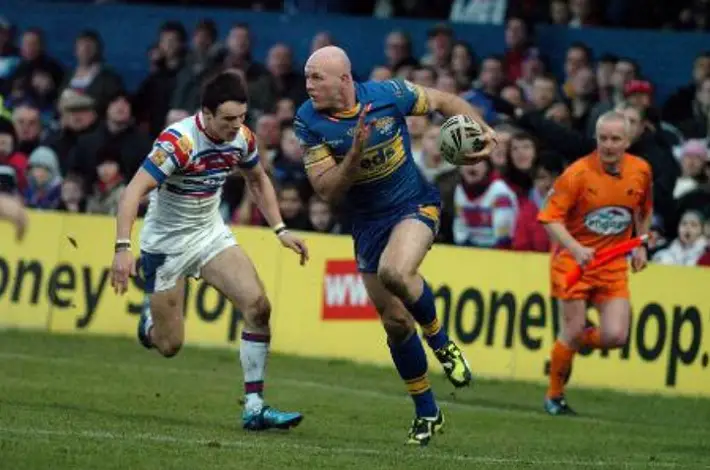 "Mental strength"
Recent spirited wins against the Warrington Wolves the Bradford Bulls, coupled with the announcement that coach Brian McLennan has extended his contract, has left Senior cautiously optimistic that an unprecedented fourth consecutive Grand Final victory is possible.
He is well placed to judge, given he's played in over 500 Super League games (the first person to do so) and is the leading scorer in the summer game's era. "I think we were too complacent at the start of the year and things have slowly been getting better the last few weeks but at the moment we are nowhere near the level we need to be at," he states like all winners do in a matter of fact, no-nonsense, brutally honest way.
"We back ourselves to beat anyone and we are now getting a bit of momentum behind us after the wins against Warrington and Bradford, and we've set our sights on Finishing third or even second but the beauty of the playoffs is that you can win it from eighth, even though it's really tough. We know we've got the talent and have the know-how to do it but we've to play more as a team and less as individuals. We've to keep improving as all the best sides do – if you don't the rest soon catch you up.
"The start to the season was maybe a blessing in disguise and a wake up call although we've had quite a few kicks up the backside. The Super League is so tough now that anyone can beat anyone on their given day so you have to be focussed all the time. To win four Grand Finals on the trot would be the biggest achievement of my career even above the win against Wigan."
As he approaches the twilight years of his career, Senior prides himself on being able to cut it with the next generation. "I feel I've still a lot to older and I think my mental strength means I can go on for a few years yet. When I play against the up-and-coming players like Ryan Atkins who has my old international shirt I and I'm able to test and gauge myself against them and feel I'm still more than competitive.
"Further down the line I'm not sure what will happen although I've not ruled out the prospect of playing rugby union as it would provide a whole new challenge to me especially in terms of the positional and kicking side of the game but at the moment my focus and concentration is on the Rhinos and us making sure we finish as high as we can in the league."
In fact, there aren't any signs of Senior slowing down at all, as is evident with his off-the-pitch passion for, wait for another surprise, horse riding – a little unusual for someone who has spent his life in the macho world of rugby league.
"I got into it three years ago through my partner who loves horses and I thought I'd give it a go and it's great fun, even though I did get a fair bit of stick from some of the lads in the dressing room to start with!" he jokes.
"I do the cross country and jumping and some of the lads are now asking about getting lessons so they are coming round to my way of thinking although some might struggle to get on a horse – I've got a Shetland Pony lined up for little Rob Burrow!"
From rock bottom in March to a fourth consecutive Super League come October? Stranger things have happened.
All images: Leeds Rhinos