Gaucho, Leeds – Restaurant Review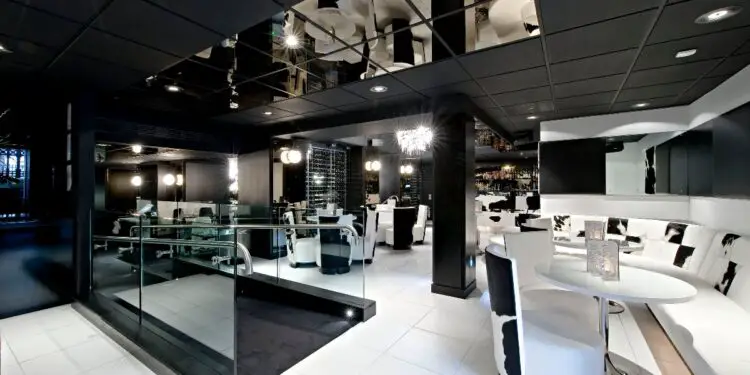 Mention Gaucho to anybody who eats out on the Leeds social scene and their face lights up. It's a much respected restaurant, and one of the city's favourite places to dine out.
But there was a problem. I had never been to the Argentine restaurant! But on a Saturday tea-time, my friend and I took it upon ourselves to sort that problem out. 
We got a warm welcome into the bar on our arrival and took a seat. With a DJ spinning a few house tunes, first impressions of Gaucho were pretty impressive. Bright white furniture, mirrors, chrome and lights. Trendy modern at its best, and it was a nice tone-setter for our visit.
Kicking things off with a cocktail was a must, and there's a lot of choice here. After a long look at the menu, I went for a Zacapa Negroni for £10.95.  My friend opted for a Rhubard Blush at £11. The Negroni certainly packed a strong punch with Ron Zacapa 23 rum, Campari and Belsazar Rosé vermouth.  My friend has a thing about rhubarb at the moment, and I know his cocktail hit the spot. With Ketel One vodka shaken with Chambord, egg white, lemon juice and rhubarb syrup, it was a nice way to catch up and get ready for what was to come.
We'd certainly had a strong welcome to Gaucho in more ways than one!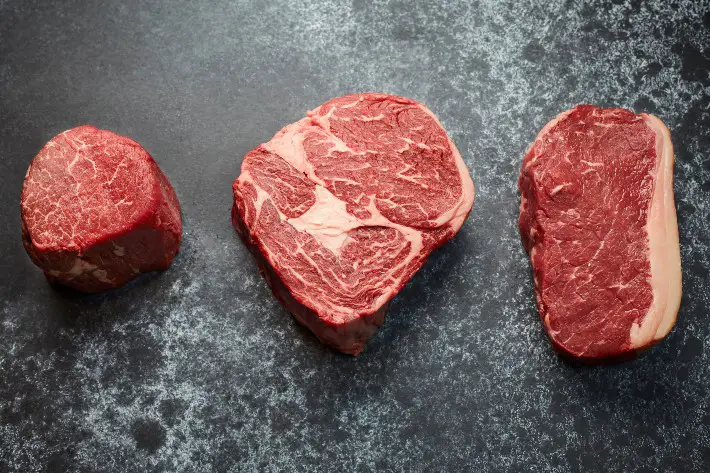 "A serious selection"
When it was time for food, we were led through to a nice booth just off to the side for our meal. It was here that we were introduced to the lovely Jess who'd be taking care of us. We had a few minutes to look through the menu, before she returned to talk us through it (fantastic knowledge). She also showed us the meat board, which got the mouth salivating. This was a serious selection, and I fixed my eyes firmly on the Churrasco De Lomo (£49.50). I already liked the sound of this when I saw it on the menu, the sight of it was something else.
Taken aback by the steak selection, we almost forgot that starters needed to be ordered. I went for the Seared Diver Scallops (£15.50) as my entree. My friend decided to order the Beef Carpaccio (£10.50) to start, and had the 400g Ancho steak for his main course (£35).  We went for sides of Humita and King Oyster Mushrooms at £5.
And with table water, and delicious complimentary bread with garlic butter, we were in for a feast.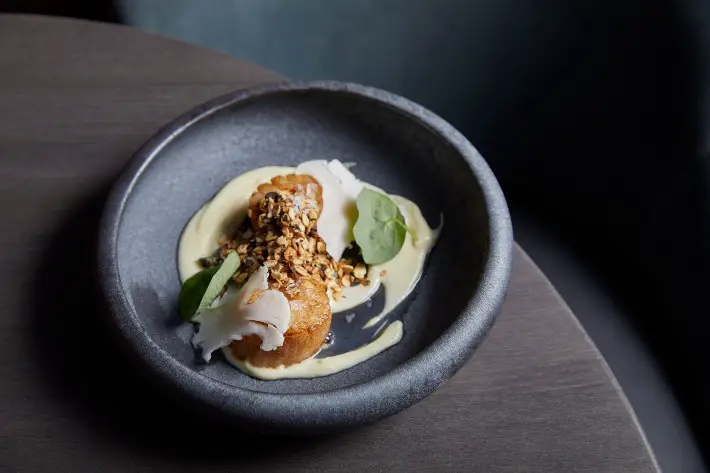 "Flavoursome"
Our booth had a nice, luxurious feel. White sofa, large dining table – and again, the mirror and lighting keeping that modern look. It was certainly nice to be tucked away, but we didn't feel isolated from the rest of Gaucho.
We weren't here quite at peak time, but the atmosphere of the place was building. We had couples, families and friends in and it's a really lovely spot. I could tell why this place was well talked about.
When our starters arrived, the presentation was beautiful. The scallops came with Cauliflower puree, pickled cauliflower and morcilla crumb with oats.  They'd been cooked perfectly and were flavoursome. They were soft, and the subtle flavours of the puree and additions to the plate provided the right balance to the dish. Nothing overpowering.
Across the table, my friend was satisfied with his Carpaccio. The look of this dish was unexpected and intriguing. It contained cuts of beef smoked and salt-cured in juniper. There were mustard seeds, bay leaf, and umami chimichurri.  And again, a tasty treat had come our way and we happily finished both plates.
"Awash with flavour"
It's traditional to have red wine with steak. But, I'm not a fan so Jess picked an oaky white for me to enjoy with my meal. My friend opted for a glass of Merlot. And as we waited between courses we talked about how perfect the visit had been so far. Our drinks, our food, the atmosphere and the service had been exemplary.  And then our mains arrived, and everything went up a notch.
My steak was served up, and you could tell by looking at it that it was going to be special. It sat there, full, juicy, and handsome. A drizzling of parsley over the top, it was resting on the plate just yearning to be eaten. Medium rare? It absolutely was. And I'd picked Blue Cheese hollandaise sauce to go with it, and a side of King Oyster mushrooms. Chips were part of the dish.
No steak knives though. Just normal cutlery knives? That's what it looked like, and if so I guess that's confidence in how good their steaks are. When I took my first cut of the meat, the knife sailed through, and this gorgeous bite of medium-rare steak was delightful. Tender. Succulent. Awash with flavour. Now, this… this was good food.
The garlic taste fused through, and the sauce was beautiful. The meat was so tasty, and I was so satisfied with my choice. And the King Oyster Mushroom was a nice accompaniment too. That was substantial and came with a delicious chilli kick to it.
The Ancho steak was equally impressive for my friend. Coupled with chips, peppercorn sauce and the Humamta, which was interestingly presented, meant we had two happy diners in Gaucho.
"One of the greatest meals I've ever had"
With plates cleared, we were clearly too full for anything else. But, with everything being so good, we tried.
I went for something I don't normally have. Maybe because I'd just eaten one of the greatest meals I've ever had, I wanted something different. I craved something tangy and the Lemon Tart jumped out of the dessert menu at me. With a blackcurrant sorbet, it mixed sweet and tangy together really well.
But it was too much to handle though. I only ate half. It was lovely, but I couldn't fit it all in. I think my brain did this to me…knowing that I love cheesecake and if I'd chosen that I would have forced myself to finish it, and my already angry waistline would have been having serious words with me. 
So, my first visit to Gaucho was more than a success. Sometimes you can't find the right superlative for a full restaurant experience, and this was one of those times. This place is right up there with one of the finest meals I've ever had. Coupled together with a fantastic atmosphere and perfect service, I'll be booking in for more Gaucho soon.
Gaucho,  21-22 Park Row,  Leeds  LS1 5JF
Current opening hours:
Sun – Thurs – 12pm – 10pm
Fri – Sat – 11.30am – 10pm

Tel: 0113 246 1777
gauchorestaurants.com