Maserati Levante Diesel – Review
By Liam Bird
Perhaps the most recognised incident of an Italian car going "off-road" is when Alberto Ascari's Lancia D50 left the track at Monaco in 1955; both car and driver plunged into the harbour. After spending the afternoon being chased by Jean Behra's and Cesare Perdisa's Maserati 250F poor Alberto ended-up with a broken nose, and very wet. Maurice Trintignant driving a Ferrari 625 eventually took victory.
The reason I mention such things is that Maserati, like Ferrari, and indeed Lancia, are synonymous with making sports and racing cars; cars for the roads, cars for the racetracks. Not cars that go, err… "off piste". That might though, in certain markets at least, be about to change. Step forward the Maserati Levante.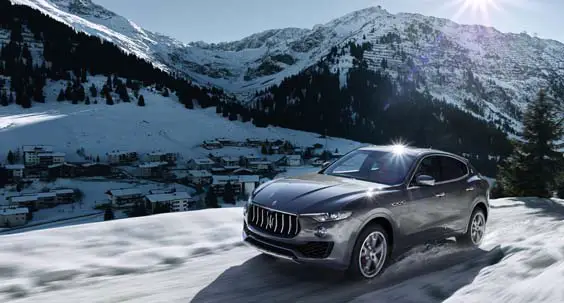 Named after a warm, Mediterranean wind that can change from mild to gale-force in an instant, the Levante has been built to allow that most famous of trident badges to establish a foothold in the fastest-growing automotive segment in the world: The luxury SUV. And who can blame them? It's a booming market, taking over 50% of luxury car sales, and one in which rivals Porsche, BMW, Jaguar and, of course, Range Rover already operate. Thus the four-wheel drive Levante now represents the most likely entry into Maserati ownership for those new to the legendary Italian brand.
"Steering is lovely"
Like Ascari's aforementioned 250F, power comes from a front-mounted 3-litre V6. Now, though, it's a diesel, it's turbocharged and it's mated to an 8-speed ZF automatic gearbox. It idles with an almost marine-like note – there are no high-shrieking theatrics to be had here – and delivers its power in almost the same manner. Slightly clunky gear-changes aside there's no fuss as the Levante effortlessly gathers pace and rides on its air-suspension. Its Skyhook adaptive dampers smoothing most, if not all, of the road's imperfections.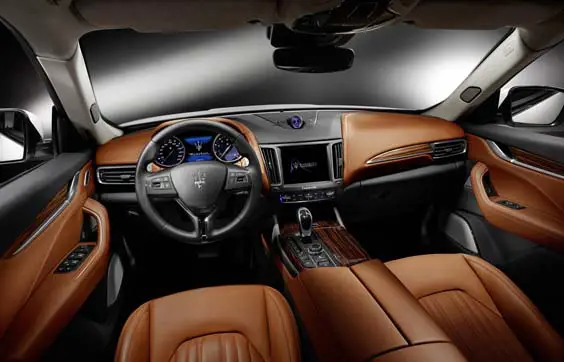 Whoever specced the 21-inch rims on "our car" I'd wager is probably responsible for the somewhat nibbly B-Road ride quality and associated tyre rumble we experienced. Perhaps a less fashion conscious wheel choice is better for all but the boulevards.
The Levante's steering though is lovely. It's hydraulic rather than electronic, and feels all the better for it. With all of the engine's 271bhp being delivered to the rear-wheels, unless otherwise directed by either driver or the intelligent All-Wheel Drive system software, on a smooth, twisting road the 2,025kg, 0-60 in 6.9 seconds, Levante truly earns its right to be called a sporting SUV.
"Master of all you survey"
It makes a good stab at being a luxurious one too. The caveat being that "our" car had been treated to a number of expensive (Luxury Pack) options; wood-trim, suede headlining, aluminium shift paddles, superb sounding Bowers and Wilkins surround-sound hi-fi with Apple Car Play. Nevertheless soft, thick leather covers virtually every surface, and a now de-rigueur "commanding" driving position is infinitely and electronically adjustable until it becomes just-so.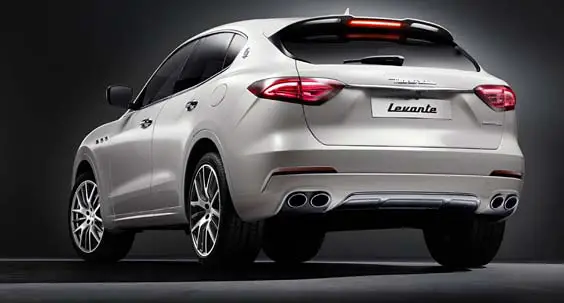 Sat behind the Levante's long bonnet you really are master of all you survey. Plus, adjustable ride-height, together with Maserati's Stability Program and Hill Descent Control, mean should you choose to journey to the outer reaches of your estate there should be no cause for concern. I'm reliably informed the Levante is surprisingly capable off-road. But, with an asking price of £54,335 before options one has to ask will this handsome Italian spend most of its life hardly straying from the tarmac?
It's not perfect by any means but it does offer a welcome deviation from what's fast becoming the luxury SUV norm. And of course it wears that most famous and exclusive of badges.
So, the Maserati Levante: Perfect for popping down to Monaco for the Grand Prix. And equally as good when you need to pop down to Marks and Sparks.
Maserati Levante Diesel
Engine: 2,987cc. V6 turbodiesel
Transmission: 8 speed Automatic four-wheel drive with manual mode.
Power: 271 bhp @ 4,000rpm
Torque: 442 lbft @ 2,000 – 2,600 rpm
0-62mph: 6.9 sec
Max Speed: 143 mph
Mpg: 39.2 (combined)
CO2: 189 g/km
Price: from £54,335 (car driven £70,275)