Rolls-Royce Cullinan – Review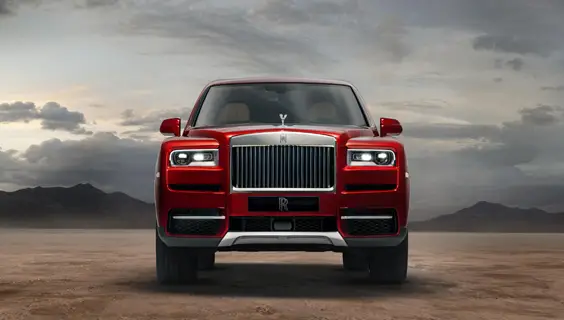 By Liam Bird
Think SUV – that's Sports Utility Vehicle to give it its full title – and your first thoughts are probably not Rolls-Royce. If anything, put like that, it all sounds somewhat vulgar. Sports. Utility. How dreadful. Nevertheless, whether or not you like the idea of Rolls-Royce making one, it's easy to see why they have. SUVs, sporty, utilitarian, or otherwise, are huge money spinners – and especially so if they're luxurious.
There's also another reason. Should you be fortunate enough to be in a position where a new Rolls Royce is a potential purchase, there's more than a slim chance that there's already more than one car in your no-doubt very secure and probably de-humidified garage – one or more of which is likely to be an SUV. Why should Rolls-Royce lose sales to the likes of Range Rover, Bentley, Maserati, Lamborghini, Porsche or Mercedes Benz? (All of which, if you haven't already twigged, now make their own luxury SUV).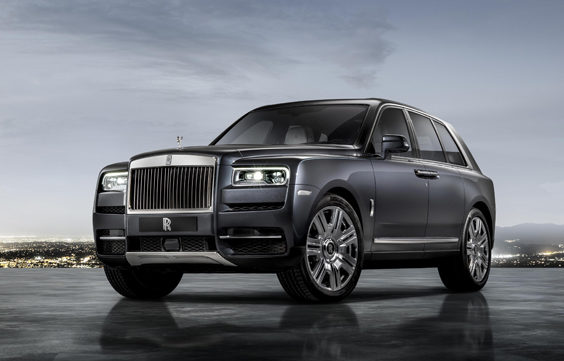 Also, if you're still struggling with the whole taking-a-Rolls-Royce-off-road concept, then I suggest you read-up a little on their back-catalogue. Roll-Royce's reputation for making "The Best Car in The World" was built upon them entering into pre-First World War One reliability trials and rallies. All were held on very much unpaved roads – the likes of which were yet to discover what Tarmac was. The same chassis as used for their legendary Silver Ghost was also used as the basis for the first British armoured car. Surely, you can't get a tougher trial than that?
So then, all of that brings us to this: The Rolls-Royce Cullinan. It's named after the world's largest un-cut diamond. The question is: Is it flawless?
Well, it's certainly very, very quiet. So quite in fact that even after pressing its little piano black starter-button and waiting for the, now digital, power reserve meter to gently rise from 0 to 100% I've questioned myself as to whether or not I've actually started the engine on far more than one occasion.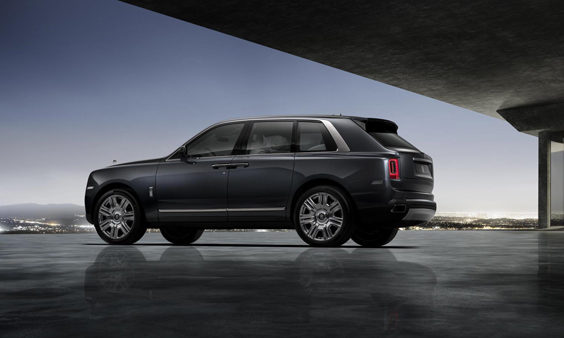 "Barely a murmur"
Power, a whopping 563bhp and 627 lbft of torque is produced by what surely must be the smoothest 6.75 litre twin-turbo V12 engine currently in existence. With barely a murmur it moves this 2660kg (unladen that is) leviathan along at what the British aristocracy no doubt call "a fair old lick": 0-62mph takes just 5.2 seconds. Regardless of what gear the 8 speed automatic, satellite-guided, gearbox is in, if you bury your right foot in the lambswool overmats – honestly, you could shear them – the Cullinan wafts towards the horizon like a jet powered magic carpet.
If that is you can find a road wide enough on which to do such things. At 5.3m long, 2.1m wide, and 1.8m tall, the Cullinan, although actually the shortest of all current Rolls-Royces, seems to dwarf everything in its path. I followed a Volkswagen Transporter van home the other night, from my lofty armchair like vantage point behind the Cullinan's thicker-rimmed-than-you'd usually-find-in-a-Roller steering wheel and its double-glazed windscreen, it felt like I was chasing a Matchbox toy.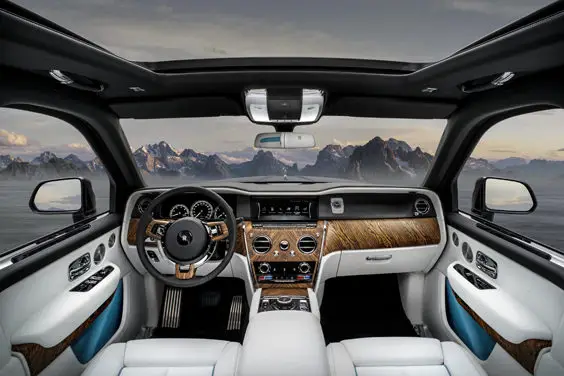 Quite where you'd find a forestry track to sample its off-road modes I'm not sure either. Nevertheless Rolls-Royce say the Cullinan is capable of being "Effortless Everywhere", including in deep water. This particular land-yacht has a wading depth of 540mm, as well as driving modes for snow, mud, and gravel – presumably not just the raked kind you find outside enormous country houses.
The truth is, like many a Cullinan owner I suspect, I didn't stray far off-road. I was scared of scratching the paint. The lack of a spare wheel also put me off tackling the rougher roads too. Cullinan tyres are, if you'll pardon the pun, approximately £500 a pop. Better perhaps to soak up the miles, switch on the massaging seats, turn up the bespoke audio system and let the riff-raff play in the mud instead.
And the price for all this luxury? "My" Cullinan, before local taxes, came in at £274,775. That's the price of my house, the two either-side, and the spare room from the one one-up again.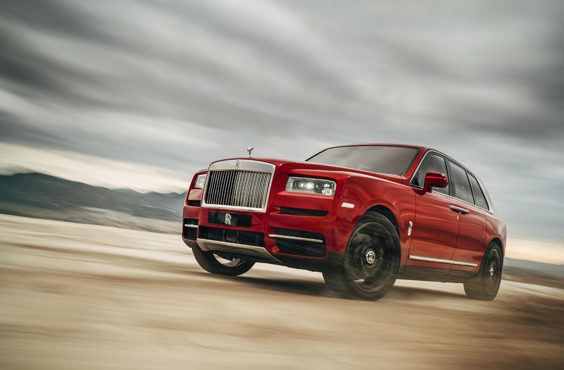 "Controversial"
Surely the cost of the Cullinan then is its biggest flaw? Possibly, but as I said, if you're contemplating one, the price of two-up-two-down will be immaterial to you. So too the promise of just 18.8 mpg.
It's the styling that you really have to get your head around; whichever way you look at the Cullinan it's, well, challenging to say the least. Imposing and imperious it may be, but could it ever really be called good-looking? Trust me, it's incredibly colour sensitive too. Let's just say not all of the comments I heard about the all-black with an orange coachline one Rolls-Royce loaned me were complimentary.
But maybe, just maybe, there's no accounting for taste. It may be controversial in so many ways, but ultimately, and as piece of engineering, the Cullinan is without equal.
Rolls-Royce Cullinan
Engine: 6,592cc, 12Cyl, 48V twin-turbo Petrol
Transmission: 8 speed satellite guided auto. Four Wheel Drive
Power: 563 bhp @ 5,000rpm
Torque: 627 lbft @ 1,600 rpm
0-62mph: 5.2 sec
Max Speed: 155 mph (electronically limited)
MPG: 18.8 (combined) NEDC.
CO2: 341 g/km
Weight: 2,660 kg
VED Band: M
Price: £210,000 before options. (Cullinan Driven: £274,775 exc. local taxes)