Mercedes Benz X-Class – Review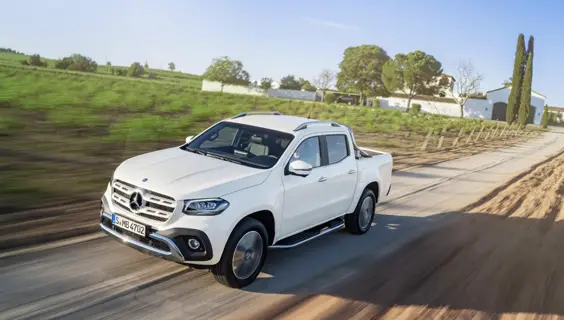 By Liam Bird
"Oh Lord, won't you buy me a Mercedes Benz? My friends all drive pick-ups, I must make amends. Worked hard all my lifetime, no help from my friends…"
Just a minute, what was that? What did you just say? Mercedes Benz, pick-ups? Are you sure? Well, yes. This is the Mercedes Benz X-Class and, as you can clearly see, it is indeed a pick-up. It's what a certain Ms Joplin would've referred to as truh-uck. It's also, say Mercedes Benz, the first pick-up to come from a premium manufacturer (Volkswagen, they who make the Amarok, might dispute such claims) and it's the fourth member of their Commercial Vehicles line-up – Citan, Vito and Sprinter being the other three.
It's easy to see why Mercedes Benz have built such a thing. Not only are more and more people driving pick-ups as recreational/family cars these days – look around next time you're doing the school-run, it's a trend that's very-much on the rise – Mercedes Benz are also part of a platform (and more) sharing alliance with Renault-Nissan. As a result of such relationships Nissan have their Navara, Renault their very similar Alaskan – which as a result of Brexit may, or now may not, be coming here – and Mercedes Benz, well, they have this, their all-together more well-appointed X-Class.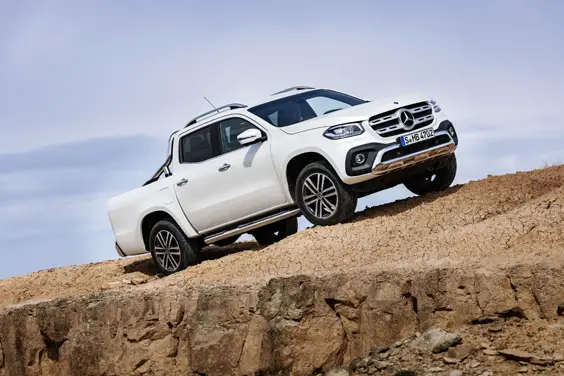 "Comes with a host of safety-kit"
Three-pointed star badge kudos aside, just like its Far-Eastern and French cousins the crew-cab only X-Class is capable of carrying a tonne and towing another 3.5. It's got selectable four-wheel drive, can be specced with diff-lock, an automatic gear-box, Trailer Stability Assist (it would look fantastic with a boat or an Airstream trailer behind it) and extra ground-clearance, and it comes with a host of safety-kit as standard, such as Hill-Start Assist, Stop-Start, myriad airbags, a reversing camera and an all-important 5-Star Euro NCAP rating. You'll still need a load-bed cover though if you want to carry both passengers and luggage without getting one or the other wet, but at least there are plenty of rope-eyes with which to tie your friends and family – sorry – I mean your bags, down.
Power incidentally comes from either a turbo-charged 2.3 litre 4-cylinder 163bhp diesel or a similarly sized twin-stage turbocharged 4 pot offering 193bhp. A 3.0litre 258bhp V6 diesel will be available, I'm reliably informed, soon.
It's the 193bhp unit, as fitted to a mid-range Progressive X-Class (Pure is the entry level, Power the range-topper) that I drove recently and a very agreeable few days behind the wheel it was too.
Because the X-Class/ Navara/Alaskan chassis uses a multi-link rear-axle and coil springs, rather than the more usual leaf-springs you usually find propping up the back of a pick-up, the Mercedes Benz boffins have been able to make this luxury load-lugger drive, well, more like a Mercedes. Albeit a 2.3 tonne one. It's no rocket-ship by any stretch of the imagination and there's little joy to be had from making the engine work unnecessarily hard. Or trying to throw the X-class around on a Welsh Mountain B-road for that matter either – the steering is far too slow for such things.
"A working vehicle first and foremost"
But relax a little, let the 7-speed auto-box do its thing and the X-class makes a surprisingly quiet and comfortable mile-muncher. Only the worst of surfaces bring out the tell-take pick-up shimmy and best of all there's very little bounce – no leaf springs you see!
It's all feels very nicely built and laid-out too. Those familiar with Mercedes interiors will instantly recognise the dials, the seven inch high-definition screen that sits centre stage in the dashboard, and rotary controller and touchpad in the centre console for the sat-nav and DAB. Even the single, trademark, Merc wiper/lights/indicators column stalk puts in an appearance. Granted, some of the plastics used here and there are very much of the hardwearing type, but this is a working vehicle first and foremost, a family car a distant second – even if in some cases it's a leather-trimmed one. You do get a very Nissan looking key though (should such things matter), and that lovely, chunky steering wheel from the C-Class saloon, a minor niggle perhaps: it doesn't adjust for reach.
Throughout my meanderings through Shropshire and mid-Wales I deliberately sought out all types of roads with all kinds of surfaces. I cruised the smooth(ish) M54, and took on the mountain roads; I drove through some unexpected and very deep floodwater, and even tackled a little light off-roading, atop The Long Mynd. The X-Class coped with it all, without ever resorting to complaint.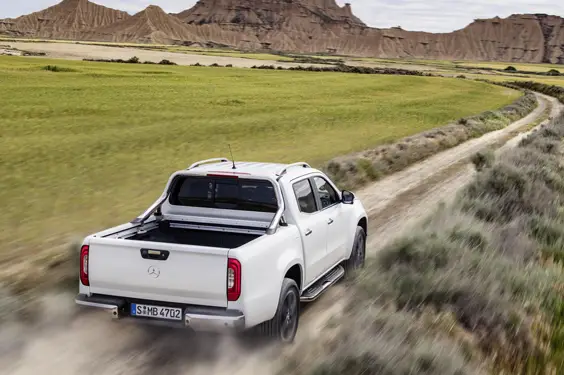 "Highly desirable"
As a four-wheel drive pick-up that's been built to appeal to those who like to work hard and play hard, or at least those who like to look like they do, the X-Class did exactly what it should've done, whilst leaving me with the feeling that it would've easily coped with much more. It is expensive – over £40K if you add all the toys – but, you'll pay less in tax thanks to the current one-tonne pick-up loophole, and if you're savvy enough to register it for business use you'll get VAT back too.
All things considered it's easy to see why this tough yet plush new Mercedes Benz appears highly desirable. After a week in its company it's hard not to sing its praises.
Mercedes Benz X-Class 250 D 4-Matic 140 kW 4WD Auto Progressive
Engine: 2.299 cc 4-cylinder 16 valve turbo-diesel
Transmission: 7 speed auto with selectable 4Matic All-Wheel Drive.
Power: 187 bhp @ 3,750 rpm
Torque: 332 lbft @ 1,500 – 2,500 rpm
0-62mph: 11.8 sec
Max Speed: 109 mph
Mpg: 35.8 (combined)
CO2: 207 g/km
Weight: 2,234 kg
Price: £37,987 on the road.