KISS – Live Review – Newcastle Arena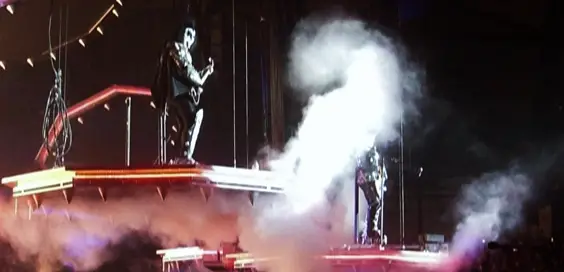 By Victoria Holdsworth, July 2019
We wanted the best, we got the best, and now we will never have the best again, as KISS play their last UK gig in Newcastle.
I will be the first to admit that this is one gig review I have struggled to write. Why? Because I am still in a state of wonderment and complete awe at what I have just witnessed and heard, and also because my emotions are running away with me. Is this really the end of the road for KISS? No band has ever been more self-assured and dynamic in their self-belief and successes than KISS over the past 46 years, and tonight just proves that they really are/were the best.
Kicking off with a little backing track of Led Zeppelin's 'Rock 'n' Roll', the legends descend from the rafters of Newcastle Arena on their individual platforms. You feel the scorching heat and thunderous blasts from the pyrotechnics, which shake every single bone in me.
Then, the unmistakable characters take their positions and surge headlong into 'Detroit Rock City', showing everyone that the psycho circus showmen are about to take over the next two hours of your life.
The stage is set with serpents, spikes, creatures and some amazing visual effect shields, which make it all look like they are contained in a giant pinball machine, as they slip effortlessly into 'Shout It Out Loud', which is a rip roaring cacophony of sheer rock, and the KISS army goes absolutely wild.
"Hotter than hell"
Not showing any signs of letting up, 'Deuce', which first saw the light of day back in 1974, follows from their self-titled album. Paul takes a little breather after that blistering set intro, to talk to their legion of fans, and tells everyone how special it is to be playing in Newcastle on the last leg of the UK tour, as it was Newcastle City Hall which was the venue all those years ago, when the band first toured.
'Say Yeah', 'I Love It Loud' and 'Heaven's On Fire' take everyone on a trip down memory lane, with so much aplomb – but things were about to get hotter than hell when they ramp up the amps for 'War Machine'. This sees Gene Simmons spewing his trademark flames whilst wielding a huge sceptre. The dramatics of this song are just out of this world, and it sounds as heavy as it ever did.
'Lick It Up' has always been a crowd-pleaser and tonight is no different. Paul Stanley's voice is holding perfectly, even though he has been singing nearly every night for the past year and a bit. I have read some reports of Paul miming to some of the songs on tour, however I was sitting just a matter of metres away from the man,  and I can tell you that tonight it was definitely all Paul. He put every sparkly fibre of his being into each song. Yes, there were some raspy bits, but you can forgive the man a few of those – he has and will be singing non-stop for two years. This was one of the stand-out songs for me tonight, and it very cleverly incorporated a cheeky little nod to The Who, with a snippet of 'Won't Get Fooled Again'.
It was special tonight to see the reactions on the faces of some of the younger members of the audience. It was an honour to see KISS still working their magic, and blowing the young whippersnappers away with a feast for the eyes and ears. But it was time to bring out some of the even bigger guns – and things were about to get seriously amped!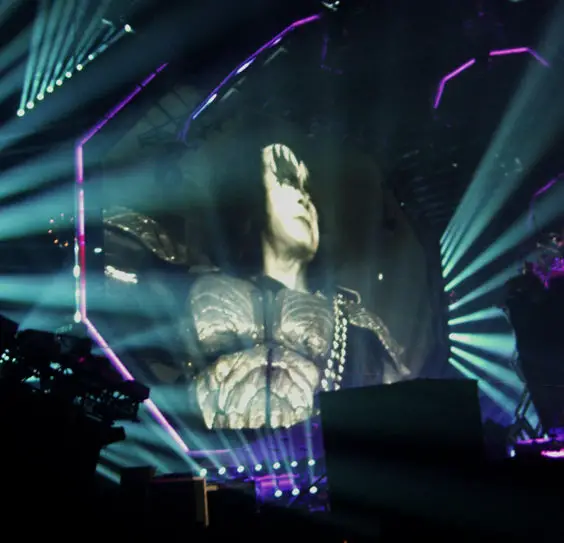 "Sharp licks"
Paul teeters out on his diamante platforms to the front and centre stage and tells the crowd: "Cos we love yer, I'm gonna call the Doctor. Doctor Love!" With Gene taking lead vocal, and Starchild providing the backing, 'Calling Dr. Love' is phenomenal, and played with an even harder New York swagger. Simmons' bass playing is deep, dirty and raw, and the guitar duelling between all on stage tonight shows how accomplished they are as individual musicians. But Paul Stanley definitely wins this round with a blistering solo, followed by some face melting explosions.
'100,000 Years' is another cracker, and as Paul and Gene rock out: "I'm sorry to have taken so long/It must have been a bitch while I was gone/You mind if I sit down for a while/You'll reacquaint yourself with my style."
The guys up front take a little breather at this point, and hang back in the shadows to give the guy at the back a chance to shine. Eric Singer became an official member of KISS in 1991, after the death of Eric Carr, however this line up has been intact since 2004, after a brief reunion with previous drummer, Peter Criss. I am not sure if the heat was getting to him, but I cannot lie, the drum solo was a little lacklustre. I have seen better over the years, but sensing the others needed a break, it was a necessity I suppose – after all the other band members are over 60 and still marauding around in eight-inch platforms.
My absolute favourite KISS tune was about to explode across the arena once they are all re-grouped. 'Cold Gin' is just as exceptional as the day it was recorded and it has held up well in their repertoire over the years. Tommy Thayer's guitar solo on this track is a remarkable sight, and he makes it sound even more exciting than I have ever heard before. Just watching this man play close up is mind blowing. The sounds he can get out of his instrument are remarkable – there's a real cosmic, fuzz rock vibe, interspersed with some sharp licks and riffs, and his axe even fires rockets – what more do you need?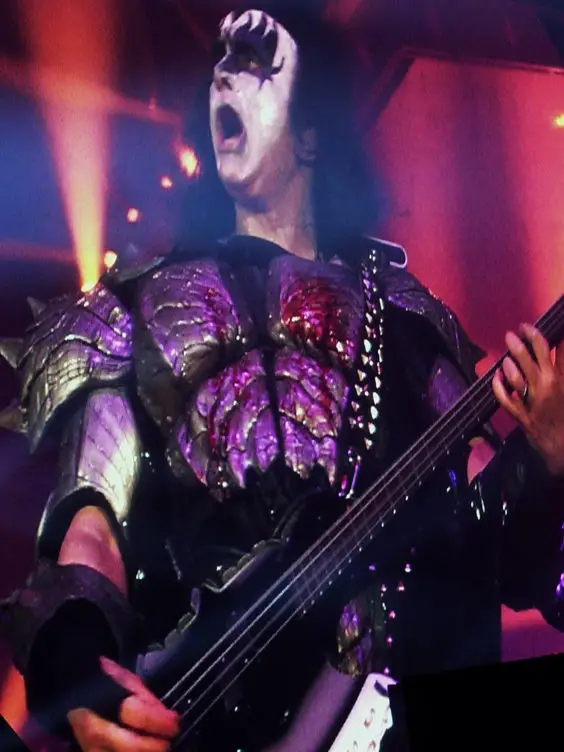 "Truly spectacular"
The stage then takes a darker feel, as the Demon steps forward, bathed in green and red lights. The small visual shields form a backdrop around him, each with a moving image of Gene Simmons's character, hanging out his trademark tongue and contorting facial expressions, looking around at all the other faces on the shields he rips into the aptly named' God Of Thunder', then treats us to a dynamic pounding bass solo. Simmons really could be a one-man show all on his own.
Further hotter than hell explosions fill the air with the smell of sulphur. Some pretty impressive Catherine wheels of fire start to whizz around at the back of the stage, as Paul tells the crowd that he wants them to start getting even crazier. We are then treated to the formidable sounds of 'Psycho Circus' booming from the amps, before sliding effortlessly into 'Let Me Go, Rock 'N' Roll', which sees all three guitarists join together for a stringed battle off on the stage – it's truly spectacular!
Then, for me, the next stage of the show is the best part of the entire night. Paul once again talks to his army, his voice at this point sounding like Big Ange from Mob Wives. He tells everyone that he would love to come and see everyone in the crowd, but they have to scream his name. The response is quite deafening, however it is not loud enough yet for Paul. So he asks: "What was that? Are you gonna slam the door in my face? Newcastle I wanna come and see ya! I ain't gonna come out there though unless I'm invited."At which point the roof nearly comes off the arena, and the unmistakable Starchild takes to a sparkly hoop and flies across the crowd to a platform at the back of the stadium and immediately jumps into 'Love Gun'.
It has to be noted that Paul Stanley is now 67-years-old, and is fitter and more agile than most twenty somethings. He struts his stuff for the second platform song, 'I Was Made For Lovin' You'. This version of one of their most famous anthems is less disco than the usual offering, has a dirtier edge to it, with a lot more guitar work involved. The crowd are still singing their heads off as the hard rocking, heavy metal Tinkerbell returns to the main stage to perform the last song of the set, 'Black Diamond'.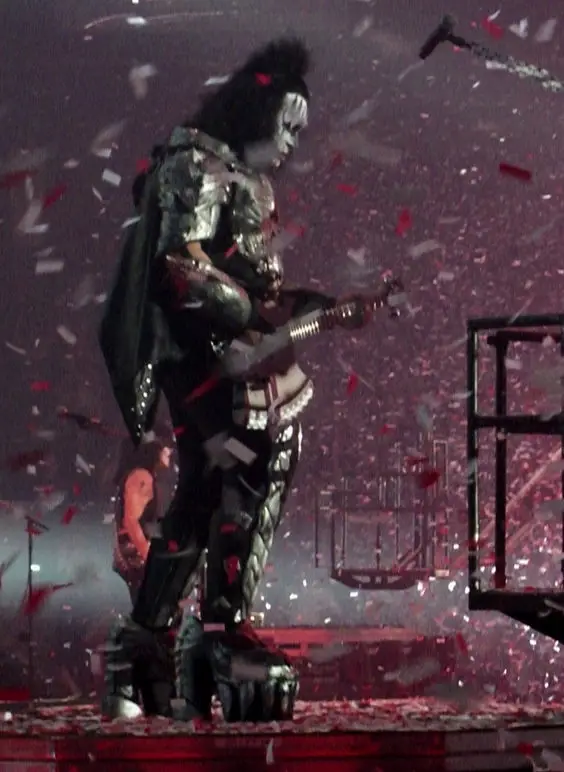 "Complete frenzy"
There's a short encore before they return to rapturous screams and applause, and a grand piano takes the centre stage. Eric Singer emerges from the back of the stage to take his stool at the keys and performs probably my least favourite KISS song, but one of their biggest hits to date, 'Beth'. Singer does the song justice, improving on the original, and it is nice when the rest of the band emerge from the shadows and join him at the piano.
'Crazy, Crazy Nights' sees the start of a fireworks eruption, as Stanley and Simmons knock it out of the park. There's was so much going on you simply do not know where to look.
The demon's tongue comes out and licks Tommy's face, which he does not appreciate mid solo, but it's pretty funny, as Paul camps it all the way up to eleven. Tommy and Gene then take to some skyward platforms, which go around the entire arena, just feet away from all their fans and put on a display like one I have never seen before. So many sparks, explosions and just a sheer wall of sound hit you right in the face, before the final song, 'Rock And Roll All Nite'.
This sees the entire building work up to a complete frenzy! Huge space hopper sized balloons kept drop from the roof, all emblazoned with each members' face, and then the confetti starts and rains so hard, you can barely see the stage.
The song is extended for quite some time as the fans keep singing long after the music had stopped. Someone throws a banner to Paul which reads: 'Newcastle Loves KISS' which he holds aloft for quite some time, before becoming obviously emotional.
Joining in unison at the front of the stage, they the band take their final bows and fling guitar picks, drumsticks and towels into the baying crowd below, before finally leaving their stage to the sound system blasting out 'God Gave Rock 'N' Roll To You'.
The confetti is still falling as the thousands make their way out, streaky faced doppelgangers, crying grown men, visibly stunned children and screaming females, all in awe, but all part of the same everlasting KISS army.