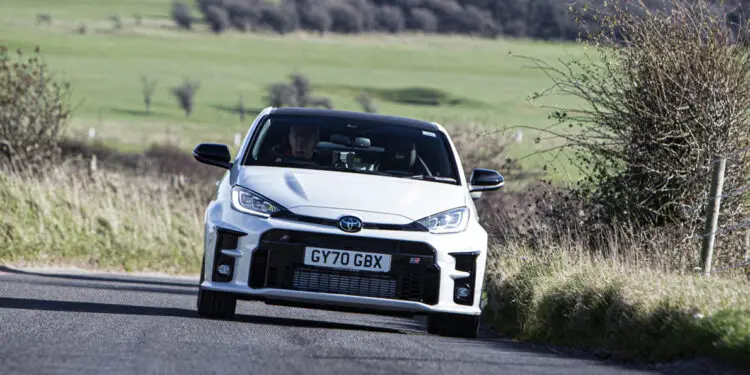 By Liam Bird
In nineteen eighty whenever-it-was, my cousin bought a Talbot Lotus Sunbeam. It was blue with a big black stripe that ran down the side of it, and it had the Lotus badge on each front wing. In the rear window, there was a big sticker that read: Talbot – Outright Winners – 1st, 3rd & 4th 1980 Lombard RAC Rally. The truth is, back then I didn't know quite what a Talbot Lotus Sunbeam was. Neither did I know what the Lombard RAC rally was for that matter either. Nevertheless, even if both cars were near-enough the same colour, it was evident that there was a huge difference between my cousins's 2.2 litre, Lotus-powered Sunbeam, and the much slower and distinctly quieter 1,598cc one my dad drove. The tyres were wider on the Lotus for a start…
Many years later, I bought a Peugeot 106 Rallye. It too had a large stripe along each side, it sat on wide tyres, and on occasion, it could also sound rather angry. My 106 Rallye was a series 1 (the rarer one) and was white. It bore only a passing resemblance to nearly every other Peugeot 106 on the road at that time.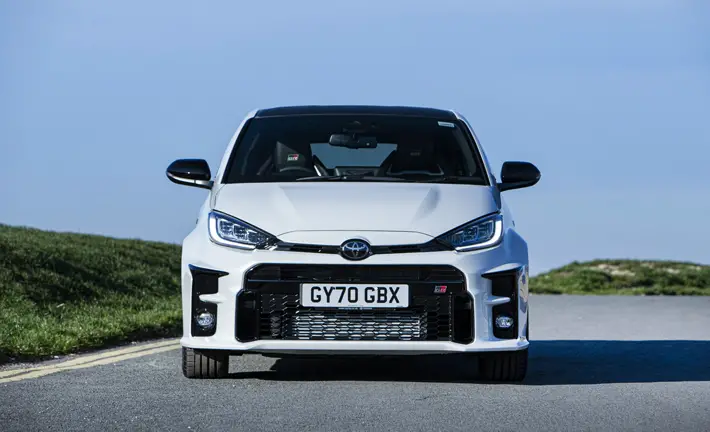 "Altogether different"
There's nothing new about homologation specials, they're the cars manufacturers make – usually in limited numbers – to allow them to enter specific categories or classes of motorsport. Think of the likes of the Lotus Cortina, Porsche's 911 RS Carrera, and the Group B legends that were the Audi Sport Quattro, Peugeot's 205 T16, and Lancia's mad as a box of frogs Delta S4. That's to name but a mere few. If you've ever wondered what GTO stands for, as in Ferrari 250 (or 288) GTO, well, it's Grand Turismo Omologato. Even my pigeon Italian can work that one out.
To the untrained eye, homologation specials – optional go-faster stripes notwithstanding – can appear very similar to their significantly all-the-more day-to-day brethren. Underneath their bodywork however, things are usually altogether different.
It is into this illustrious and now much sought-after collective that Toyota recently introduced their Yaris GR. Such was the interest it created, this years' allocation sold out almost immediately. Apparently, all of next year's Yaris GRs have been snapped-up too.
So, what is all the fuss about?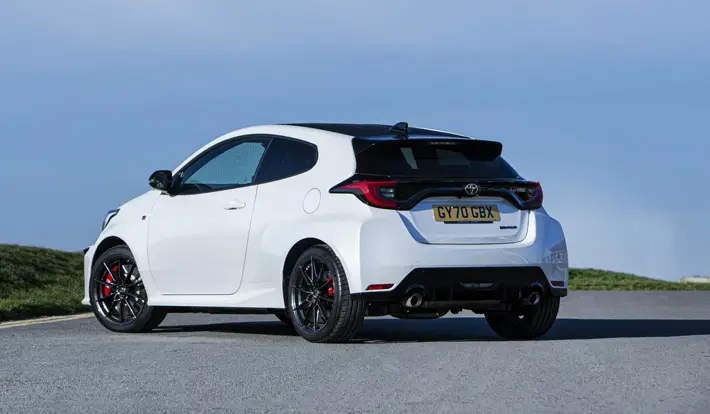 "Turbocharged"
From a distance the Yaris GR might look like the little car your elderly aunt does the weekly Tesco run in; a friend of mine even called it cute, but as you'll have probably guessed by now, that's not quite the case. For starters, the Yaris GR is a three-door; it is lower, it is wider, most of the bodywork is made from aluminium instead of steel, and its sloping roof is made from a carbon fibre resin. It's been designed to be as light as possible – so light in fact, it bends when you wash it. I did, and it did. The rear parcel shelf is little more than a metal frame covered in stockinet – it's held in place by cords rather than hinges – and rear seat space is tight to say the least. No one will thank you for making them sit in the back of a Yaris GR, even if the driver is as short as me.
Then there's the engine. It's a three-cylinder – like a standard Yaris – but this one's 1,618cc, and it's turbocharged. It is in fact the world's smallest, lightest, and most powerful three-cylinder: it produces 257bhp, and it's coupled to a proper old-fashioned six-speed gearbox. Three pedals and no flappy paddles. Hoorah! Oh! One other thing: the Yaris GR is four-wheel drive.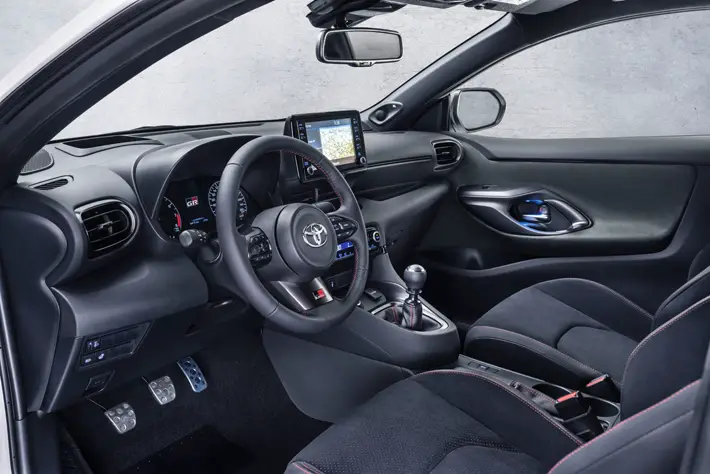 "Rigid central core"
The whole package was developed by Toyota's Gazoo Racing arm, with significant input from former WRC Champion, Flying Finn, and now Toyota rally team supremo Tommi Makinen. A Yaris GR weighs 1,280kg, does 0-62mph in 5.5secs, and where allowed tops-out at an electronically limited 143mph; presumably, it starts to take off at anything any faster.
But it's not all about straight line performance. The body may be light, but it's heavily strengthened so as to give the suspension a rigid central core to work from. At slow speeds the ride is a tad taught, a bit jiggly over broken surfaces, but pick up the pace a little and the Yaris GR flows down the road beautifully. There's ample oomph whichever gear you choose, and the grip level is simply phenomenal. Don't lit off, simply aim at the apex and fling it in, the chassis will do the rest. It is brilliant.
Everything, steering, brakes, gearshift, is all so direct. Point to point there's little else currently available that could keep up with it, and that includes supercars with five-times the Yaris GR's circa £30K price-tag.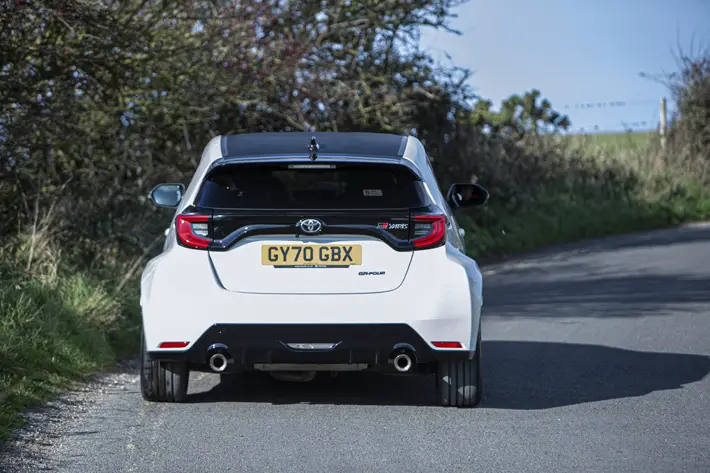 "So right"
Yet, the Yaris GR will do all the things you want a hatchback to do too. The rear seats fold down, it will pootle along in traffic, it's a doddle to park – although there's no rear wash-wipe and the rear window offers all the visibility of peering through a letter box – and it's small enough to fit in the garage. Driven sensibly (yeah, right…) it will even do nearly 35mpg.
Rarely does a car come along that just feels quite so right.
Out of the cars I have owned, I genuinely wish I'd have kept my 106 Rallye. If only my cousin had kept that Sunbeam… Values of both have skyrocketed.
Given the chance, I'd keep the Yaris GR too.
Toyota Yaris GR Four 1.6 Turbo
Engine: 1,618 cc 3-Cyl 12 valve, turbo-charged, petrol
Transmission: 6-speed manual with GR FOUR all-wheel drive
Power: 257 bhp @ 6,500 rpm
Torque: 265 lbft at 3,000– 4,600 rpm
0-62 Mph: 5.5 Seconds
Max Speed: 143 mph (electronically limited)
CO2: 186g/km
MPG: 34.3 (WLTP combined)
Kerb Weight: 1,280 kg
Price: from £30,020 OTR