Sailor Suit and Machine Gun (1981) – Film Review
Director: Shinji Somai
Cast: Hiroku Yakushimaru, Tsunehiko Watase, Akira Emoto
Certificate: TBC
By @Roger Crow
No, this offbeat Japanese thriller it has little to do with sailors, but if you imagine a British version would translate as 'School Uniform and Machine Gun', then it might make more sense.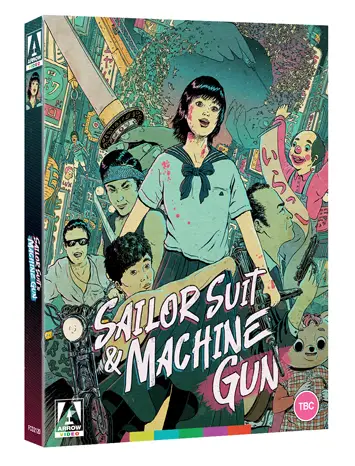 Japanese idol Hiroko Yakushimaru stars as a delinquent high school girl who inherits her father's yakuza clan. And the actress really earns her money, especially a scene where she's repeatedly dunked by a crane into filthy water. Those cries of anguish seem pretty real to me.
"Revamped"
(Hiroko also released a version of the title theme, which was a chart smash for several weeks apparently).
Obviously you can read what you like into any film, but the early scene where the heroine rubs her lipstick off with the back of her hand could be seen as a foreshadowing of the violence to come. (See also the splash of wine on a wedding dress in The Deer Hunter for similar hints of pending atrocities).
Described as "a satirical twist on the yakuza genre mixed with a coming-of-age drama," this revamped version has been restored using a 4K scan of the original camera negative.
It includes the original theatrical release as well as the complete version of the film re-issued in 1982.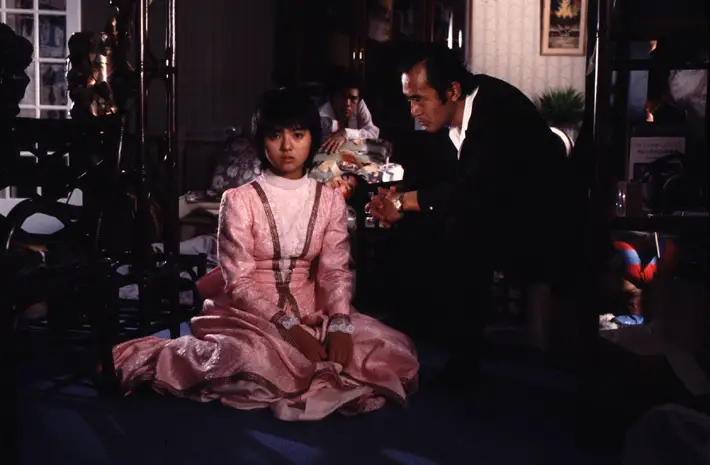 "Mixing genres"
Considering it's now 40 years old, the film looks amazing on Blu-ray. Yes, some of the fashions have obviously dated, but the picture quality and sound is excellent.
It's an odd beast, mixing genres, sometimes as well as oil and water, but still a fascinating one nevertheless.
Extras include an interesting documentary shedding light on the movie's origins and production.
SPECIAL EDITION CONTENTS:
• High Definition Blu-rayTM (1080p) presentations of the Original Theatrical Version and the 1982 Complete Version (kanpeki-ban) re-issue of the film, restored by Kadokawa Pictures from a 4K scan of the original negative
• Original uncompressed Japanese mono and 5.1 audio
• Optional English subtitles
• Girls, Guns and Gangsters: Shinji Somai & Sailor Suit & Machine Gun, an exclusive new 50-minute documentary featuring actor Akira Emoto, film scholar Chika Kinoshita, Somai biographer Tatsuya Kimura and Sailor Suit assistant director Koji Enokido discussing the making of the film, its director and its legacy
• Original Trailers and TV spots for both versions
• Image Gallery
• Reversible sleeve featuring original and newly commissioned artwork by Michael Lomon
Sailor Suit and Machine Gun is released on Blu-ray by Arrow, £24.99