Volkswagen Golf 8 – Review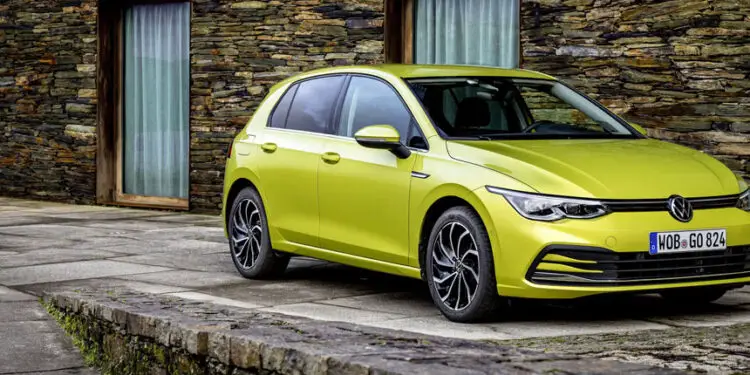 By Liam Bird
It's been called an icon, The Benchmark, the one by which all others are judged – and a whole lot more besides. But then Volkswagen's Golf practically defined the genre we now refer to as the family hatchback. I've owned five. My brother had one, my dad drives one, and I recently spent a day cleaning my mother-in-law's mark IV. Good car that, the mark IV; polished-up nicely…
Golfs are seen as solid and reliable; no one looks out of place driving one whatever their age or background. And Golfs have always felt slightly, well, more premium, than their competition whilst simultaneously outselling their most direct rivals at a rate of nearly two-to-one. The Golf has been in constant production for 45 years; Volkswagen have sold over 35 million of them.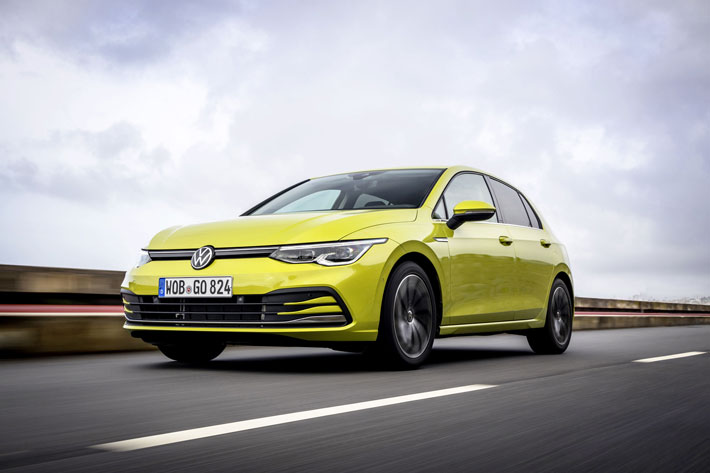 "Still a Golf"
A new Golf then, is big news. Or is it? Is the latest version of Volkwagen's ever-faithful perennial still as revered as it once was, and especially-so now we all seem so SUV obsessed? More and more of us are beginning to go electric too. I drove past a car transporter fully loaded with Volkswagen's new (and very nearly Golf-sized) all-electric ID.3 the other day. A vision of the future perhaps? It was something that certainly wasn't lost on me – I just happened to be driving the new Golf 8 at the time.
As is the case with nearly all Golfs that have gone before, the new one, the one I was in – the Golf 8 – when viewed from the outside at least, is definitely more a case of evolution than it is revolution. It is ever-so slightly bigger than the Golf it replaces (the out-going 7.5) – albeit just by an inch in length. Width and height remain the same. All the panels are new. There are some much sharper creases along the flanks and through the door handles, the grille is narrower, the headlamps are now LED – the Golf 8 is the first car in its class to offer such things as standard. There are some new tail lamps, the rear screen is shallower, and yet, it's still a Golf. One look is all it takes to tell you it couldn't be anything else.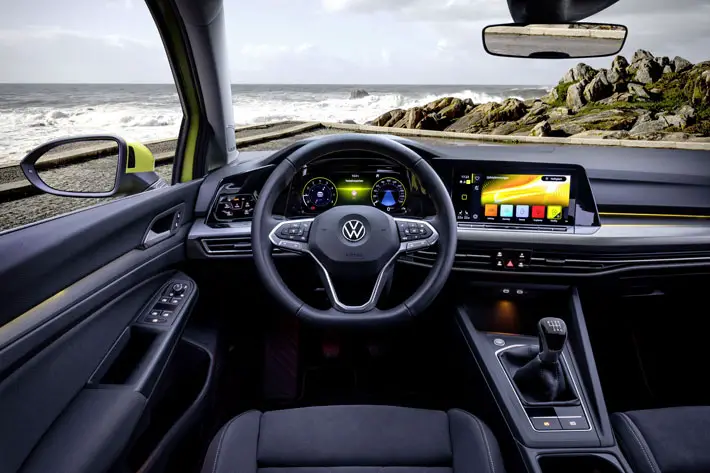 "Easy to live with"
Underneath its sharper and evermore carefully tailored suit sits the now familiar MQB platform. That means if your Golf comes with over 150bhp you get multi-link rear suspension, anything less and it's a simpler twist-beam affair – although you can spec optional adaptive dampers (they're £1000). Rear passenger room stays the same, as does the size of the boot. Engine choices are also familiar – albeit, as you might expect, they're cleaner and more fuel efficient that what once went before. There's a 3-cylinder 1.0 litre petrol with 110PS, a 4-pot 1.5 litre with either 130 or 150PS, and pair of 2.0 litre diesels with 115PS or 150PS respectively. A 48Volt Mild-hybrid system eTSI will also be available in 110, 130 and 150PS guises – all of which will have DSG gearboxes. There won't be a fully electric Golf 8, that's where those aforementioned ID.3s come in.
Volkswagen say it's the mid-range, mid-powered Golf 8 that's predicted to be the best-seller. Which in this case means a 1.5 litre, 130PS petrol, with a six-speed manual gearbox, in what is now known as Life (think SE) trim. That's probably why they specced their press demonstrator accordingly.
There's little really to tell you about the way in which the new Golf drives. As with all Golfs, the new one feels safe, easy to live with, and incredibly predictable. The driving position is near-prefect, the steering light, the visibility good in all directions. It's quiet, comfy and as happy bumbling around town as it is tackling a day on the motorway. It'll regularly exceed its predicted combined MPG figures too – we saw over 61mpg on a schlep to Sussex and back. And it will even park, and steer itself in some instances too. Honestly, what's not to like?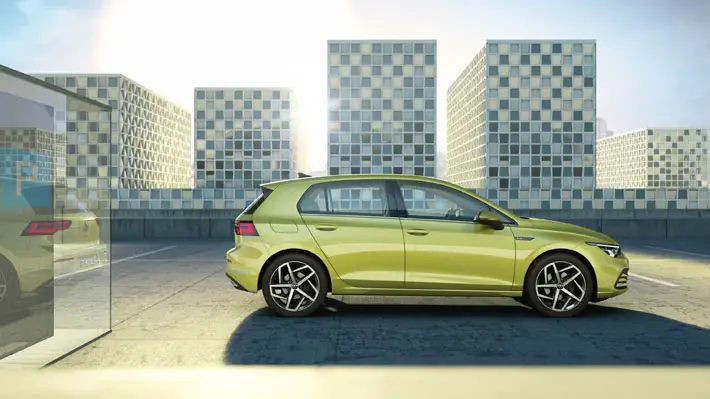 "Control everything by voice command"
Well… Funny you should ask…
Up until recently, you could jump into a Golf and you knew exactly where everything was and what everything did. Golfs were the very model of modern-day ergonomics. Now however, it would appear, they're just modern.
The Golf 8's interior is virtually button-less. Heating, ventilation, radio, navigation, volume, telephone, you name it, even the colour of the interior lighting… Everything is controlled via a touchscreen. Why? The new ten-inch tablet does indeed make the Golf 8's cabin look as clean-lined and as sleek as a Bauhaus building, but it's a right pain in the posterior when you want to turn the heated seats down, or change the radio station. VW say you can control everything by voice command, but the fact of the matter is the Golf doesn't always respond to your Hello Volkswagen voice command – which proves incredibly annoying when you desperately want to switch Jeremy Vine off.
Knob!
Why couldn't they have just fitted a knob?
You do get used to it – and its display, like that of the new multi-configurable electronic dash, is very clear. But why does it take four "button presses" and two sub menus simply to disengage the lane assist system? And you have to remember to do that every time you switch the engine on. Would a discreet little switch somewhere have been too much to ask for?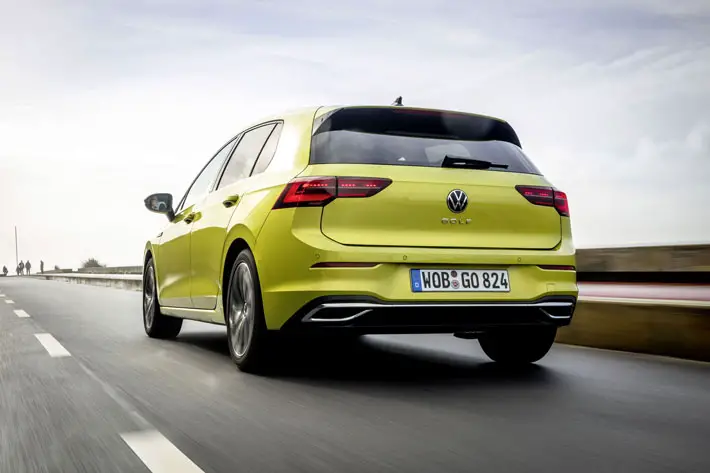 "An all-rounder"
Still, at least the new Golf 8 has a raft of other safety systems to keep you on the straight and narrow whilst you've taken your eyes off the road to switch to 6Music and switch the heated steering wheel off. Travel Assist for instance, allows Level 2 driving automation at speeds (where permitted) of up to 130mph, and there's cruise control and automated braking and a host of other stuff to keep you safe as well. And as always the way the Golf has been screwed together makes it feel virtually bomb-proof too.
As an all-rounder, just like it always did, the new Golf 8, is going to take some beating. That new dash will inevitably take a lot of getting used to (I think it's going to date quickly too), but once you're acclimatised – and to use and old VW advertising line – "it feels just like a Golf".
Have VW done enough to maintain its class-leading dominance? Only time will tell. However, if the next generation Ford Focus and Vauxhall Astra don't come with a touchscreen and near button-less dashboard, I'll be very, very surprised.
Volkswagen Golf Life 1.5 litre TSi 130PS
Engine: 1,498cc 4Cyl 16V turbocharged petrol with ACT (active cylinder technology)
Transmission: 6-Speed Manual. Front Wheel Drive.
Power: 128 bhp @ 5,000 – 6,000 rpm
Torque: 148 lbft @ 1,400 – 4,000 rpm
0-62MPH: 9.2 Sec
Max Speed: 133 mph
CO2: 122 g/km (WLTP)
MPG: 52.6 (combined WLTP)
Price: from £23,035 (as tested £26,525)