Vauxhall Astra SRi – Review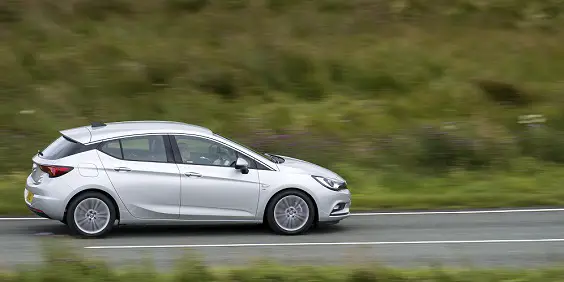 By Liam Bird
We've all done it. Credit card clenched in one hand, mouse clenched in the other, a route map of some far flung destination crumpled on the desk in front of us. Surfing the inter-web trying to find the best deal on our holiday hire-car. Then there's the question of what to go for. No-one wants to spend a fortnight five-up in a tiny Eastern shopping-box, so the first on-screen choice is quickly dismissed. So too is the people carrier. Some of those mountain passes and back roads on that map look quite interesting, whereas the thought of wrestling what's essentially a mini-bus up and down a few of them doesn't. So, without further ado the "Golf or similar" box is ticked and it's on to the packing.
It's only when you arrive at your destination, weary, slightly dehydrated and more than a bit jet-lagged, that you realise that the "Golf" you thought you'd booked actually turns out to be Vauxhall's latest Astra (they're a hire-market favourite after all). It's about the same size maybe, it has the same number of doors and the same size engine. But, it's perhaps not quite what you were expecting.
Stick with it. The Astra has just been voted 2016 European Car of the Year.
"Intuitive"
The new curvier, more compact, and more attractive (if still slightly amorphous), Vauxhall Astra SRi easily seats four, or even five at a push, and the driving position is not bad either. The seats are a little flat, but overall they're supportive enough – this isn't a sports car after all – and the Vauxhall Astra SRi remains comfortable and quiet over long distances. It's lighter than the outgoing model too, by 200kg. And you can feel it. There's a new found agility, it changes direction more keenly that it ever did. There's little in the way of wind noise and, on the move, the Astra rides and soaks up the bumps well.
The steering does feel a little uncommunicative, even artificial at times, but it's easy to place yourself on the road with accuracy. And, despite the trendy large wheels/low profile tyre combo doing its best to make the ride feel a bit brittle on the B-roads, the driving experience is a relaxed one. The Vauxhall Astra SRi doesn't seem to be as thirsty as it used to be either: the 1.4, 148bhp petrol turbo is said to be capable of 54.1 mpg. I manged middle to high forties over a week's mixed driving in the real world.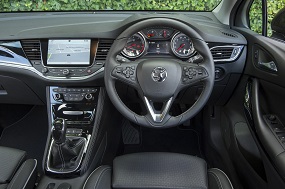 The dashboard instantly feels recognisable and appears to share a lot in common with Vauxhall's other offerings. The instruments, multi-function steering wheel, gear-knob and the all-important switchgear are old favourites. But you might be glad to know the is-it-on-or- isn't-it indicator stalk that blighted Vauxhalls of old has at last has been replaced by a much more intuitive item.
"Attention to detail"
I just wish they'd covered all the bits you touch in the same material. The steering wheel is leather, the gear-knob is made from a very budget feeling plastic and the handbrake has a rubber handle – but at least it's mechanical rather than electric. Hoorah! Still, a little more consistency and attention to detail would've made a huge amount of difference. The piano black plastic trim also feels a bit flimsy in places.
Quality of some the lesser switches and trimmings notwithstanding, the list of standard equipment, however, is a generous one. The 1.4 SRi – as per the one Vauxhall's press office loaned me – gets Sat-Nav with 7" touch screen (incorporating Apple CarPlay), Bluetooth, i-Pod connectivity, DAB radio, air-con, those aforementioned 17" alloys, ESP, electric and heated mirrors, rain sensitive wipers, auto dipping headlights ISOFIX and cruise control. It also came with what Vauxhall call OnStar.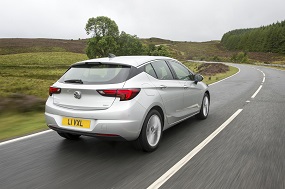 OnStar is effectively Vauxhall's on board butler. It'll do everything you ask of it (within reason) and can locate the emergency services in the event of an accident. It'll tell you what's wrong should a warning light come on or you can ask it to find the nearest restaurant. OnStar is free for the first year and then available for an annual subscription of £80. But that also includes European breakdown cover.
"Well-judged"
Press a button and a voice comes on in the car. It's also available as a smartphone app so you can do things like lock the Astra or check the trip-computer remotely. Oh, the Astra's also a Wi-Fi hotspot.
Needless to say, once fathomed, all this makes the Astra is an easy car to live with. Its mix of economy, practicality, size and competitive pricing mean that for some it could be the ideal family, or more accurately (and perhaps given Vauxhall's popularity amongst fleet buyers) business, transport. If you haven't driven one in while you might well be pleasantly surprised.
The 2016 European car of the year seems to have been pretty well-judged.
Vauxhall Astra SRi Nav 1.4i
Engine: 1,399cc. 4Cyl turbo-charged petrol
Transmission: 6 speed manual
Power: 148bhp @ 5000 -5600rpm
Torque: 173 lbft @ 2000 – 2700rpm
0-62mph: 7.8 sec
Max Speed: 134 mph
Mpg: 54.1 (combined)
CO2: 128 g/km
Price: £19,985 (car driven, £20,985)