Vauxhall Mokka X Elite – Review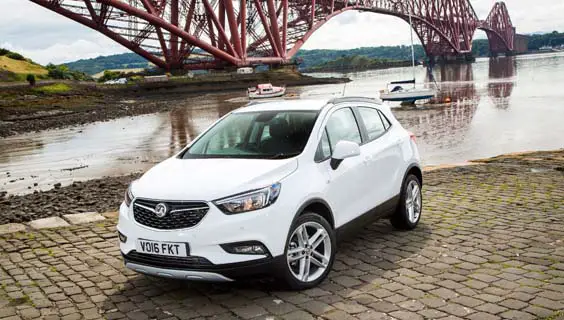 By Liam Bird
Within seconds of my first acquaintance with Vauxhall's Mokka X I sense that this a car that is aiming squarely at young urban types. Those for whom a mocha is something in a polystyrene cup (usually with another misspelt scrawling on it in felt-tip pen) or a form of Javascript software. It is not aiming at those who know that Mocha is the name of a Red Sea port – where, incidentally, coffee was once shipped from. Oh – it's also a city in Ecuador. But then, these days, small so-called urban-crossovers are purposely aiming at those that follow fashion, rather than those for whom world affairs are perhaps more important.
It's a tenuous link, I know, but hey! I need an introduction. Apologies in advance too: there's more to come. Also, for those that don't know a cappuccino from a frappuccino, a mocha, as in the aforementioned beverage, is based on an espresso and hot milk, and comes with added chocolate. A Mokka, or in this case a Mokka X, on the other hand is a C-segment sized Vauxhall that looks like it might be capable of a little light off-roading.
Incidentally, the X suffix doesn't mean you're buying an extra-large car – five fully grown adults would actually struggle to fit in a Mokka X – it's simply Vauxhall's way of differentiating their forthcoming cross-overs and SUVs from their more well-known line-up of hatchbacks and saloons. And in this case it's also Vauxhall's way of separating this "new" car from the Mokka (no X) that went before it. Got it? Good.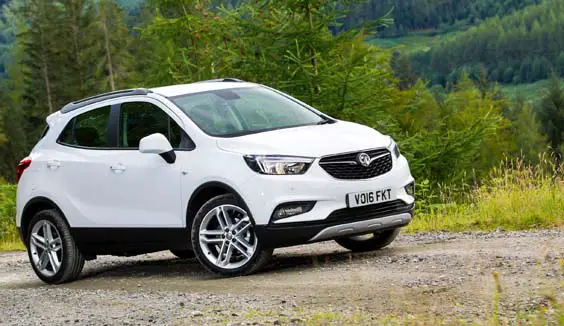 "Far more soft-touch materials than before"
So then, what's new? Is the Mokka X something sweet and frothy or will it leave you with a bitter aftertaste? (Told you.)
Externally the Mokka X ticks all of the urban SUV boxes. There's the tough-looking body cladding, raised right height, under-body skid plates, alloys wheels (17 inch as standard, 18s or 19s are optional) and, for 2017, a new grille and bumper and some new sweptback headlights. Overall the new face-lift is subtle. You can pick four-wheel drive to go with those chunky looks, but most Mokkas, I'd wager, will never stray too far from the tarmac and hence will be front-wheel only.
It's inside where the bigger changes take place. Gone is the old button-festooned dashboard and in its place there's a new 7-inch touchscreen and far more soft-touch materials than before. Standard equipment is generous, with all Mokka Xs getting DAB and Bluetooth and also Vauxhall's IntelliLink infotainment system with OnStar (Vauxhall's 24/7 emergency assistance and concierge service). There's also Apple CarPlay and Android Auto as standard. Included too is dual-zone climate control, cruise control, and parking sensors.
"Ride is lumpy on anything but the smoothest of surfaces"
You will have to upgrade to Design Nav spec though if you want sat nav and the larger 8″ touchscreen display that goes with it. Or, should your budget allow, range-topping Elite models as per the one we tried, get "leather" upholstery plus heated front sports seats and steering wheel.
As per Vauxhall's usual standards, everything is nicely laid out and within easy reach. But as attractive as it is, this interior isn't going to give the likes of Skoda, VW or any of the Mokka's Japanese rivals any sleepless nights when it comes to having worry about their build-quality. You do get WiFi though. I guess it's a question of priorities.
Connectivity aside, the Mokka isn't going to worry many of its contemporaries dynamically either. Not surprising when you discover that it's based on the same chassis as the Corsa.
Granted, core Mokka X clientele are perhaps unlikely to be hankering after the ultimate in driving thrills. But nevertheless, some of them might still be left wanting something more than the Mokka can offer. From behind the wheel everything feels decidedly average;. The ride is lumpy on anything but the smoothest of surfaces; there's a lot of wind and road noise at cruising speeds; the steering and major controls leave you feeling almost as numb as they are. To use another tenuous coffee analogy: It's all rather flat-white.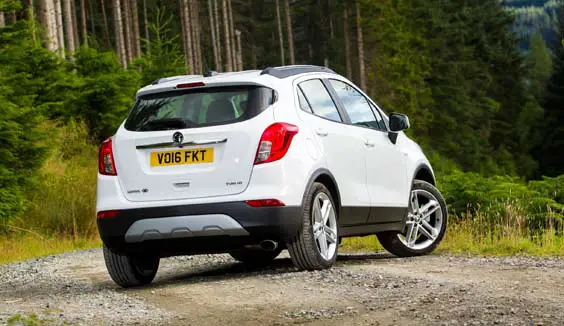 "Things appear somewhat expensive"
Conversely the 1.6-litre diesel engine is like an espresso. When it's cold it's coarse and lumpy; when it's hot it delivers all of its oomph in one short shot. Maximum torque is available between 2000 and 2,250rpm and after that it's all over. Luckily the Mokka X is short geared, but as a driver you need to be fully alert and make the most of the 6-speed manual gearbox in order to make the most of this peaky power unit.
Whether or not any of that will deter, or even interest prospective Mokka X buyers I really can't be sure. Judging by the amount of Mokkas I've seen whilst driving around in "mine" it's clear that with the attractive finance deals Vauxhall will no-doubt offer the Mokka X is going to go down well.
At a smidgen under £25,000 for the Mokka Elite though, for what it offers and when its residuals are taken into account – the Mokka X is predicted to lose 60% of its value in the first three years of ownership – things appear somewhat expensive. For that kind of money you could buy a genuine five-seater SUV and probably get four-wheel-drive too.
Whichever way I look at it the Vauxhall Mokka X, it just isn't my cup of tea.
Vauxhall Mokka X Elite 1.6 CDTi
Engine: 1,598cc 4Cyl 16V turbo-diesel
Transmission: 6 speed Manual, front wheel drive.
Power: 134 bhp @ 3,500 – 4,000rpm
Torque: 236 lbft @ 2,000- 2,250 rpm
0-62MPH: 9.3 Sec
Max Speed: 118 mph
CO2: 114 g/km
MPG: 65.7 combined
Price: from £24,195 (car driven) £25,630