Dying Laughing (2016) – Film Review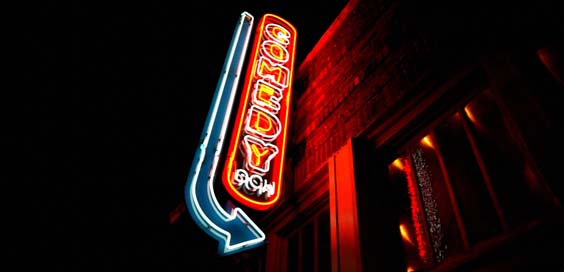 Directors: Lloyd Stanton and Paul Toogood
Certificate: 15
by Roger Crow
It's 1995 in Wolverhampton and Billy Connolly has just walked on stage. Hundreds of fans proceed to laugh at anything he says or does, there is that much goodwill directed towards him. And little wonder. He is one of the greatest stand-ups to grace any stage.
I've not seen or heard that act since, but a recollection about his breathing causing a moaning effect across a frozen lake still makes me smile every time I've got a chest infection and am trying to sleep, but sound like Darth Vader.
That's the great thing about comedy. It stays with you forever, as Lloyd Stanton and Paul Toogood's terrific new movie Dying Laughing proves.
Years later I see Jerry Seinfeld work his magic in New York, and though I didn't laugh once at his sitcom, I'm giggling all the way through his brilliant routine. In 2015, I see Lee Mack expertly ad-libbing through 20 minutes of a power blackout in Sheffield, and later in Bradford, see Stuart Lee dissect his own act on stage, and sink into the sort of 'depression' that would give psychologists a field day.
"Beautifully made"
Connolly, Seinfeld, Lee and Mack are just four of the international comedians featured in this beautifully made documentary about the art of funny. I've spent decades watching comedians either reduce an audience to laughter, or force them to leave during the halfway mark. I've seen the subsequent car crash when a comedian who couldn't be bothered to prepare an act gets slaughtered on stage, and have also seen terrific comedians riding the crest of a comedy wave like Patrick Swayze in Point Break.
One of the funniest moments in Dying Laughing comes towards the end when a comic compares that feeling of winning an audience over like riding a wave, without really setting up his premise. Just flailing around.
Of course if you analyse comedy, chances are you're going to destroy the thing that was funny in the first place. But this is not just about examining what makes people giggle, but what makes people go into the business; how they develop that essential thick-skin, and inevitably the feeling they have making thousands of people laugh every year, if they are lucky.
Connolly is still great value for money, especially in a segment where he reflects on how he can't hear many of the audience reacting, so treats them all as hecklers. It's inevitably poignant when the likes of Garry Shandling and Victoria Wood make appearances. Two of my favourite comedians ever dissect the careers that made their names, and remind me what tremendous talents they were.
"Reminds us that great comedy is universal"
While there are plenty of American comedians you may never heard of, there is no shortage of familiar faces such as the great Steve Coogan, John Thomson, Sean Lock and Jason Manford to remind us that great comedy is universal. And of the US comics, it's great to see the likes of Chris Rock, Kevin Hart, Jamie Foxx and Sarah Silverman alongside the magnificent Seinfeld and Shandling, proving what a tricky game comedy can be.
When I reviewed recent movie The Comedian's Guide to Survival, I was frustrated that it had so much going for it, including comedy soundbites from the likes of Omid Djalili (or 'home-made jelly' as my predictive text prefers) and Gilbert Gottfried (both of who also make appearances here), and yet for me fell short of reaching its true potential.
Watching this, I realise that fictional films analysing comedy have a hard time being funny in themselves. Documentaries work far better as they are about delivering a version of the truth.
"Terrific watch"
When gags come through raw honesty, it's a beautiful moment. There are a couple of moments here where two US comedians I've never heard of are reduced to tears reflecting on either the greatest or the lowest points in the business, and it is that truth you can't fake.
I would like to have seen a contribution from Jimmy Carr, whose performance in Hull early in 2017 was one of the greatest stand-up performances I've seen, and a few more great British comics, but I am surprised how well this film works.
The beautifully shot colour scenes of open American countryside, as comics moan about going from gig to gig in some of the most remote parts of the States, are excellently done, as is the black-and-white footage of the comedians themselves.
Whether you love comedy, or just like seeing how comedians make a living, this is a terrific watch.
8/10