The Comedian's Guide to Survival (2016) – Film Review
Director: Mark Murphy
Cast: James Buckley, Paul Kaye, MyAnna Buring
Certificate: 15

by Roger Crow
Movies about comedy can be a minefield. Analysing the art of what makes people laugh is like driving a tourist bus down a cul-de-sac. It may be lined with fascinating, colourful characters, but the destination is ultimately a dead end and your passengers hoping to reach a final destination beyond that immediate horizon will be disappointed.
I respect drivers of said cinematic bus. Especially when they attract some of the best international comedic talent around.
It's proof that even when you have the best ingredients for a project given a modest budget, if that magic yeast-like reaction that makes baked goods rise isn't present, you wind up with an odd dish.
Writer/director Mark Murphy's previous film Awaiting (shot in Howden and Bubwith) reworked classic horror themes to fine effect, utilising a small budget and a good cast to generate an effective shocker.
Once he laid out his stall, Murphy pulled off a glorious third act, which gripped me.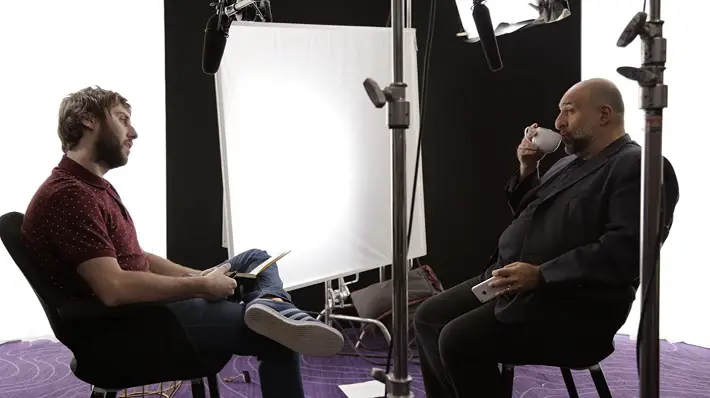 "Mix of high and lowbrow always works"
The same magic occurs in The Comedian's Guide To Survival, but the problem is journalist James Mullinger, played by The Inbetweeners' James Buckley. He's already doing a dream job working for a GQ-style men's mag, but seems bored by the experience. His real passion is stand-up comedy. But getting his big break in the business is far from easy. Especially as he's trying to land an interview with a big comedy star.
Paul Kaye is on good form as his foul-mouthed boss. Those piercing eyes and zero tolerance attitude to failure summing up what both makes a good and bad editor in one frame of film. However, a running gag about breaking the fourth wall falls flat because it's been done before. With tighter editing, and as more of a throwaway, it could have worked.
And a gag about the protagonist partner's delayed reaction is equally mis-judged. A thrilled jaw drop works for a few seconds on film, not the depicted hours we are led to believe.
The presence of the ever reliable Mark Heap as a hillbilly trucker adds wry smiles, but that stereotype would have been better had he been anything but the generic psycho. A well-read hillbilly trucker, or someone with a fondness for art would have been welcome. The mix of high and lowbrow always works. That's one rule of comedy that never changes, as French and Saunders' operatic version of 'I Should Be So Lucky' once proved.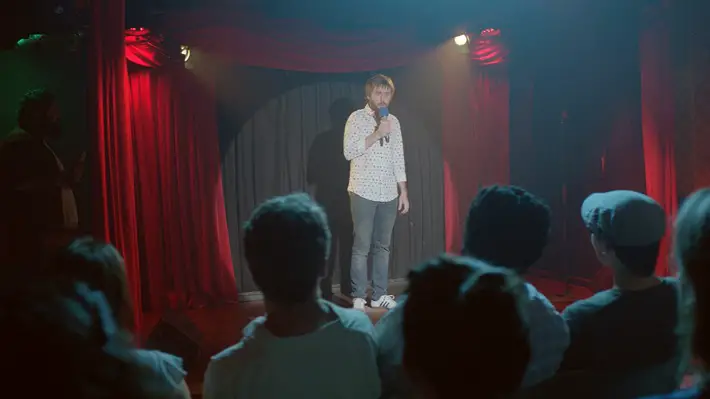 "An intriguing curio"
The MVP is MyAnna Buring as the movie's most interesting, alluring character. A glacially cool cog in the film's workings, she lifts the project with every appearance. Just a shame she didn't have a bigger role.
As most Britcoms these days seem to fall into two camps: reworking the Richard Curtis romcom formula or The Inbetweeners' gross out success, it's intriguing to see a film that sticks a toe in the latter's waters, but tries to walk its own path.
Is it successful? Not really, but had Mullinger seemed less bored and more hungry, and worked in a dead end newspaper job in the first act, then a style mag, we would have had more of a character arc so the audience could root for him. (Thankfully the version I saw in December 2015 is much tighter in the final cut, and Mullinger comes across as more appealing).
It's an intriguing curio, and by the finale I was desperate for more. Alas, just as that magic happened, it ended.
Getting any movie made is remarkable, especially in the UK, but I know Murphy has great films in him. This might not be one of them, but give me this over cookie cutter blockbusters any day of the week.
Let's hope pending chiller End of Term, which he's currently working on, is more on the money.
6/10