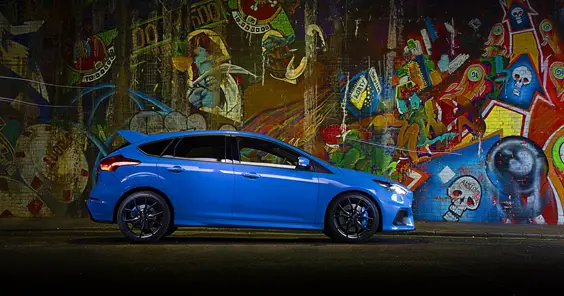 By Liam Bird
There's nothing new about a fast Ford going sideways. Flying Fins and boy-racers alike have been hanging the tails of Dagenham's finest out on rally stages and roundabouts ever since the Ford Motor Company decided to place an RS sticker (it stands for Rallye Sport incidentally) on the boot of a mark one Escort in 1969. And, let's not forget Jimmy Clark and John Whitmore were doing it in Lotus Cortinas long before that. But, it's not until now, however, that sliding about has been so positively encouraged. And by the Ford Motor company themselves no-less.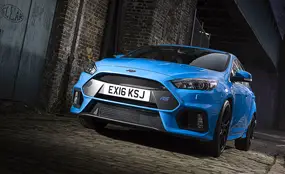 I've just driven the new Ford Focus RS, the 2.3litre, turbo-charged 4 cylinder, 345bhp, torque vectoring rear-axle equipped, all-wheel drive, 0-62 mph in 4.7 seconds, 165mph flat-out, 6-speed manual and five-door only, £29,995 version of Ford's family-favourite, the Focus hatchback. Think of it not so much as a hot-hatch, as those figures and specs might suggest: It's a positively boiling one. It's also equipped with 'Drift Mode'. We'll get to that later.
Apart from a more muscular stance, some inevitably bigger and lighter wheels, the obligatory roof spoiler and rear diffuser, and what can only be described as a massive front grille, the RS resembles pretty much every other modern Ford Focus you can think of. In the metal, and in a subtle colour, by Ford's RS standards of old it's actually quite discreet. Compared to the similarly priced and similarly swift Honda Civic Type R it's positively a paragon of self-restraint. The body carries nothing that's superfluous. The purpose being to create what's known as zero-zero lift – superb stability, at high speed.
"Sounds magnificent"
Behind that gaping grille lies not only the largest intercooler Ford could get to fit, but also the same engine as that fitted to the Ecoboost version of their new Mustang. In the Focus it's also been treated to upgraded bore-liners. There's also a new head, a different turbo and inlet manifold, plus a far free flowing exhaust. All come courtesy of the legendary Cosworth, no less. It sounds magnificent. It's as if it's escaped from a rally car.
Interior-wise all the fixtures and fittings will be familiar to anyone who's ever driven a Focus, or any Ford for that matter. Think functional rather than funky. The only obvious difference is the fitment of some super supportive and hip-hugging Recaro seats complete with the RS logo. Like all of the control weights: throttle, brakes, steering, gearshift etc, they feel just-right. I wouldn't fork-out the extra for the optional hard-backed shell versions. There's no height-adjustment, and as a result you feel as if you're perched too high. In fact, were it not for those seats and some blue stitching here and there, the Focus RS feels pretty much like any other Focus.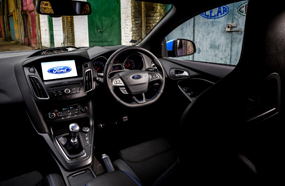 That is, until you drive it.
"Grips like the proverbial"
As is so often the case it's the bits you can't see that make all the difference. The brakes are from Brembo and have been designed, like the rest of the Ford Focus RS's major mechanicals, to be able to withstand 30 minutes of running flat-out without succumbing to any effects of degradation.
The suspension is as expected firm, but the adaptive dampers – adjustable via the indicator stalk – maintain a level of compliance that's so often lacking in such, if you'll pardon the pun, focussed, machinery. The tyres too, specially developed Michelin Pilot Supersports, grip like the proverbial. Understeer just isn't a problem.
And then, there's the back axle. Sitting below a slightly elevated boot floor lies the Focus RS's piece-de-resistance. Unlike in so many all-wheel drive vehicles, including much of the Focus RS's Germanic, and more expensive, competition there's no centre differential. Instead, the RS's drive is sent directly aft. There it's dealt with by two individual clutch packs. These can, if necessary, divert 70% of the total torque to just one wheel.
The GKN-sourced axle is geared to rotate 2% quicker than the front. Or, in laymen's terms: it's constantly trying to overtake. On a straight road everything takes on the role it would in normal front wheel drive. Little torque is sent to the rear. Make adjustments to the Focus RS's direction via the quick-rack steering though and the difference is immediate.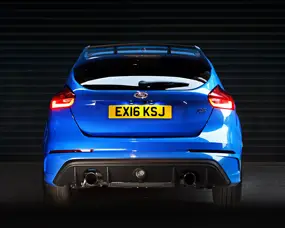 "Pure driving pleasure"
Not only is the all-wheel drive system capable of sling-shotting you out of corners, it equips the Focus RS with the handling of something offering a far greater rear-wheel drive bias. Select Sport mode and you can just begin to feel the rear wheels pushing you out of a corner. Whereas in Track – which Ford suggests is purely for use on circuits – you'll know immediately that's their intention.
But it's when you select Drift Mode that the Ford Focus RS's handling takes on a whole new dimension. It unashamedly encourages you to drive like a hooligan or (depending on your point of view) a rally hero.
The software, the hard-wear, the sensors, the ECU, the engine's over-boost function that increases torque for up to 15 seconds when you floor the throttle, and that oh-so-clever rear-axle, plus a whole host of other electronics and associated oily bits work with you. You can slide the rear Ford Focus RS around at whatever angle you desire. OK, so it takes practice, and it takes space. And, I'm in no way suggesting you use it on the road. But, it's just so controllable.
The Ford Focus RS flatters you. If pure driving pleasure is your quest, a hot-hatch has never felt so good.
Ford Focus RS 2.3T EcoBoost
Engine: 2,261cc cc 4Cyl Petrol, turbo
Power:  345 BHP @ 6,000rpm
Torque: 324 lbft @ 2,000 – 4,500rpm (347lbft with overboost)
Transmission:  6 speed manual, all-wheel drive with torque vectoring RDU
Performance: 0-62mph 4.7 sec
Max Speed: 165 mph
MPG: 36.7 Combined
CO2: 175g/km
Price: From £29,995 (as driven) £34,130