Aston Martin Vanquish – Review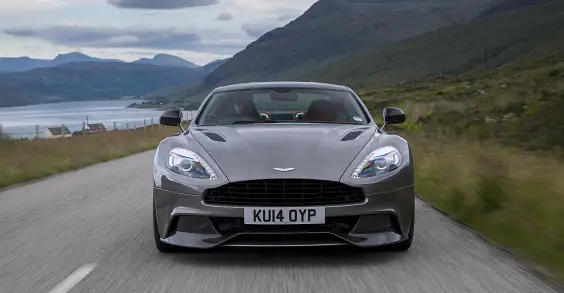 By Liam Bird
Nothing quite prepares you for the noise an Aston Martin Vanquish makes when it's driven in anger. It's spine-tingling. There's nothing quite like it.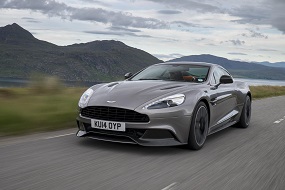 An early evening dash for a dinner appointment coincided with my week with the Vanquish: Aston Martin's bespoke-built flagship Grand-Tourer. With a hastily packed overnight bag stowed in its compact trunk, the sat-nav primed, and my iPhone plugged in, I plotted my course.
For the first few miles, Friday's commuter traffic, albeit light, with the inevitable lumbering tractor or three, hampered any kind of proper progress. Not that that bothered the Vanquish. At speeds more associated with agriculture rather than Aston Martins the automatic gearbox simply picks the highest ratio it deems suitable and lets the hand-built 6.0 litre V12 take things easy.
Driven carefully, Aston Martin claim the Vanquish is capable of 22mpg, whilst 60mph equates to little more than 1400rpm in eighth gear. If you're the kind of driver that likes to let both motor and gearbox barely break a sweat, the Vanquish will happily play the relaxed cruiser role all day long.
"Soul-stirring"
Some of us though, have more pressing arrangements. And the Brecon bypass, fortunately, is a dual-carriageway. Finally, it's time to let the last of the evening's stragglers disappear in the mirrors and try and recover some of the time they've so inconsiderately cost me.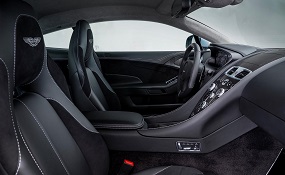 Bury a brogue deep into the lamb's wool-lined foot-well and at first, and perhaps surprisingly, little happens. It turns out that the Vanquish's ZF transmission is as slow to react as those for whom a weekend's relaxation appears to have already begun. Pull out to overtake and there's a languid pause before things begin to liven-up. Fortunately, Sport mode fixes things and the little steering wheel-mounted button significantly ups this circa 200k GT's sense of urgency.
By the time it's time to turn right onto the A4059 and head for Penderyn, the road ahead has cleared. A flick or two of the left paddle-shifter is all it takes to manually change down. At last it's time to let the Vanquish clear its throat, gulp in the cool evening air, and sing. Nought to 62mph takes just 3.8 seconds and the unmistakable multi-cylindered voice of Aston's V12 becomes all encompassing; it's sonorous, it's symphonic, and it's superb. It ranges from a soul-stirring low-bass rumble to what someone far more erudite than I once described as "a sound akin to Tom Jones picking up the soap in the Strangeways' showers". Who am I to argue with that?
"Eccentric charm"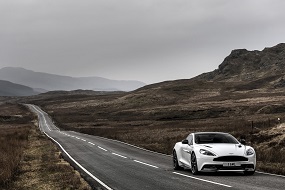 This carbon-fibre-bodied beauty changes direction perfectly too, thanks to steering that is both accurate and beautifully weighted. Despite its size the Vanquish feels both lithe and effortlessly athletic. Covering big distances on sweeping open roads in short periods of time is after all what it was built for. It's just a shame that the Vanquish's interior isn't quite so attractive; originally designed 12 or more years ago it really is beginning to feel its age. It does retain a certain eccentric charm though.
Needless to say I made my appointment with time to spare. Plus I arrived in style. In a couple of years from now Aston Martin will be building their DBX in St Athan, South Wales. And, as I write this their all-new DB11 is currently on its showroom tour. The future looks bright for this most quintessential of British brands. Here's hoping I get to drive one north sometime soon.
Aston Martin Vanquish
Engine: 5,935cc 12Cyl 48V petrol
Transmission: 8 speed auto with electronic shift by wire, rear wheel drive.
Power: 568 bhp @ 6650pm
Torque: 465 lbft @ 5500rpm
0-62MPH: 3.6 Sec
Max Speed: 201 mph
CO2: 298g/km
MPG: 22.1 combined
Price: from £192,995 (car driven £216,200)