Ford Transit Custom Nugget Plus – Review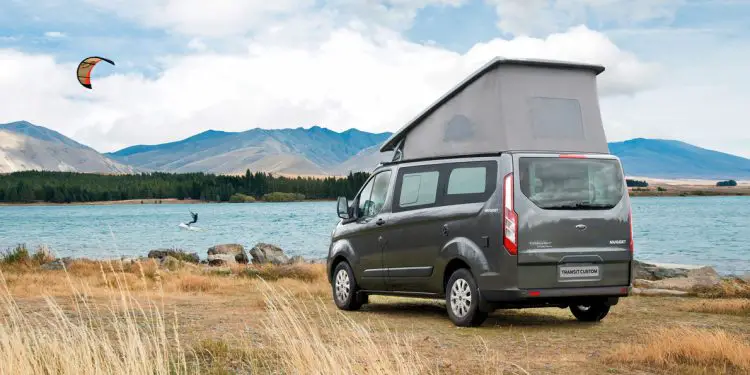 By Liam Bird
Hmm… Writing a review of Ford's Nugget Plus campervan without inadvertently making it sound like an estate agent's listing probably isn't going to be that easy. Do you review the van – in this case a 2.0 litre Diesel Ford Transit Custom of medium wheelbase (the reason for which will soon become apparent) or the accommodation it offers – believe it or not, over two floors?
An estate agent trying to highlight the attractions of the Nugget Plus might write something along these lines:
FOR SALE: A thoroughly modern and solidly built mobile dwelling constructed in the traditional style so typical of that of long established partnership of Westfalia and the Ford Motor Company. Accommodation is split over two floors and comprises the following: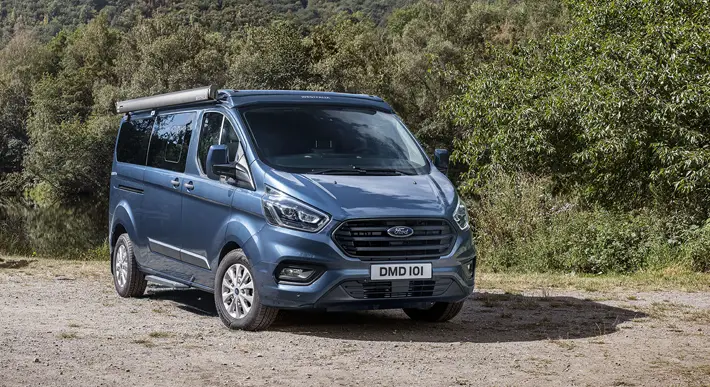 "Versatile"
Ground floor: A compact and bijou open-plan living-room/kitchen/dining area with fully-fitted galley-style kitchenette to the rear, complete with integral 40 litre fridge, double-ring gas-hob, and stainless steel sink with both hot (electrically heated) and cold running water. A range of under-counter purpose built storage options are fitted, and the room also benefits from the addition of sliding doors (to outside) on both sides, plus feature windows – both heated front and rear – with fitted curtains. This most versatile of spaces seats up to five people and can easily be converted into a full-size double bedroom. Lighting is by 12V LED lamps.
First Floor: A treble aspect full-size principle bedroom situated beneath an elevating, pitched, roof. Construction is of composite and canvas.
Heating to both floors is by oil (more accurately, diesel).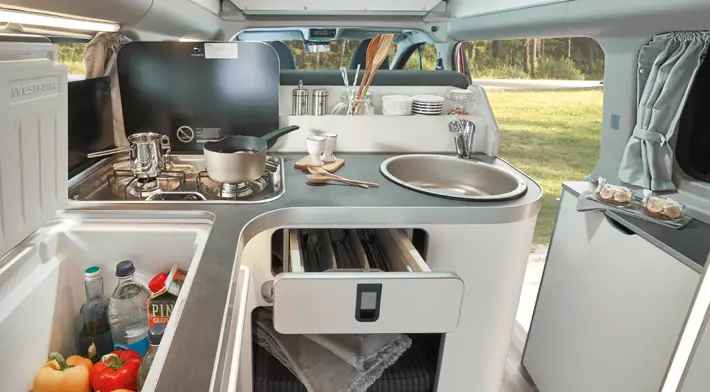 "Relative comfort"
Outside there is a full length garden/patio area covered by a retractable awning that offers the perfect place for alfresco dining, or an evening's entertaining. Further storage is also provided for the garden furniture (a folding table and two folding chairs) which is included in the purchase price.
Bathroom: Shielded by a retractable privacy screen, the extended wheelbase of the Nugget Plus (over the more compact Nugget) allows for the fitment of a built-in cartridge-type toilet, for greater convenience. The area also includes a foldaway wash basin, and an attachment for an outdoor shower – both benefit from hot and cold running water. Fresh and waste water is catered for by two on-board tanks each with a capacity of 42 litres.
Funny how an estate agent can "flower things up" a little isn't it? Nevertheless, the Nugget Plus can seat five in relative comfort – the rear bench is a tad upright – and, with the pop-up roof erected, it will sleep four, or perhaps two adults, and three small(ish) children. Things would definitely feel compact and bijou with 5 aboard. And that "bathroom" is, effectively, in the kitchen; the loo is directly opposite the fridge, which in my book means it's there strictly for use in absolute emergency situations only. (To be honest, I think I'd rather swallow a handful of Imodium and take my chances).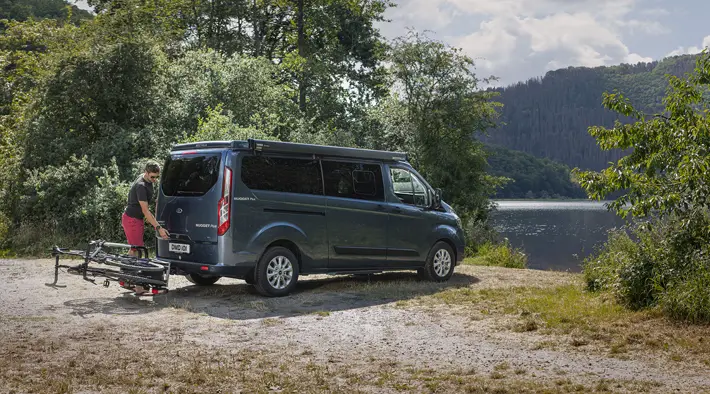 "Direct"
Let's not dwell on that. Questionable location of its water closet aside, the Nugget Plus is, for what essentially is a Transit van, not such a bad place to be. "My" van came with Bluetooth, climate control, parking sensors, heated seats (in the front), optional sat-nav and enough cubbies, and cup-holders, to make anyone a happy camper. A few more USB ports up-front wouldn't have gone amiss though, neither would more storage space further aft – that kitchen has stolen what would otherwise be a "bootspace".
Performance however, wasn't lacking – although that said "my" Nugget Plus came with the now no-longer available 183bhp diesel engine coupled to Ford's slick, six-speed auto 'box. We happily cruised at the legal limits and returned approximately 35mpg whilst doing so. Once you've acclimatised to its size – although it's not that much bigger than many a seven-seat SUV – the Nugget's as easy to drive as a Fiesta. The steering is light, albeit surprisingly direct, there's not anywhere near the amount of body-roll you might have expected, and despite being based on something more akin to transporting pallets than people, the Nugget's ride is never what you'd call uncomfortable. Wind noise is kept to a minimum too.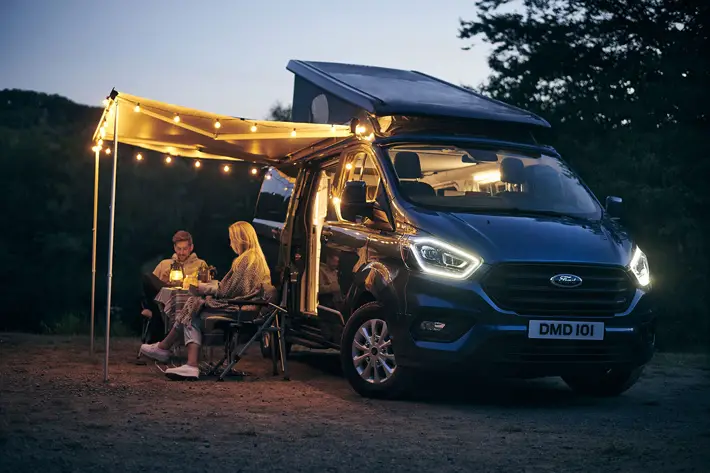 "Price is a tad steep"
That said there was a very annoying and untraceable rattle coming from somewhere deep beneath the Nugget Plus's dashboard. No doubt, as press demonstrator our particular example had already led quite a hard life. But isn't that what you from a camper; something that can cope with anything that life can throw at it?
I'll readily admit I'm not really campervan material. Give me a Premier Inn over a pitch at Pwllheli any day of the week. I think the Nugget Plus's 82-Grand before options asking price is a tad steep too (Volkswagen's range-topping California starts at £72,980, albeit sans bog in the back). Imagine all the round-the-world air tickets you could buy for that!
Nevertheless, I will concede, if a campervan is your thing, and you are prepared to fork-out what might appear to some as a second mortgage on one, the Nugget Plus might well be worth more than just a second viewing.
Ford Transit Custom Nugget Plus 2.0TDCI (EcoBlue) 185PS FWD 6SP auto
Engine: 1,995cc 4-cylinder, 16V, bi-turbo diesel
Power: 182 bhp
Torque: 306 lbft
Transmission: 6-speed automatic. Front-wheel drive.
Performance: 0-62mph in approx.11.0 seconds
Max Speed: 112 mph
MPG: 36.2 (combined).
CO2: 204 g/km
Price: £82,329 (as driven £84,741).