Waitress – Review – Bradford Alhambra Theatre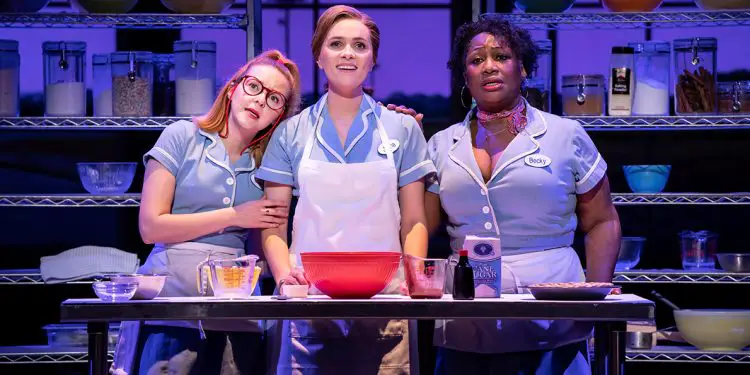 By Steve Crabtree, July 2022
Hungry? Fed up with what's happened in the world in the last two years? Well, a slice of Pursuit Of Happiness pie could be just what you're looking for.
Here we are, in Bradford waiting for our waitresses to serve us up a musical treat in the shape of Waitress, the stage adapted version of Adrienne Shelley's 2007 film. And from the minute we enter Joe's Pie Diner, the entire cast are cooking up a storm.
It's here where we get to know the loveable lead role Jenna, an upbeat waitress and pie-maker, who smiles but struggles her way through life.  Trapped in an unhappy, abusive relationship with husband Earl, she's also accidentally pregnant. She's searching for the recipe for happiness, success, and a way to escape the clutches of her awful partner.
It's a typical 50s-style diner, out on the highway, complete with a scruff of a manager, and a daily specials' board. The three waitresses there are well scripted in greeting customers, but behind their professional mask lies a wacky personality or two. Waitress hands us a sweet and sugary main storyline; one that comes with a dash of the profound, and a sprinkling of take-your-breath-away moments.
"His love for her pie"
We were really lucky to be watching a very talented cast up there on the boards tonight. The outstanding Chelsea Halfpenny, formerly of Byker Grove, Emmerdale and Casualty plays the lead role of Jenna. She takes her from her most vulnerable, to her most confident with natural and likeable ease. She endears herself to you, and you desperately want her to succeed. Especially when you learn about what her life is like when she leaves the diner for the day.
Then there's Tamly Henderson playing Jenna's husband Earl.  He's a down and out, bad guy and how Henderson acts out Earl's control and coercive behaviour leaves you with a pure, real hatred for him.  His character isn't just a musical villain, he's horrible and vile and you desperately want him to get his just desserts, so to speak.
Jenna's love interest comes in the form of her bumbling Doctor, Dr. Pomatter.  He is absolute comedy gold in a series of unexpected twists and turns that you wouldn't expect from a character such as he. Superbly played by David Hunter, there's an air of excitement for what's coming next from him every time he enters the stage. His love for her pie is something you'll remember after seeing this show.
In fact, every character had a part to play in the show, adding vital ingredients in to the mix. The Colonel Sanders' lookalike Joe added inappropriateness and wisdom. Ogie and Nurse Norma both raised laughs.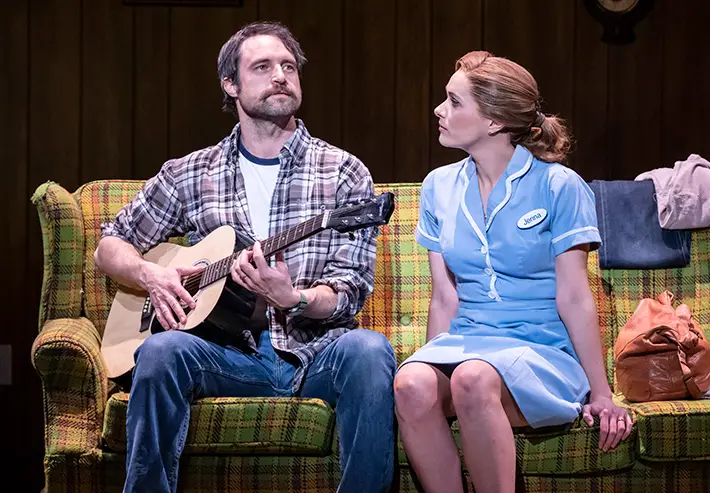 "Amazement and admiration"
Waitress is mainly a quick moving musical that doesn't linger on each scene too long.  There's some very funny moments involving Jenna's work pals Becky and Dawn (Wendy Mae Brown and Evelyn Hoskins), and each of them do their fair share of spotlight stealing.  They've both got their own sub-plots that fall nicely into the story.
But the biggest show stealing moment came from Chelsea Halfpenny. We get 17 songs in Waitress, but when Jenna sings 'She Used To Be Mine' in Act Two, you can't help but watch and listen in amazement and admiration.  Her performance of that song was worth the entry money alone. The cheers and extended applause that followed was well deserved, a reception that was on the verge of becoming a standing ovation.
The comedy, mixed in with the darker themes created an excellent balance of laughter and tears in what's a really heart-warming show. A more than decent musical score from the in-diner band is worth a special mention too.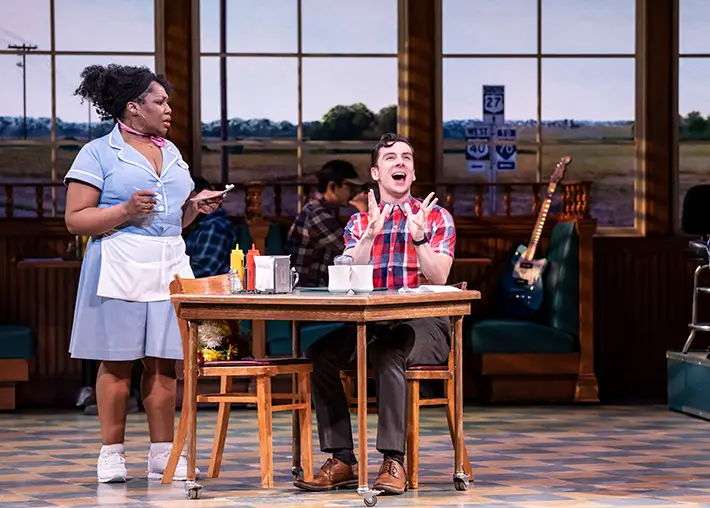 "Cuteness"
Waitress is what you'd probably call an easy watch, and I don't mean to take away anything from the production with that. It's a nice story, with clever edges and a flow helped by a flawless scenery switching process.
My only qualm about it would be the ending. The what-happens-next final scene is nice, but it's only around three minutes long and done and dusted in a flash. For me, it just ends a little bit too soon.  We could have done with a longer sequence to detail how Jenna's life panned out and let it sink in, but the surprise cuteness element at the end lets the show get away with it.
A bright, cheerful, feel-good musical. I left with a smile on my face, and I wasn't the only one.  When you come to the Alhambra and see it for yourself, you'll enjoy it from beginning to end.
Waitress runs in Bradford until Saturday 30th July
Images: Johan Persson