Ford Ranger Raptor – Review
By Liam Bird
How exactly do you define the term 'Performance Vehicle'? Is it all based on speed, on how fast you can dash from 0-60? Or is it perhaps how fast you can go should there be no speed limit at all? How many times have you heard the bar-room bragger claim they've done 145mph up the by-pass "and there was still more to go!"? We've all been there, feigning interest whilst simultaneously stifling the yawns. Surely there's more to it than that. What if the performance of your performance vehicle is actually measured with a completely different set of parameters?
The reason I ask such things is because recently there was a Ford Ranger Raptor sat on my driveway. It was covered, from its number-plates to its sill-plates, in red and blue stickers that proudly stated Ford Performance.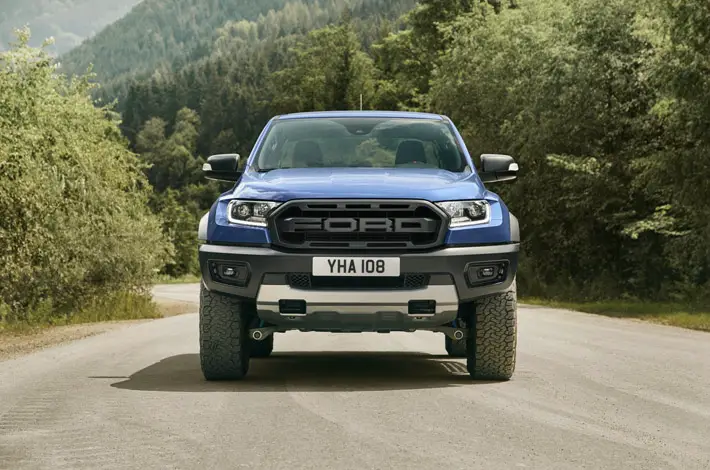 Now, one look at the Ford Ranger Ranger Raptor is all it takes to tell you it's not about to break any 0-60 records. And its barn-door aerodynamics, massive ground clearance, and, well, just the sheer size of it, immediately indicate that it's not about to set any lap records around the Nurburgring either. Nevertheless, even to the most automotively uninitiated person you know, there is simply no mistaking the fact that there's a certain sense of purpose to this most imposing of pick-up trucks.
The Ranger Raptor, Ford claim, "is the toughest and most high-performing version ever of Europe's best-selling pick-up".
So then you might be surprised when I tell that it's actually powered – not by a stonking, great-big, gas-guzzling V8 like its American F150 counterpart – but rather by a 4-cylinder diesel engine, displacing just 1,995cc. Yep, that's right, this leviathan has an engine the same size as the one you'll find in a diesel Focus.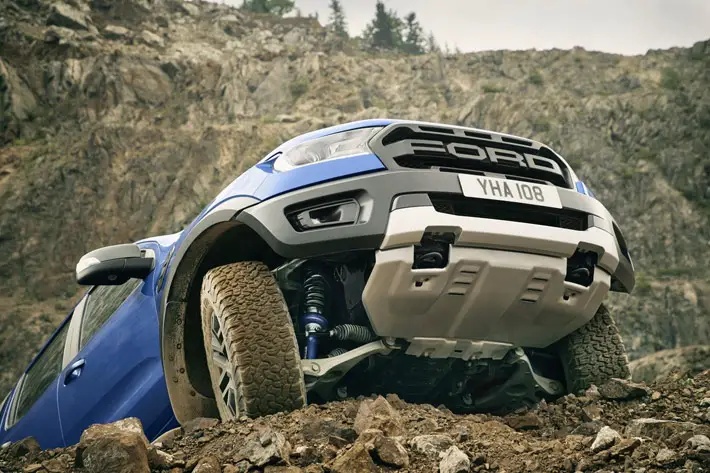 "Spec list goes on and on"
What the diesel Focus doesn't have however, is twin-turbos, a 10-speed automatic gearbox, six different driving modes; two being for on-road driving, the other four for off-roading (there's even a mode named after the famous dune-bashing Baja race), unique 17" alloy wheels with huge all-terrain tyres that struggle to fill flared wheel arches, Fox Pro shock absorbers with position-sensitive damping, an aluminium bash-plate that's 2.3 mm thick, titanium paddle-shifters… Honestly, the spec list goes on and on. What it lacks in cubic-inches – or cubic centimetres, this is Europe after all, (well, for a little while longer at least) – it sure makes up for in other departments.
Park a Range Raptor next to a standard Ford Ranger and you notice it's higher, wider and longer, by 52mm, 44mm and 168mm respectively, to be exact. The track (the distance between the wheels, left-to-right, and right-to-left) has been increased by 150mm, it'll wade through 850m of water or whatever slush you can find, and there's an extra 51m of ground clearance too. Those sturdy side-steps aren't just for show y'know.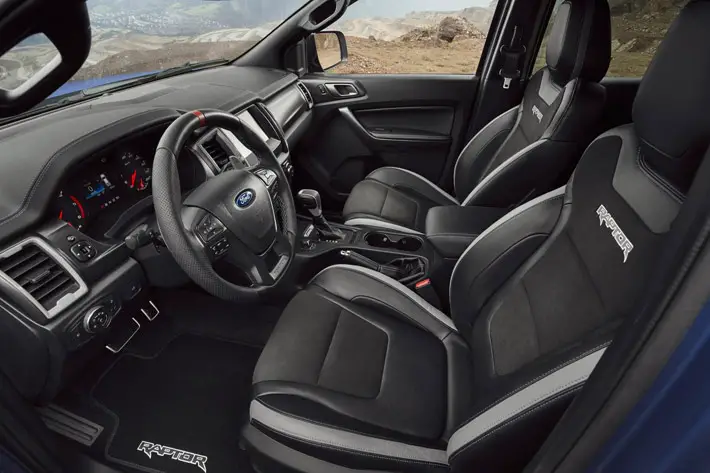 Once aboard and ensconced in the Raptor's superbly comfy, heated, alcantara covered seats, what strikes you first is just how refined the ride is. The Raptor glides over bumps that would make nearly all other so-called lifestyle pick-ups crash and shimmy, and there's significantly less body roll than that high and mighty ride height suggests too. It's also quiet – well, for a pick-up. That multi-ratio gearbox does hunt a little, and struggles sometimes to decide which gear it really wants to use, but once up to speed the Ranger Raptor feels as if will cruise all-day long over whatever surface you care to show it. It just feels so solid, and it's probably the most comfy pick-up I've driven.
But, it's not completely without fault. You see, in order to make the Ranger Raptor what it is, Ford have had to make quite a few adjustments.
As a result of the rear suspension losing its leaf-springs in favour of those aforementioned fancy dampers the Ranger Raptor's payload has had to be reduced – so too the towing capacity. Whereas a regular Ranger can carry over a 1,000kgs and tow another 3,500kg, the Raptor can only manage 620kg on its back and 2,500kgs attached to its tow bar.
"It's huge"
As a result of such things, you can't register a Ranger Raptor as a commercial vehicle. The Raptor exempts itself from fixed-rate commercial vehicle tax, and that means you can't claim the VAT back. Prices, incidentally, start at £47,874.
What that means in real terms is that you really, really have to want a Ranger Raptor before it makes any sense at all. It's huge, it struggles to attain 30mpg, it's a pig to park at the supermarket, and it's expensive.
That said, this week I've commuted in it, I've done the weekly shop in it, I've been to dinner in it, I've forded rivers in it, I've driven through the first snowfall of the season in it, and I've received more comments about this particular vehicle than I ever do when I'm driving any form of more recognisable performance or supercar.
When viewed rationally the Ranger Raptor makes hardly any sense at all. And yet it's incredibly hard not to see its appeal.
Ford Ranger Raptor 2.0 EcoBlue 10 Speed Auto
Engine: 1,995cc 4-cylinder 16V Petrol bi-turbo
Power: 210 bhp
Torque: 369 lbft @ 1,600 rpm
Transmission: 10 speed manual with manual mode
Selectable Four-wheel drive with high and low ratio
Kerb Weight: 2,510 kg Gross Vehicle Mass: 3,130 kg
Performance: 0-62mph in 10.8 seconds
Max Speed: 106 mph
MPG: 31.7
CO2: 233 g/km
Price: From £47,874 (as driven £48,594)