John Wick: Chapter Three – Parabellum (2019) – Film Review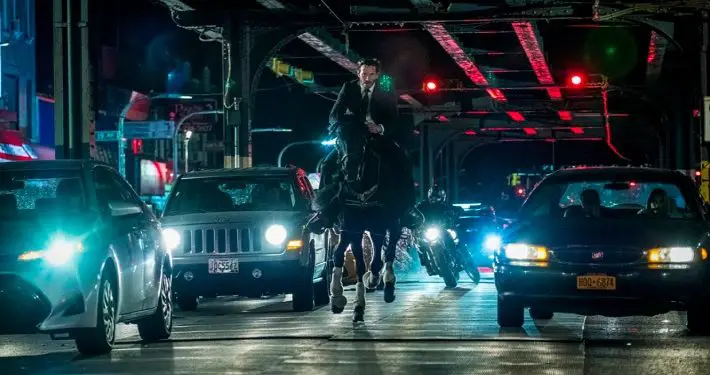 Director: Chad Stahelski
Cast: Keanu Reeves, Halle Berry, Ian McShane
Certificate: 15
by Roger Crow / @RogerCrow
Even if you've never seen any of the John Wick movies, this latest instalment is essentially a series of set pieces stitched together with moments of exposition. It looks like a hyper stylish video game where every knife in flesh sounds like a cabbage being pierced with cutlery, or celery being twisted. Yes, the foley artists must have had a field day with the sound effects, but those fight scenes are something to behold. There's one in a library, another in a stables and one in what looks like a weapons museum which is so breathless, chances are you'll need a lie down afterwards.
Partly set in a mythical New York underworld where tattooed women keep score like a bunch of 1950s telephonists working for the mob, we're left in little doubt that something bad is going to happen to the one-man army as assorted bounty hunters try to get their hands on the $14m eponymous target. Threading things together with effortless cool is series regular Ian McShane, while Keanu's fellow Matrix veteran Laurence Fishburne pops up like New York's answer to Jack Duckworth, waxing lyrical about the skills of homing pigeons as a safer form of communication than computers.
"Looks phenomenal"
As ever with action thrillers hoping for a sense of gravitas, there are scenes of ballet dancers, and it's interesting that one dancer pulling off a toenail is more wince-inducing than much of the ultra violence that precedes it. However, a knife/eye scene comes a close second.
The film looks phenomenal. Every shot is like a poster, though some of the dialogue sounds like it was penned by a 12-year-old.
Halle Berry hasn't had a decent action thriller to get her teeth into in years, so it's good to see her chewing the scenery.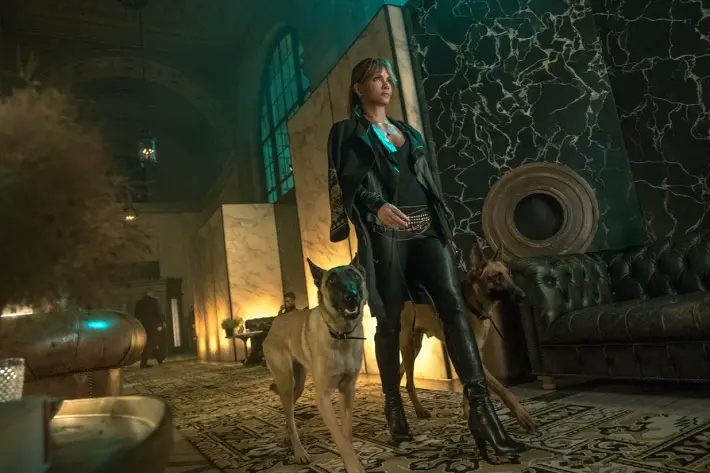 "Generic assassins"
Eventually Game of Thrones' Jerome Flynn turns up as another all-powerful crime lord, and there is more talk of a seat at "the high table", which makes me wonder if John Wick merely wants a high chair. (I'm sure a baby John Wick parody has been created somewhere riffing on the same idea).
In a moment worthy of Britain's Got Talent, Halle and her attack dogs enact a scene which plays like a weaponised version of Ashley and multiple (much missed) Pudseys. I can only imagine that playing at the Royal Variety Show.
And there are so many scenes of generic assassins getting shot in the face at point blank range, I get the feeling the whole thing was choreographed by someone who spent too much time playing video games where those head shot points really add up, even if we can't see them. (I'm guessing someone also created a version with the onscreen killings tally).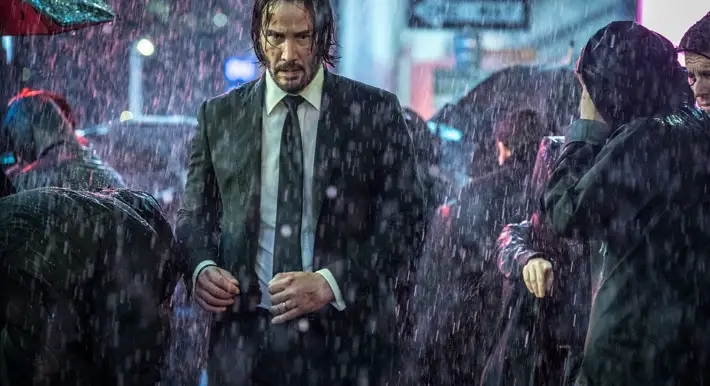 "Lucrative"
It's no surprise that returning director Chad Stahelski honed his craft in martial arts and on The Matrix. The line "Guns. Lots of guns" pays homage to that 1999 offering.
The script by Ryan Condal and Kerry Williamson needed a lot more polish. There are also so many mentions of the phrase "ex-communicado", I turned the sound off at one point and played Marillion's old eighties track 'Incommunicado' over the visually stunning finale, and it improved things 100 percent. (Try it around 105 minutes in and you'll see what I mean).
This was the most lucrative of all the movies, so that fourth film is inevitable. If you can't wait, just watch someone playing Call of Duty for two hours and play Vivaldi and a techno soundtrack over the top. It'll be just as rewarding.
'John Wick: Chapter Three – Parabellum' is streaming now