Die Another Day (2002) – Film Review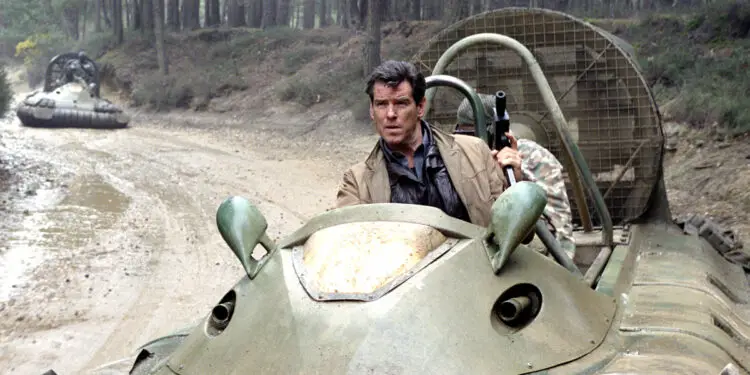 Director: Lee Tamahori
Cast: Pierce Brosnan, Halle Berry, Toby Stephens
Certificate: 12A
by @Roger Crow
Madonna goes to her local salon to get her roots done but it's shut. "I guess I'll dye another day," she sighs. And that awful gag is better than the lyrics to her stunningly contentious 007 theme. Wordsmiths like Don Black and Anthony Newley crafted diamonds of Bond themes; multi-faceted gems which linger forever in the mind.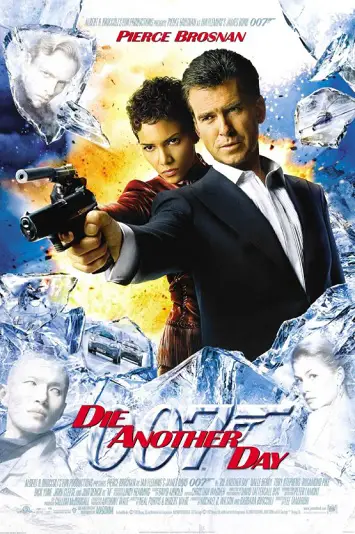 "Sigmund Freud. Analyze this". It doesn't have a lot to do with Bond does it? In fact I wonder if Madge had seen any of Die Another Day, or any Bond movie, when she crafted that dance floor oddity. But let's not linger on such matters. Instead let's consider Pierce Brosnan's final turn as 007, a movie which at times feels more like a sci-fi film than a Bond flick.
"Default setting"
It opens with Bond surfing to work, which seems exhausting and rather odd. He's on a mission. Colonel Tan-Sun Moon is illegally trading weapons for African conflict diamonds, so Bond tries to stop him.
That segues into a not bad hovercraft chase, also a first for the franchise. I don't remember anyone craving such a chase in 2002, but it was different if nothing else.
James's mission is scuppered when he is betrayed. Bond is captured by the enemy, and during those opening titles, he is tortured, grows a big bushy beard, puts on weight, and loses the ability to button up his shirt.
Eventually, after 14 months, our hero is traded and goes through a detox in a hi-tech lab. Naturally M (Judi Dench) is miffed with him, because that's her default setting with Bond. As a side note, a doctor is played by Paul Darrow, the much missed Blake's Seven star. Just a shame he's barely in the movie.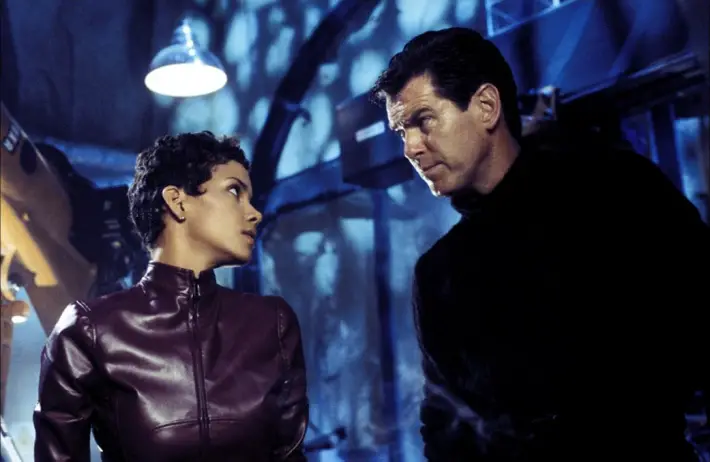 "Ice palace"
007 escapes from MI6 custody, swims a vast distance (apparently, not that we see any of it because the camera cuts to him emerging from the drink) and checks into a Hong Kong hotel without buttoning his shirt up. Fourteen months of imprisonment will do that to an agent. Eventually Bond gets a tip-off that he needs to go to Cuba (actually Cadiz, where I spent a wonderful day a couple of years ago just because of this movie).
The big bad this time is Toby Stephens's Gustav Graves, a super annoying businessman who free-falls to a Press conference while The Clash's 'London Calling' sets my teeth on edge. Not because it's a bad track, but because it's the default tune for film and ad makers who want to inject some energy into a London-based scene. Graves is like a cross between 1990s Richard Branson and one of those annoying Apprentice contestants who spits out sound bites like "Sleep is for wimps", and incurs the wrath of Alan Sugar on day one.
Bond crosses paths with Jinx (Halle Berry), an NSA agent who emerges from the Cuban surf like Ursula Andress in Dr No and relishes a double entendre. As Bond has the libido of an 18 year old, it's mere moments before he and Jinx are steaming up the lens like rampant honeymooners.
However, as this is 007, he also beds MI6 agent Miranda Frost (Rosamund Pike), who winds up at an impressive ice palace and (spoiler alert) turns out to be the obligatory femme fatale.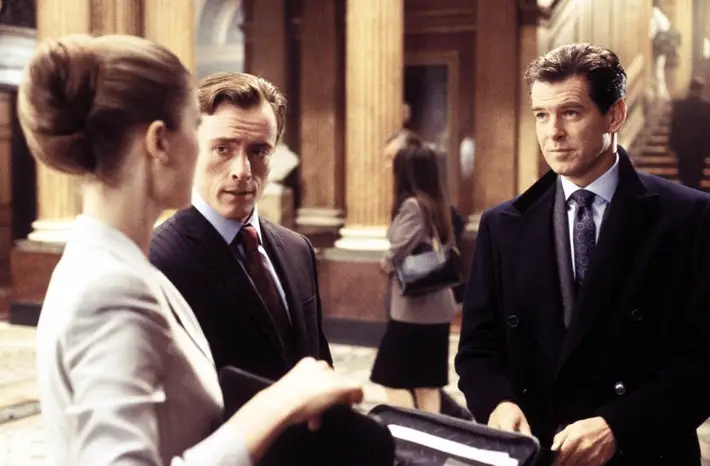 "Nods to the franchise"
John Cleese returns for his second and final turn as Q, and he's rather excellent as the gadget dispenser. Just a shame the 'invisible car' is so laughable. The tech is perfectly fine; stick a load of cameras reflecting what they see on the hull of anything and it sort of becomes invisible. Sort of. But this being Bond, it's tech from 50 years in the future.
Madonna pops up in a cameo as a fencing instructor, and remarkably isn't dreadful. There's a rather good duelling scene between Graves and Bond, but sadly very little rapier-like wit. The script throughout is good, not great.
As this was released to mark the 40th anniversary year of 007, the movie is littered with nods to the franchise, including some of the props from years gone by. Oh and a brainwashing nod to On Her Majesty's Secret Service. Though sadly no mention of "I have taught you to love chickens!", which always makes me smile.
Anyway, Graves shows off his ice palace, and his orbiting weapon Icarus, a solar-powered laser capable of mass destruction.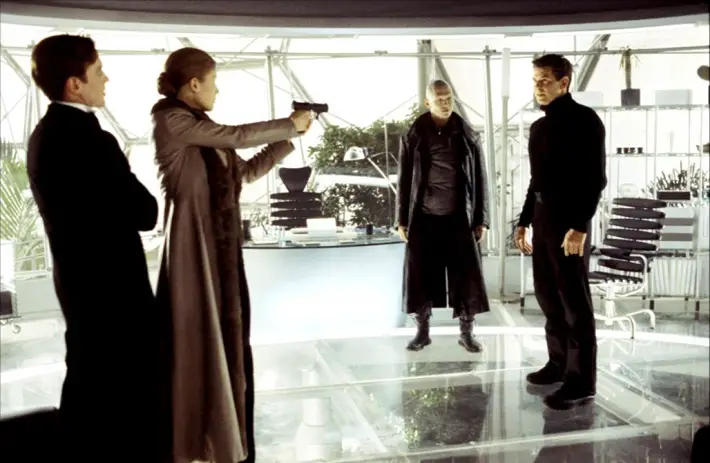 "Looks atrocious"
It's a shame that Die Another Day features one of the best action scenes of the saga (a car chase across a glacier), and easily the worst. The moment when Bond paraglides against a CG backdrop is one of those when you wonder what the reaction was at Eon productions. I'm guessing it was like that scene in This is Spinal Tap when a model of Stonehenge is believed to be a mock-up of a stage set, and turns out to be the actual prop because Nigel Tufnel couldn't get his measurements right. The CG scene in Die Another Day looks like an animatic (one of those animated storyboards that gives film makers an idea of how the final scene will look). Except this IS the finished thing. And it looks atrocious, like a cut scene from a video game circa 1992.
For the most part, Die Another Day looks fabulous. If you ignore the CG atrocities. Halle Berry's dive off a cliff is awful, though she and Ms Pike are superb, and there's a great fight on a plane reminiscent of that stunning finale in The Living Daylights.
Michael Madsen turns up as American official Damian Falco, but looks like he's wandered in from another movie, and has absolutely nothing to do. And Rick Yune's Zao is an okay villain, who could have been a character from a Paul Simon song: 'People say he's crazy, he's got diamonds embedded in his face.'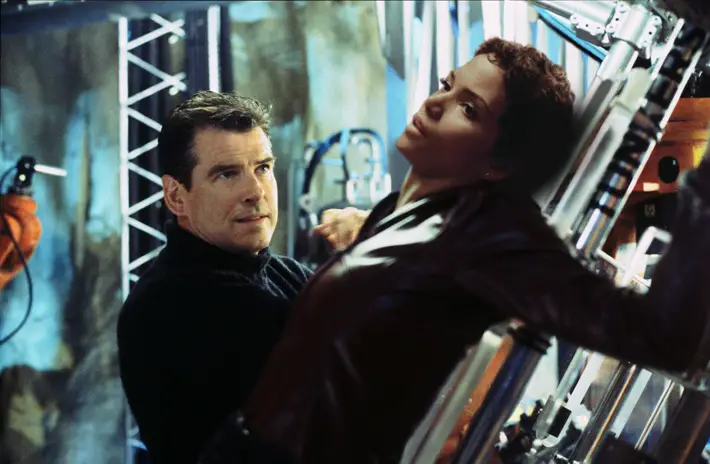 "Some good moments"
That finale on a plane is straight out of a comic book as Graves, aka Colonel Moon, clashes with Bond while wearing a hi-tech suit.
There's a fine comical scene when Moneypenny (Samantha Bond in her final 007 movie) finally gets to kiss Bond, but it's all a VR gag. And it's that devotion to effects which really lets the side down. The physical stunts are what made Bond great over the years. Real people risking life and limb to bring that magic to screen, whether it's the ski jump/parachute moment from The Spy Who Loved Me, or the dam jump from Goldeneye. Nobody ever gasped because Pierce was obviously hanging around in front of a green screen.
For all its faults there are some good moments here, and while CG and Bond were a bad mix, this stands up to repeat viewings just because of how bad some of those moments are.
So long Pierce. You deserved better.
Die Another Day is currently streaming on Amazon Prime