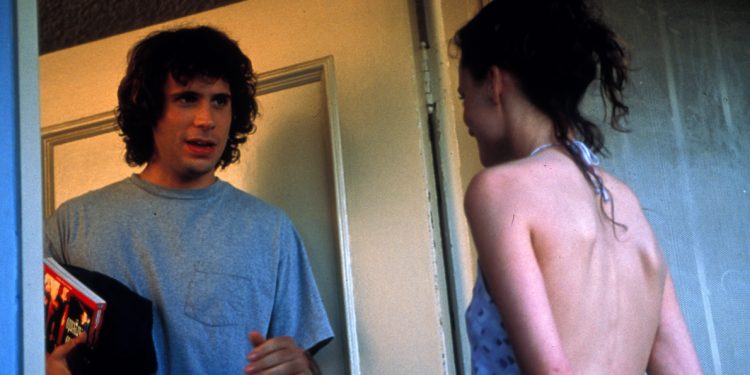 Director: Lucky McKee
Cast: Angela Bettis, Jeremy Sisto, Anna Faris
Certificate: 18
By Sarah Morgan
Here's your starter for 10, no conferring: which 2002 low-budget horror film was edited by future A-list writer-director Rian Johnson and shot by his regular cinematographer Steve Yedlin?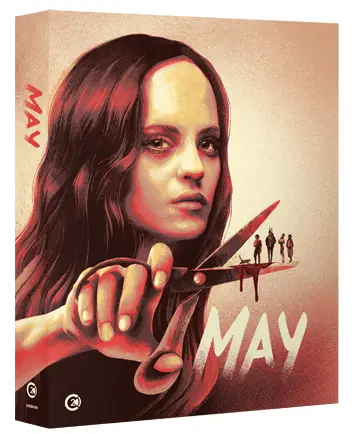 If you haven't worked it out already, it's May, the second film from director Lucky McKee. The trio met while studying at the University of Southern California in the early 1990s and worked on each other's student projects before graduating. According to the interviews in the special features of May, McKee was the first to land a solo directing job, so his friends rallied round to lend a hand.
"Difficult childhood"
The result is a decent little low-budget shocker about the titular character, a young woman (Angela Bettis) left scarred by a difficult childhood – not only was she an outcast at school due to a lazy eye, she was fussed over by an overbearing mother whose attentions clearly don't help her daughter adapt to the realities of the big, wide world.
Seeing her daughter struggle to fit in, her mother also gifts her Suzie, a doll in a glass case, handing it over while stating, "if you can't find a friend, make one."
May eventually grows up and finds a job working as a vet's assistant. All seems well, until she becomes obsessed with Adam (Jeremy Sisto), a young man she spots working at a local garage. He's also a budding film-maker and the pair begin dating, but he soon dumps her after she gets, shall we say, carried away, while watching his short horror movie about a pair of passionate cannibals.
May then moves on to her colleague Polly (Anna Faris), who gives her a pet cat, Lupe. But when Polly finds a new lover and her voluntary work at a local school for blind children ends in disaster after the pupils break Suzie, something snaps within May. She goes on a murderous rampage, collecting body parts with which to create a new friend…
"Discomfort"
McKee's film may be all wrapped up in horror tropes, but at its centre is the tale of a lonely young woman desperately trying to find her place in the world. Sadly, she doesn't have the social capabilities with which to make her quest a success.
Clearly inspired by Mary Shelley's Frankenstein, the film is pretty efficient, although its scares are generated by gore and discomfort rather than genuine shocks.
While Johnson and Yedlin have moved on to bigger things, McKee remains active within the horror genre. If the interviews on the disc are anything to go by, it seems they've remained friends. It would certainly be interesting to see them collaborate again.
Special features:
● New audio commentary with Alexandra Heller-Nicholas
● Audio commentary with director Lucky McKee, cinematographer Steve Yedlin, editor Chris Sivertson and actors Angela Bettis, Nichole Hiltz, and Bret Roberts
● Audio commentary with director Lucky McKee, Editor Rian Johnson, Composer Jammes Luckett (formerly credited as Jaye Barnes Luckett), production designer Leslie Keel, and Craft Services guy Benji
● The Toymaker: a new interview with director Lucky McKee
● Perfect Hands: a new interview with actor Jeremy Sisto
● Blankety Blank: a new interview with actor James Duval
● How to Execute a Murder: a new interview with cinematographer Steve Yedlin
● Peeling Back the Layers: a new interview with editor Rian Johnson
● Jack and Jill: a new interview with editor Chris Sivertson
● In the Cut: a new interview with editor Kevin Ford
● Blood, Gore and Rock 'n' Roll: a new interview with composer Jammes Luckett
● From Frankenstein to May: Miranda Corcoran on May
● Bits and Pieces: on the set of May
May is released on Limited Edition Blu-ray and Standard on 24th July