The Living Daylights (1987) – Film Review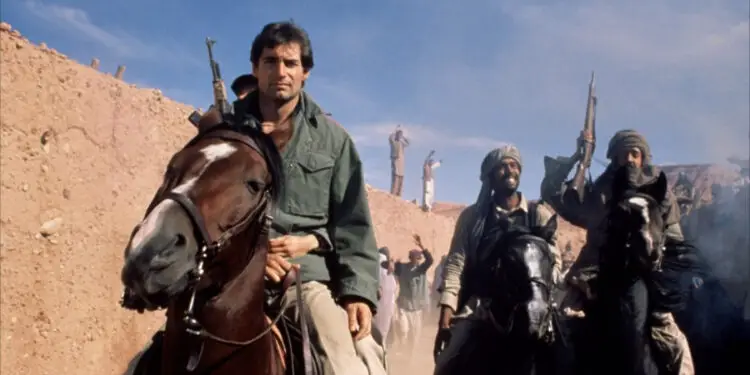 Director: John Glen
Cast: Timothy Dalton, Maryam D'Abo, John Rhys Davies
Certificate: PG
A new actor steps into Bond's shoes, so here are two takes on the same film.
by @Roger Crow
After years of waiting in the wings, Timothy Dalton finally got his chance to play 007, and what a relief it was. Following three Bond eighties offerings ranging from poor to okay and not bad, Dalton rounded of the decade with the first of two epic thrillers. Inspired by a few scribblings from Ian Fleming, we open with a terrific tease of the new Bond at the rock of Gibraltar. Assorted agents on a mission, but which one is Bond? They all look a bit like the Milk Tray man delivering his chocs to a glam admirer, but something is afoot in Gibraltar. (Trivia fans may note that you could see said rock from Sean Connery's house).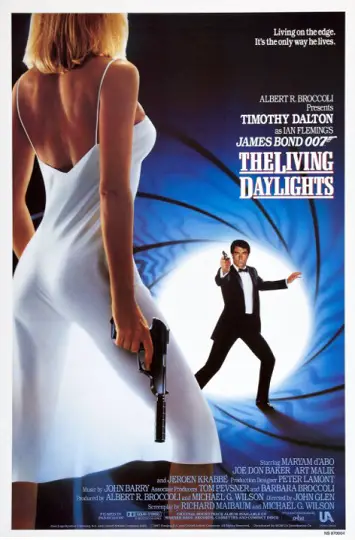 When that training mission goes pear-shaped, the real Bond scraps with the killer in a terrific Land Rover stunt, ending in an explosive finale and him landing on a luxury boat with a gorgeous model. Yes, it's Bond by numbers but there's a much needed urgency and gravitas to the whole thing. As much as I loved Roger Moore's Bond, it had been years since the series felt dark and gritty. This was the reboot the saga needed. And then some.
"Sense of necessary authority"
Following that terrific opening theme by A-ha and maestro John Barry, we're off to Eastern Europe and a plot involving a cellist, an attempted assassination and a defection (Jeroen Krabbe on top form as the defector, General Georgi Koskov). All of this is splendid stuff, with a hard, flinty edge.
Yes, there's comic relief in the form of (TV She Devil) Julie T Wallace and her life-threatening cleavage, but a necessary counterpoint to the proper spy stuff. Dalton gives his Bond that sense of necessary authority. Though an outstanding comedian, as he later proved with Hot Fuzz, his 007 and one-liners are an uneasy fit. It hardly matters. Bond's relationship with cellist Kara (the rather good Maryam d'Abo) is sweet and occasionally touching. The key plot involves a 'death to spies' command, which sees Necros, a killer milkman on the prowl hurling explosive pints with the anger of a man who hasn't been paid for the week's rounds.
The action is thrilling, as is Barry's score. His final 007 work also proves to be one of his best: dark, occasionally brooding, thrilling and majestic. He definitely went out on a high.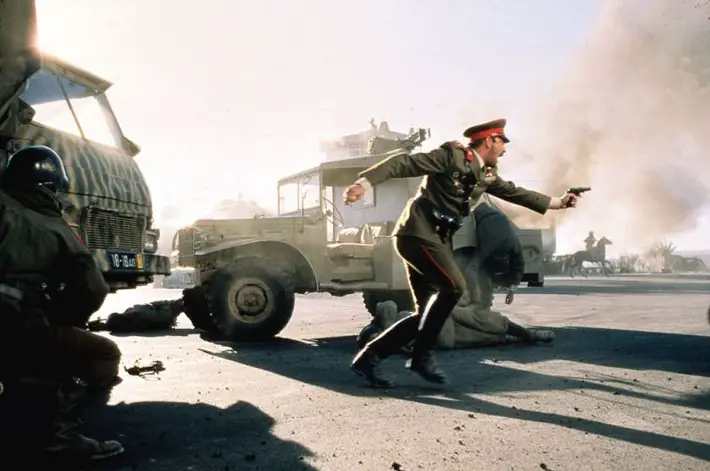 "Terrific finale"
Solid support comes from Joe Don Baker as arms dealer Brad Whitaker (he would later return in a different role as ally Jack Wade) and John Rhys Davies as KGB bad guy Pushkin. Art Malik is also excellent as Kamran Shah, an eccentric prisoner who is actually a freedom fighter. Look out too for future soap star John Bowe, and Caroline Bliss as the 'new' Moneypenny. Series regulars Robert Brown (M) Desmond Llewelyn (Q) add some continuity. Oh, and Hawk the Slayer's John Terry is the latest generic Felix Leiter, adding support to our hero, and exposition when needed.
The third act is a tad dull, but it's all build up to that terrific finale on a Hercules transporter as Bond and Necros fight on a cargo net that's in danger of either falling out the back or smashing them against the hull. Jaw-dropping stuff.
Made in an era when AIDS first threatened the world, safe sex was very much the order of the day, so even Bond cuts down on his romantic liaisons.
That whistling key ring gadget seemed dated the minute the film was released, but it was a bit of fun for the final scene. Like the car stunt on a frozen lake early in the movie, this Dalton/Bond icebreaker for the most part sees 007 back in top gear. Thank heavens for that.
---
By Tony Greenway
What it's like to be Pierce Brosnan? Pretty good, we're guessing, thanks to his multi-million dollar bank balance and impossibly suave good looks. (True, there's his honking version of Abba's 'SOS', but we'll gloss over that.) If you have the good fortune to wake up every morning, look in the mirror and say: 'Hey! I'm Pierce Brosnan!' the day must get off to a flying start.
But there was a time — specifically 1986 — when it wasn't so good to be Pierce Brosnan.
Back then, Pierce had just landed the part of James Bond. This came as a surprise to precisely no-one, because after his success as TV 'tec Remington Steele, Brozzer was the runaway favourite to step into the superspy's hand-stitched leather loafers. He'd posed for PR photos in a tuxedo, and was all smiles shaking hands with Bond producer, Cubby Broccoli. Brosnan — Roger Moore's heir apparent — was good to go double-O and begin filming new Bond adventure, The Living Daylights.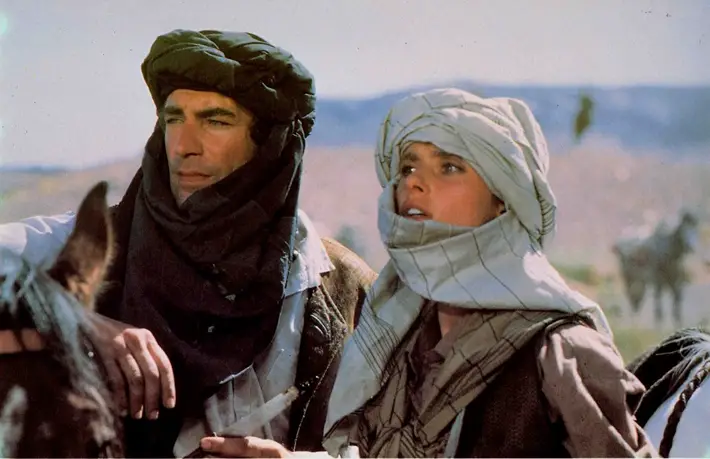 "Looked the part"
But then — oh-oh — high-ups in American television decided to make another series of Remington Steele, and Brosnan was contractually obliged to star in it. The result: Broccoli canned him as 007 before he had even begun, and hired saturnine stage and screen actor Timothy Dalton to appear in The Living Daylights instead. It must have been a devastating blow; although, of course, Brosnan's Bond career turned out OK in the end — if you don't count The World is Not Enough and Die Another Day, that is. (Which, sadly, we must).
So what about Dalton? How good a Bond is he? Most 007 aficionados (read 'geeks') think the answer is 'very good indeed', and that it's a shame he only made two Bond movies. This one is his best, by some distance.
Dalton's name had been associated with the role for years, and in an episode of Charlie's Angels even played a character described as a man with "James Bond-ian tastes and charms." He certainly looked the part. In fact, of all the actors to play the Vodka Martini-swilling secret agent, Dalton is the one who most closely resembles the version from Ian Fleming's novels.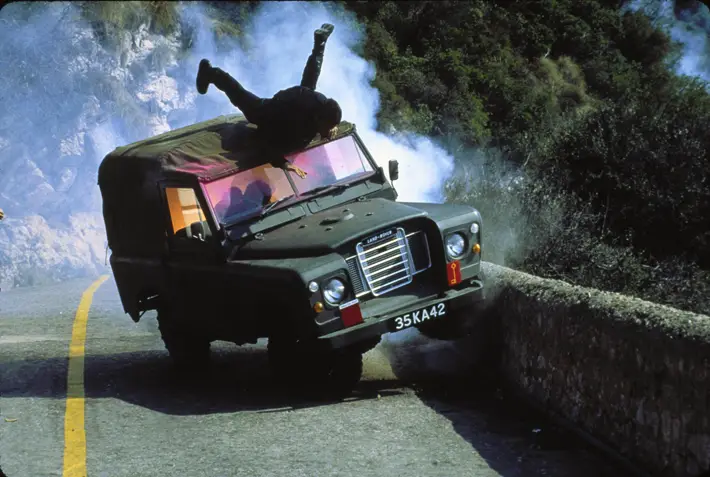 "Humanity and ruthlessness"
His introduction in the pre-credits sequence, standing on the rock of Gibraltar and turning suddenly to camera, is pure, unadulterated Bond, with a bit of Heathcliff from Wuthering Heights thrown in. Even when he's forced to parachute out of the back of a Land Rover plummeting into the sea, or defuse a bomb in an out-of-control Hercules aircraft, Dalton's Bond is cool personified. And, frankly, it's a pleasant change to have a younger, more vigorous actor in the role, because in the previous movie, A View to a Kill (1985), a creaking Roger Moore was clearly 175 years old. By contrast, Dalton, who was 40 at the time of filming, could get out of a chair without having to be replaced by a stuntman. Daringly, he also injects humanity and ruthlessness into the part — a sort of proto-version of Daniel Craig's Bond, nearly 20 years before Craig had the idea. In so many ways, Dalton was ahead of his time.
The first 15 minutes after Maurice Binder's title sequence is a fairly faithful adaptation of Fleming's Cold War short story of the same name, with Bond sent to protect a Russian defector from a KGB sniper while bickering with a bureaucratic stuffed shirt (Thomas Wheatley). With that bit of business in his Aston Martin's rear view mirror, Bond jets off — like you do — to romance a glamorous Czechoslovakian cellist (Maryam d'Abo) who might be mixed up in a Soviet plan to kill British agents. And did we mention the murderous henchman (Andreas Wisniewski) on his tail? After the increasingly stale Moore era, this Fleming-esque tone feels fresh and fast-paced.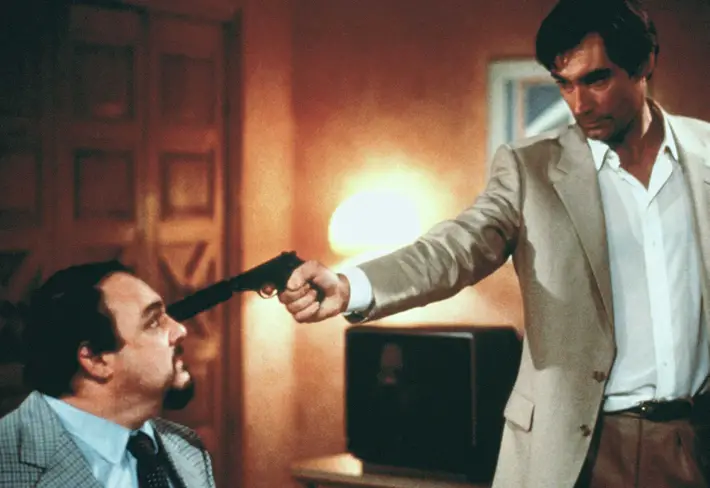 "Dizzying fight"
There are some Daylights downsides. Dalton tends to fumble the one-liners, John Glen's direction is merely workmanlike, the villains are weak and the mujahideen in Afghanistan are depicted as lovable rogues — which, let's just say, hasn't dated well. Also, the plot takes a confusingly murky turn in the second half when a crooked Russian general (think Minder's Arthur Daley in a KGB uniform) and a narcissistic American arms dealer (think Donald Trump with better hair) use Soviet funds to buy a huge shipment of raw opium. Or something. World domination would have been so much easier to understand. In these roles, Jeroen Krabbé and Joe Don Baker do well with the little they're given.
Still, life is much too short to worry about the movie's missteps. Just enjoy the ride, which includes spectacular stunt work (particularly a dizzying fight dangling from an airplane's cargo net), gorgeous locations (notably Vienna and Tangier), some proper characters and a believable love story. Also, Yorkshireman John Barry provides a reliably fabulous score, and — fittingly for his last-ever Bond film — appears in one of the final scenes as an orchestra conductor. A-ha's synthy theme tune is a slice of Scandipop heaven, while The Pretenders perform a couple of tracks co-written with Barry, including end title song, 'If There Was a Man'.
All things considered, we're glad Brosnan was benched for The Living Daylights. We're also happy to see Dalton take Bond by the scruff of his dinner jacket and make him a serious cinematic proposition again.
The Living Daylights is currently streaming on Amazon Prime