On the Set of 'Miss Willoughby and Bentley': Interviews With Nathalie Cox & John Rhys-Davies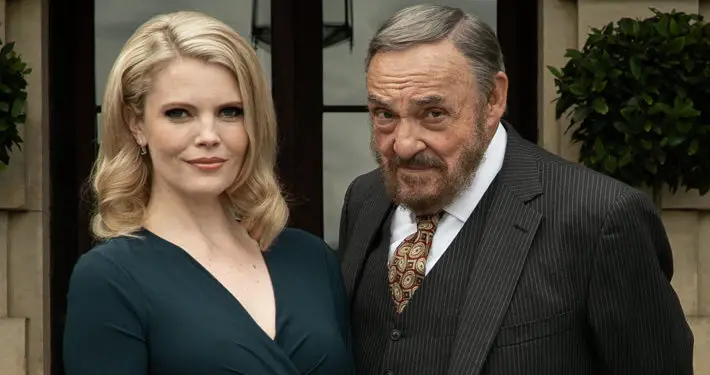 Nathalie Cox has starred in the films Exam, Kingdom of Heaven, and also attracted a cult following as one of the key characters in video game Star Wars: The Force Unleashed. John Rhys-Davies is a veteran of countless films and TV projects, including the Indiana Jones saga and the Lord of the Rings trilogy.
Both actors took time out from filming Miss Willoughby and Bentley in Yorkshire to chat to Roger Crow…
Nathalie, tell us about your character, Miss Willoughby.
Nathalie Cox: Miss Willoughby is the epitome of an English Rose. She lives in a big house in the countryside with her wonderful butler Robert and her dog Bentley. Having been orphaned at a young age, Robert stepped in to raise her to become the clever and talented woman that she is now. She and Robert share a wonderful bond that is part friendship and part parental, so there's lots of laughter and they have fun together. She is a teacher during the day and solves mysteries in her spare time. Think Indiana Jones meets Miss Marple! Honestly, Elizabeth Willoughby is the loveliest character I've ever had the fortune to play. She's simply wonderful.
What's been the most memorable day of filming so far?
NC: We were very lucky to be filming in Portugal at some wonderful locations which was tremendous fun. But also the house that we use for filming that is "Willoughby's house" is the most gorgeous estate in York. The best thing was learning about all the history and hearing some of the stories from the family that lives there. The most remarkable thing was to discover that the family that owns the estate is a direct descendant of an actual Elizabeth Willoughby that lived in the house hundreds of years ago. It was clearly fate that we should end up there.
Are you a fan of working in Yorkshire?
NC: I love Yorkshire! It's got beautiful countryside and the people are lovely. York itself is so pretty and I'm really enjoying my time up here.I'm a country girl at heart.
You played Star Wars' Juno Eclipse in The Force Unleashed video game. Was it surreal when you first saw yourself as an action figure?
NC: Ha ha. It was a bit strange! But very fun as well. Who knows? Maybe they'll do an action figure of Miss Willoughby?
"Political expectations have made a character like Sallah increasingly unlikely"
John, tell us about your character in Miss Willoughby and Bentley.
John Rhys-Davies: Robert was a high flying military officer when he gave up his career to act as a guardian to his godchild, the orphan of two close friends. There is some mystery attached to the dead parent's military connections, but no doubts that Robert has brought up Elizabeth to be a strong, intelligent, empowered woman who wears her learning and deep intellect comfortably. He is the loved father figure and she is the loved child that he never had.
What's been the most memorable day of filming so far?
JRD: Filming in Birdsall Estate House, or in a ruined monastery in Portugal would be high on the list. Watching a Dervish dance was unexpectedly graceful and beautiful.
Are you a fan of working in Yorkshire?
JRD: Yorkshire is beautiful but the golden heart of Yorkshire is its people. Our extras enrich every scene. My love to them and hope we shall all meet up with them soon!
I'd love to see you in the next Indiana Jones film, and Lord of the Rings TV series. Have you been approached for either?
JRD: I would love to do Indie 5, but time and political expectations have made a character like Sallah increasingly unlikely. I hope the call comes; I have dropped more heavy hints that I'd like to do it then the Luftwaffe dropped on Salisbury the day I was born! The proposed Tolkien prequel to Lord of the Rings will be huge and welcome to fans all round the world. I don't want to commit that much of my remaining working life to a television series, but I wish it well.
Editor's note: The film was re-named 'Miss Willoughby and the Haunted Bookshop' on release