The Gates (2023) – Film Review
Director: Stephen Hall
Cast: John Rhys-Davies, Richard Brake, Elena Delia
Certificate: 15
By Roger Crow
'I love Yorkshire. Great people. And surprisingly tidy," remarks John Rhys-Davies as we chat about his new supernatural chiller, The Gates. The co-star of three Indiana Jones movies, and The Lord of the Rings films is no stranger to this neck of the woods, having shot sci-fi adventure G-Loc a few miles from my front door a few years ago. He admits he barely remembers the experience of filming in Bubwith, but he has a lot of time for God's Own County.
"A surprising sense of local pride in little, small communities, which a lot of communities in Britain do not have," he adds.
John is in a London hotel room. Juggling promotion duties for this new chiller, which cost a fraction of his other summer film involving an archaeologist called Jones and his seasoned sidekick, Sallah.
Of the two films, The Gates is the one I'm going to push.
During our Zoom chat, John delivers a speech about the character and set-up that was so impressive, the footage could have slotted straight into the movie, if he'd been in costume.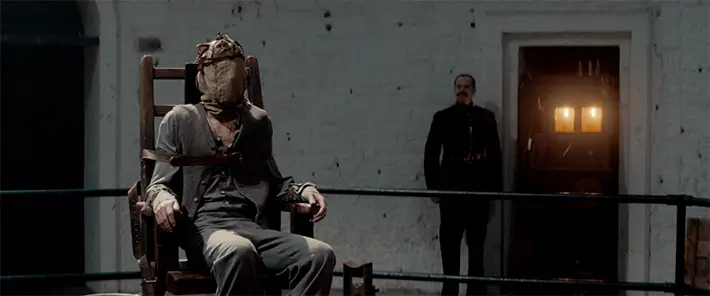 "A fool's assignment"
The premise is rather familiar, especially if you're a fan of more contemporary films like Wes Craven's Shocker, or Denzel Washington thriller, Fallen: it's the 1890s, and serial killer William Colcott (Richard Brake) has been sentenced to death by electric chair. However, in his final hours, he puts a curse on the prison he is in, and all of those in it.
Frederick Ladbroke (Rhys-Davies) is a photographer whose side hustle in paranormal investigation has hit a stumbling block. It seems the steampunk gadget he's using to investigate the spirit world can't cope, and with the wolf at the door, he can't risk any more time and money on what seems like a fool's assignment. Thankfully his young relative Emma (Elena Delia) is determined to finish what they started, and with a little rejigging, she manages to pimp the gizmo, and make it capable of 'seeing' dead people.
When the ghost of Colcott starts terrorising prison inmates and staff, dogged investigator Abberton (Michael Yare), and ghost-chasers Frederick and Emma are called on to investigate.
The Gates is one of those earnest but engaging period offerings that successfully captivates audiences with its intriguing storyline and fine performances, particularly from Rhys-Davies.
Directed by co-writer Stephen Hall, the film delivers a gripping and eerie narrative that will keep many viewers on the edge of their seats. Having set his stall out with a graphic 'grab-you-by-the-lapels' opener, Hall skilfully weaves together elements of horror, suspense, and psychological thriller.
Okay, there are times this feels like one of those Sunday afternoon period kids' dramas from the 1980s, and partly like a Hammer movie from the 1960s. It's an uneasy mix, and yet the cast and crew's hearts are in the right place.
"Engaging diversion"
There is one of those inevitable epilogues which leaves the door, or rather Gates, open for a sequel, and with some snappier pacing, and certain protagonists more comfortable in their period costumes, that's a welcome prospect.
JRD is certainly thrilled that I thought there was room for a follow-up. And he insists that one day we finally meet up after years of interviews.
"I'll buy you a pint, or a cuppa if you prefer John," I tell him as we part ways. "As long as it's Yorkshire Tea."
"Oh aye, Yorkshire!", he bellows in a local version of that familiar basso profondo voice, before heading off to the next interview. So, yes, The Gates is an engaging diversion, but nowhere as near as fun as 10 minutes on a Zoom call with one of Blighty's hardest working thesps.
The Gates is available from 101 Films