Northumberland: Alnwick and The Amble Inn – Travel Review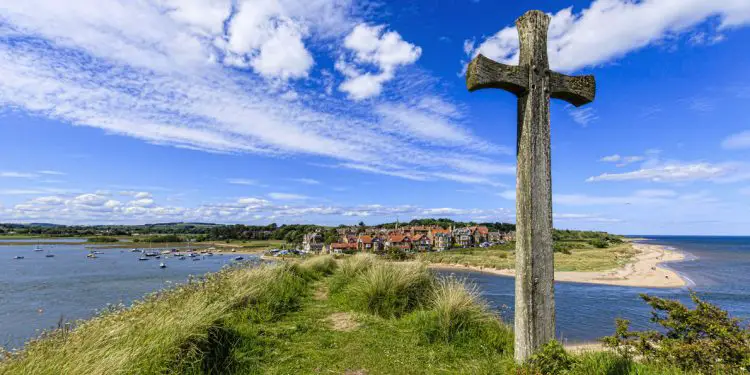 By Clare Jenkins, August, 2023
Question: what do Harry Hotspur, Harry Potter, Tootles the Taxi and taxidermy have in common?
Answers on a postcard later, once we've negotiated the school holiday traffic pouring into the market town of Alnwick and crowding all the car parks. After half-an-hour of ever-decreasing circles and ever-increasing desperation, we find a space in a quiet residential street and walk across town towards Alnwick Castle.
The 11th Century former border fortress (it's only 30km from Scotland) towers magnificently above the River Aln and the narrow alleys, ancient gateways and busy cobbled streets full of Georgian buildings, independent shops, cafes and inns. Carved lions lurk at every turn, emblem of the Percy family, Dukes of Northumberland, who have lived here since 1309.
But before doffing our forelocks, we're distracted – totally – by the Bailiffgate Museum and its current (until November) exhibition, The Wonderful World of Ladybird Book Artists.
The first floor of this former Roman Catholic church is a book nostalgist's dream. One wall is papered in iconic front covers – Smoke & Fluff, Downy Duckling, Bunnikin's Picnic Party, Children of the Bible, The Gingerbread Boy (it didn't end well), Richard III (that didn't, either), The Story of Oil and of Clothes and Costume and of Houses & Homes…
"Idyllic"
The golden age of Ladybird Books (1940-1975) is all celebrated here. Writers like Children's Hour favourites Uncle Mac and dramatist Lawrence du Garde Peach. Illustrators like Frank Hampson, who created Dan Dare, the incomparable Harry Wingfield and Martin Aitchison, former war artist John Berry, and wildlife artist John Leigh-Pemberton, who was very sniffy about the work. In 1973 he wrote that "fiddling little books for kiddies don't really give one any sense of achievement… I should very much like to be able to stop altogether, perhaps devote some time to producing a worthwhile and serious book on the mammal."
Many of those "fiddling little books" show an idyllic, never-never land of large suburban houses with red pantiled roofs, immaculate cottage gardens, a Mummy who does housework in a 1950s floral turban and frilly apron, and a Daddy who goes to the office every day with a trilby on his head and a rolled-up newspaper under his arm. Everyone's always smiling and giving each other eggs and flowers, and the sun is nearly always shining.
Despite the very Britishness of them, though, they've been translated into Icelandic, Arabic, Finnish, even Esperanto and ITA. "They really bring it all back," says my husband wistfully. "This is childhood before the internet."
As well as books, there are typewriters on display, letters, Jane's original pram and costumes to dress up in (though I couldn't see any for Tiptoes the Mischievous Kitten or Mick the Disobedient Puppy).
Seeing the front cover of Henry V (the king in full armour, rallying his troops) reminds us that we need to head for Alnwick Castle. The Percy family home for the past 700 years is now a wildly successful visitor attraction (700,000 visitors a year) and filming location (it served as Brancaster Castle in Downton Abbey).
"Opulent"
So we exchange the world of Hansel and Gretel for that of Harry Potter – the castle also starred as Hogwarts School of Witchcraft and Wizardry in the first two HP films. Fans of the series can immediately recognise the Outer Bailey as the place where Harry and his classmates learned to fly broomsticks and to play Quidditch.
Ignoring the lure of broomstick training, a dragon quest, archery and medieval crafts, we joust our way through the gift shop, emerging into the courtyard cafe, where children are having sword fights.
At least they're not guns – the first state room is decorated with them, walls covered in crisscrossed pistols. To misquote novelist Anthony Powell: "My, how weaponry doth furnish a room."
In contrast, the ornate chapel displays ancient tapestries, while the library is a vision of gilt and bronze, acres of books (14,000 all told, going back 400 years) with a sumptuous leathery smell. Then again, that could belong to the stuffed squirrel poised in flight along one bookshelf, or the two stuffed dogs, one on a sofa, the other lying in front of the fireplace. Family photos arranged on side tables and pianos demonstrate the excellent breeding of an hereditary title.
Other State Rooms are equally opulent, decorated in Italian Renaissance-style, Old Masters and Mistresses at every turn, including Van Dycks and the odd Canaletto, plus a whole Old Testament of religious paintings. An extensive China Gallery shows off the dukes' taste in porcelain – Meissen everywhere. Luxurious fabrics, marble fireplaces, cabinets from Versailles, classical statuary… all pay homage to the wealth and pageantry of the Percy dynasty.
Meanwhile, below stairs, in a corridor that visitors often walk blithely through, there's a display of photographs of former servants, from the Constable of the Castle to the vegetable maid. A 1908 chart lists their annual wages, from £400 to Robert Kyle, Constable, and £115 for Edmund Bruin, butler, to Mrs M. Nobel, "charwoman – paid as required".
The first footman's duties, we learn, included "delivering messages… and simply waiting to be needed." The main duty of the lady's maid was "to assist in the dressing of her lady to ensure that she would be seen in a state of fashionable perfection on every occasion, wherever she may be".
"Full of atmosphere"
The 26-acre Alnwick Garden, a separate money-spinner, offers a Grand Cascade of whooshing fountains, covered archways, a cherry orchard and bamboo labyrinth, and the popular Poison Garden, where small parties are escorted through and given warnings about the potentially fatal effects of laburnum, vetch, yew and giant hogweed.
Right at the top of the fountain steps, there's a lovely, calm and serene ornamental garden, full of raspberry bushes, apple trees, roses, allium, hydrangeas and anemones. Down below is Lilidorei, the recently opened £15.5m fairytale woodland playground that's currently the subject of a Channel 4 documentary, The Duchess and Her Magical Kingdom.
As we're a bit old for elves, we spend half an hour instead in Barter Books, the renowned second-hand bookshop in the old Alnwick railway station. Model trains run endlessly round tracks high up on the shelves, and the old booking offices, green tiled urinals and waiting rooms are now the popular Station Buffet.
The 30-year-old bookshop is full of atmosphere and antiquarianism, with over 350,000 books (old and new) on everything from anatomy and beekeeping to witchcraft and zoology – and yes, Ladybird. Above browsers' heads are quotes by Robert Frost, William Blake ("Bring me my bow of burning gold") and Gerard Manley Hopkins ("I have desired to go/Where springs not fail").
"Convivial"
Our hotel, the Amble Inn, is more recent (it opened in 2019) and located on the edge of the former coal-exporting town of Amble. Our first-floor room is spacious and pleasantly decorated in soft earth colours, with a king-size bed, armchair, desk and chair, handy ironing board and iron, equally handy fan, tea and coffee-making facilities.
The bar-cum-restaurant is like a convivial Bavarian Hofbräuhaus, with wooden beams, coloured glass, warm lighting and assorted seafaring knick-knacks (storm lamps, model ships, fishing nets). An outside eating area is decorated with flower baskets and coloured lights.
The dinner menu includes Northumberland Estates venison burger, rump steak and chicken in a Lindisfarne mead sauce. It also caters extremely well for vegetarians: we could have chosen Northumberland Cheddar macaroni cheese, miso-glazed aubergine or mushroom burger, but instead opt for sweet potato and coconut curry (me) and pizza vegetariana (my husband). The deliciously creamy curry includes sweetcorn, kale, aubergine and beans, while my husband's pizza – grilled courgette, roasted peppers, black olives and fresh rocket – is, he says, one of the best pizzas he's ever eaten.
"Engaging ruin"
The next day, after a satisfying buffet breakfast of fruit salad, cereals and poached eggs on toast, we set off for our final Adventure at the Castle: the motte-and-bailey Warkworth, whose magnificent cross-shaped keep rises commandingly above the small town. Once the home of Sir Henry Percy, scourge of the Scots and the French during the 14th Century, and immortalised as 'Harry Hotspur' in Shakespeare's Henry IV, Part 1, it's now an engaging ruin full of honeycomb-like rooms, corridors and stone staircases.
The story of the Percys and their often-turbulent relationship with British monarchs, including during the Wars of the Roses and the Gunpowder Plot, is well told here. And it's easy enough to avoid younger visitors enjoying 'medieval mischief', falconry or a 'knight's tournament'.
Finally to the little seaside resort of Alnmouth (top image), with its wide sandy beach and rolling dunes, popular with swimmers, paddlers and yet more dog walkers. The village offers one of our favourite views from the train north to Edinburgh – pastel-pretty houses across the estuary, picturesque fishing boats in front. Today, though, instead of watching the estuary from a train compartment, we sit on a bench near the Ferryman's Hut (possibly Britain's smallest museum), listen to the curlew's call and watch as the long-distance trains glide past, noiselessly, in both directions.
And we feel as though we've strayed into yet another Ladybird Book – The Story of Railways, perhaps, or Uncle Mac Beside the Sea.
The Amble Inn, Sandpiper Way, Amble, Morpeth, NE65 0FF, 01665-613333
Rooms from £134 per night, B&B. Look out for, too, their Walk-Inn Breaks – 2 nights B&B plus dinner the first night and a complimentary walking guide: inncollectiongroup.com
The Wonderful World of Ladybird Book Artists is at the Bailiffgate Museum, 14 Bailiffgate, Alnwick NE66 1NQ until 5th November. Tel: 01665-605847. bailiffgatemuseum.co.uk
Alnwick Castle, Alnwick NE66 1NQ, tel: 01665-511100: alnwickcastle.com
Alnwick Garden, tel:01665-511350: alnwickgarden.com
Warkworth Castle and Hermitage: english-heritage.org.uk
More info: visitnorthumberland.com
Top image: Roy Smith