Leicester and the Novotel Hotel – Review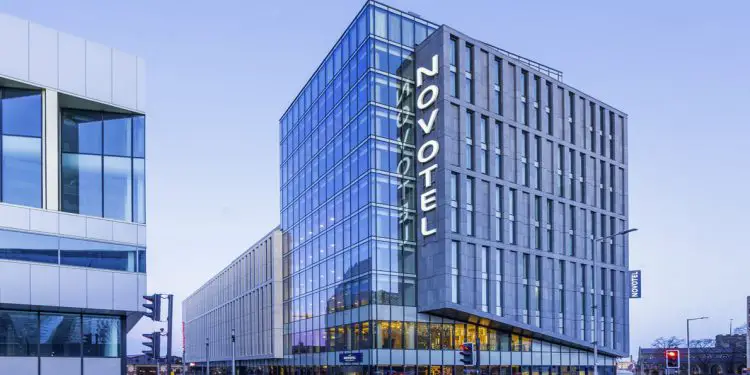 By Clare Jenkins, October 2022
It's ten years since Richard III's body was discovered under a Leicester car park. Ten years since there was an almighty tussle about whether the body of this last Plantagenet king should stay in the Midlands or be transported to York Minster. Leicester, of course, won and its tourism industry has never looked back. As volunteer Lynne Lissaman at the Richard III Visitor Centre says, "It's hard to imagine Leicester without Richard III now."
Lynne used to work in the neighbouring Social Services building and eat her lunch overlooking The Car Park. "It's amazing to think that his body was there, all that time," she says. "It was a shock to all of us to see the skeleton."
Richard's body had, in fact, lain there for 527 years – he had died fighting at Bosworth Field in 1485 and been hastily buried at the Church of the Grey Friars. It would have lain there longer had it not been for the persistence of one woman, writer Philippa Langley. The story of how her intuition led to the discovery, aided by archaeologists at the University of Leicester, is the subject of the current, controversial, Steve Coogan film The Last King. The academics take issue with the way they've been portrayed, so anyone wanting the official version should head straight to the bright and airy visitor centre built on the burial site. You won't be able to see the king's tomb – the cathedral, where the bones were interred in 2015, is closed until autumn 2023 – but you can peer through a glass floor and see a hologram of the 32-year-old king's skeleton, in the shallow grave where it was found.
"Fascinating"
Another, fibreglass, skeleton lies encased in a gallery devoted to the host of scientific tests conducted on the bones to establish "beyond reasonable doubt" that they indeed belonged to Richard. There's an exhaustively informative introductory gallery, with full histories of the Plantagenet dynasty and a full-screen video of actors playing various Royal court roles (the party of schoolchildren watching it all from the floor seemed gripped); a gallery telling the ups and downs of the final discovery; information about his portrayals on stage and screen; and a café where you can sit outside on jazzy green and orange chairs, among the copper boars (Richard's emblem), herb garden and soothing water fountain, listening to Gregorian chant and eating spicey sweet potato soup and mozzarella and tomato paninis.
Richard visited Leicester five times in all, and it seems ironically suitable that his final resting place should eventually morph into a car park. Leicester is nothing if not vehicle-focussed, with a road network that involves a dizzying array of ring roads and one-way systems accompanied by the constant sound of police and ambulance sirens. Maybe they could package it as The Siren Song of Leicester?
Yet one of the fascinating things about the city is how, despite generations of town and road planners doing their best to ruin it, it's inordinately proud of its history. You can't move five yards without stumbling across a heritage board explaining its Roman, medieval or Victorian history, or about Edwardian suffragette Leicester. Streets are still called Black Friars or Friars Causeway or Holy Bones… The minute you step off the train, there are not just plaques telling you all about the railway station, but also a statue of Thomas Cook, who launched his worldwide travel company here in 1841, taking temperance folk from the city to nearby Loughborough (former Home of Ladybird Books).
"Panoramic views"
If my husband Steve and I had been sensible, we'd have started our latest exploration of Leicester with the Romans and moved forwards to 2022. But life – and Leicester – isn't like that. So instead we headed past the King Richard III Pub and Chop House to the new silver-and-glass Novotel, just on the edge of medieval Leicester, though directly opposite the glitzy, uber-contemporary High Cross shopping centre. The surprisingly quiet, ten-storey hotel (154 rooms, with a further 94 in the adjoining apartment block) opened just before the pandemic. During building work, Roman remains were (inevitably) discovered, including townhouses and part of a small theatre – and the hotel subtly references that history. Now, though, its airy entrance with its gold-metallic chandeliers, its sleek public spaces and its small gym, are full of conference-goers and business types. But what it may lack in individuality is more than made up for by its friendly, approachable staff.
Receptionist Jess took us up to our room – or, in fact, rooms. We had the £500-plus-a-night (standard rooms start around £100) Presidential Suite, incorporating a sofa-filled lounge, private dining area for up to six people, open bedroom, bathroom, two showers (with lovely Ritual of Karma toiletries), two toilets, numerous Cubist-style units, and three TVs, including one unexpectedly hidden inside the table at the end of the bed.
It's all suitably metallic and mirrored, in muted colours of beige, dove grey and charcoal, and with panoramic views across the city – to the Asian Golden Mile in one direction, in another towards Abbey Park, where Cardinal Wolsey was buried (with a tad more ceremony than Richard III) in 1530. Down below is the façade of the Victorian Great Central Railway building, now a Lane7 "boutique bowling alley concept" where the lights and the TV screens never seem to sleep.
"Refreshingly peaceful"
Taking advantage of the Novotel's position, we decided to begin our time travel by exploring the old church peeping through trees, which we could see from our suite. Following the Roman trail leaflet we'd picked up earlier, we walked past the Turkish Islamic Cultural Centre (Men's Entrance) and the Guru Nanak Gurdwara and found St Nicholas's, the city's oldest church, dating from Anglo-Saxon times. Although it was closed, we checked out its graveyard and abandoned Roman pillars, and peered through a fence at the equally closed (for restoration) Jewry Wall – "the largest piece of Roman masonry still standing in Britain".
Ignoring the music blaring from the Addict Dance Academy across the road, we headed for the refreshingly peaceful Castle Gardens, with its boards explaining about its bees, frogs, toads, newts and pond plants. An elderly woman with a shopping trolley painstakingly placed scraps of bread on top of the railings for the birds, like a latterday Eleanor Rigby. Following the path of the canal, we climbed the steep steps up to the 11th century Castle Motte, all that remains of the castle where Richard III stayed, twice, two years before his death. On our last visit here, we'd bumped into a photographer who'd lived in the city for over 50 years but had never before visited the Motte. Yet it's right in the centre of the Castle conservation area, next to the imposing medieval St Mary De Castro Church, with its fine Norman relics. There, on that same previous visit, a well-heeled American couple had asked us to take their photograph against the ancient archway. Turned out she was a leading lawyer while he was a Republican senator who'd been giving a talk about post-Trump politics at De Montfort University. The people you meet…
According to a sign in St Mary De Castro, "Richard III was probably the last monarch to worship in the church". Here, too, Henry VI was knighted as a child and Geoffrey Chaucer married his second wife in the 1360s. Today, as well as being open to visitors (including a group of Malaysian university students the day we visited) it provides a much-needed sanctuary for the homeless and socially isolated.
"Move through time"
This whole area, in fact, provides a sanctuary from the madding crowd. Just beyond the church archway is Trinity House and its restful Herb Garden – part of the area called The Newarke, which also includes the appealing Newarke Houses Museum. Here, as well as videos of Ugandan Asians talking about their experiences of moving to the UK in the 1970s, there are 16th Century stained-glass panels, one of the largest shirts in the world (it belonged to 53-stone Daniel Lambert) and the social history of Leicester recreated in a pub and shops – a tobacconist's, grocer's, hardware store, haberdashers, pawnbrokers, chemists, a pub…
Leaving the museum, you're rudely awakened from nostalgic thoughts by yet another crazily busy road, right next to which is the Magazine Gateway, last remaining relic of the wall that originally divided the castle area from the religious precinct. In another example of Leicester's disconcerting ability to move through time, it's now a marker for De Montfort University's own precinct, where you can sit outside the Coffee House and watch a league of student nations go past – Indians, Chinese, a young woman speaking in Russian, a trio of Italians, Africans…
Wandering back towards the cathedral, we moseyed through The Lanes area with its listed buildings offering 'oracle readings and holistic massage', yoga classes and boho art, its Café Mbriki, Sue Ryder Vintage & Retro Shop (not 'charity shop', notice) and Currant Affairs vegan store (just the place for a soya samosa or cacao energy ball).
We were heading for the powerfully atmospheric Guildhall, with its oak panelled Norman Great Hall ("one of the best surviving wooden framed halls in the UK"), intricately carved fireplaces and coats of arms, stained- glass fragments and displays of medieval life, when the city was known for its wool production, cutlery-making and leather-working. Here are medieval coins, sheep bells, a goose skull, rings and buckles, medieval floor tiles and carved statues of saints. Dating from 1390, the building, with its uneven staircases, cells, Recorder's bedroom and library stuffed with leather-bound Latin books about martyrs and philosophy, was almost demolished at the start of the 20th Century but saved and restored.
"Shiny surfaces"
Just across the road, the World Peace Café in the Nagarjuna Kadampa Meditation Centre offered tea and cake as well as calming music, stylishly comfy sofas, thangkas (Buddhist wall-hangings), strings of lights and peacefully smiling staff.
Then we whizzed back again through time and country, past the 18th century Globe pub and the iconic 19th Century Clock Tower where today's young musicians were rapping raucously, and the 18th Century Globe pub. Past restaurants specialising in Argentinian, Vietnamese, Korean and Chinese cuisine – as well as the Las Vegas Fish Bar. Past the Panaaz Boutique with its beautiful embroidered saris and Rajasthani skirts – and past a statue of a Leicester seamstress, painstakingly sewing a sock.
Back at the hotel, we had dinner in the Nine B restaurant with its part Pompidou Centre, part factory-feel, all shiny surfaces, chrome lights, foil-covered pipes and padded seating in soft greys and oranges. I had a deliciously rich mushroom ravioli while Steve went for the equally tasty Vulcan munch pie (curried sweet potato and chickpeas). To follow, refreshing raspberry and mango sorbet with chocolate mousse. We passed, though, on the cocktails and mocktails, despite their names – Roman Treat, Pink Centurion, Imperium Romanum and Pax Romana.
"Secret gardens"
The next morning's breakfast spread was also excellent – fruit, smoked haddock, cold meats, hummus, cereals, a hot buffet, with omelettes and poached eggs to order.
Before leaving Leicester, we took a bus beyond The Golden Mile, up Loughborough Road, past the Shree Swaminaryan Temple, the Montessori School, WI House and the Care Home for Gujarati Elders. We were heading for the Belgrave conservation area, with its early 18th Century Belgrave Hall, equally handsome Belgrave House and (sadly closed) medieval St Peter's Church. Originally home to the Vann family of hosiery manufacturers, the hall was later owned by anti-slavery campaigner John Ellis, who brought the railway to Leicester. It now tells the history of the area and opens onto a series of beautifully tended secret gardens with mulberry trees, quince bushes, herbaceous borders and rose walks, cyclamen and camellias, and an autumn-flowering handkerchief tree. Yet another example of Leicester's curious ability to create calm out of chaos.
Novotel Leicester, 2 Great Central Square, Leicester LE1 4JS, tel: 0116-482 0440; novotelleicester.com
Visit Leicester: visitleicester.info