An Interview with Sir Paul Smith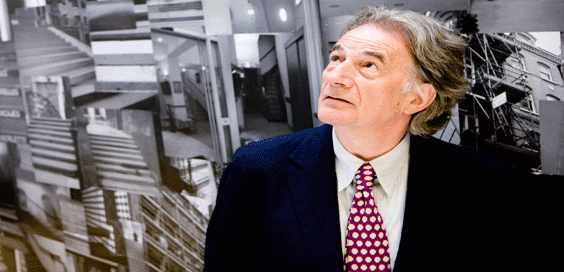 Meeting The Mythical Man Who Has Everything

by Matt Callard
A man can't help but get a little twitchy about his suit when he meets Sir Paul Smith. Don't get me wrong, it's not a bad suit. It's not one of those heavy-on-the-sheen polyester sun reflectors that startle birds in mid-flight, or a pastel 80's affair cut by a butcher with a grudge, or an armoured tweed number with an itch for every stitch. No, it's a decent suit. It might even be a good suit. But, just for today, it feels a bit like a 'will-this-do' suit.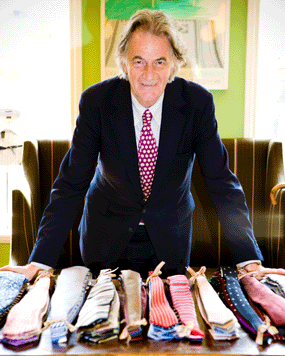 Not that Sir Paul Smith, breezy and lithe at a deceptive 62, would be particularly bothered if I was wearing a suit of armour. He's more concerned with a customer on the third floor of his immaculate new store in Leeds' Victoria Quarter who's in two minds about a pale two-button number with double back vents and a notched collar or a darker three-button alternative with a single vent and slanted pockets. Tricky choice.
Sir Paul jumps to the man's assistance with all the eagerness of a young salesman hungry for his first commission and our shopper, no doubt a little awed at the privilege of being served by Sir Paul Smith in a Paul Smith store, heads off to the changing rooms with no less than three suit jackets. Needless to say, I spot him some moments later, laden down with a few striped shopping bags.
"I've built the business on my own terms"
When Sir Paul eventually sits down for this interview, after kindly accommodating and advising the On: photographer for killer shots across the store's three floors, (he's a photographer as well as being a Brit fashion icon, don't you know) you can't help but wonder if sitting down goes wildly against his nature.
"I'm always on the go," he says. "Last week I was offered the chance to design an entire hotel inside and out, to do a huge job with a phone company and advertising for a Japanese car but I say no to most of them because they just don't feel right. I've just come back from South Korea because we've recently opened a new shop in Seoul and before that I had ten days in Japan." Sir Paul even confesses to designing the suits for Manchester United's Champion's League final and for the whole squad and staff for next season – a brave statement in the centre of Leeds – but I let the confession pass without protest.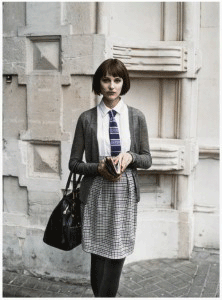 'Loving life' and 'feeling right' might sum up the whole Paul Smith ethos. He uses the phrases often. The under-side of some of the brand's shoes carry the motto "Every Day Is a New Beginning." He might be the UK's most successful designer yet he casually states that the business could be much larger if money-chasing was the company's prime objective. "I'm lucky that I've built the business on my own terms. We could probably be four times bigger as a company, possibly more. I think: "So I earn x-amount of money – do I need x-amount of money more than I've got? No. You just analyse it. Life is on your terms."
"I was in to cycling as a teenager"
Sir Paul Smith is certainly the captain of a happy ship. He's been known to produce a rubber duck in board meetings if they become too solemn. His Covent Garden office in London includes an area called 'The Stockroom of Silly Things' and is a regular thoroughfare for the famous, the fans and the plain old curious. "If you come to my office in London – there's about 180 of us in the building – the main comment we get all the time is 'what a lovely atmosphere'. Ricky from Kaiser Chiefs came and he said: 'If ever the music stops, I'm coming here to work!' They wear some of our stuff.
"I feel quite privileged that a lot of people like us. Franz Ferdinand said they'd like to meet me, Michael Palin came to see me the other day and then we'll get 30 students from Vienna and they all said what a lovely atmosphere it was there. All the T-Mobile cycle team came to see me because I was interested in cycling as a teenager. One of the main Tour De France teams came and wanted their jerseys signed by me. It's fantastic!"
"I love good manners"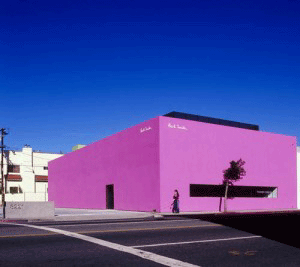 Indeed, cycling was Sir Paul's first passion and, if not for a terrible accident as a promising 17-year-old, he might have taken a very different road, toward the dusty cycle paths of the Pyrenees instead of the catwalks of Paris and Milan. In the six months he spent in hospital following the accident he had the time, as well as the need, to reassess his objectives. He made new acquaintances and fell in with students from the local art college. Within two years he was managing his first boutique in Nottingham with the encouragement of his long-term partner Pauline. Even in those days the company was built on honourable and solid traditions, even if the business model seems a little anachronistic in these cynical, money-grabbing times.
"I think if you see a bit of paper on the floor, you pick it up, or you open a door for somebody. It's just that I love good manners and I love communication. I can absolutely assure you that it all comes from the heart and, luckily, it does well." Certainly it does well. Paul Smith is global. The collections are wholesaled to 35 countries, with 17 shops in England.
Stores are located from Nottingham to New York, Hong Kong to Kuwait. But it is in Japan where this very English mix of classic style and eccentricity might just have found its spiritual home. "We've over 200 stores in Japan now," he casually states. "It's a bit mad over there because I get recognised in the street. Nowhere else in the world do I get that level of recognition. But over there I'm signing autographs with a marker pen onto mobile phones!"
"A lot of designers were very disrespectful"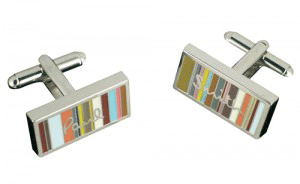 Perhaps it's those aforementioned good manners – never a bad thing when you want to get along in Japan – that have been the secret weapon in the company's success out there. "Well, we've been around there since the early eighties when a lot of people were being invited to go to Japan – designers from Europe and America. At that time in Japan they were in quite heady, wealthy times and I think a lot of designers went over there and were very disrespectful to the Japanese.
"They saw it just as a way of making money – that was it. They might have gone once, then after that sent designers now and again and waited around for the royalty cheque. A lot of them did quite well for a period and then disappeared." Sir Paul's profile in Japan may be enhanced by his numerous links to Brit popular culture but, crucially, he embraces the Japanese culture in return. "I absolutely felt so privileged to go to this place called Japan because I thought I'd never get there in my life. So I just kept going – I'd go there two, three, four times a year and I started to study the culture. I enjoyed the food and I just tried to understand the way people lived. I think it's worked for us because there's an honesty about what we do."
"I used to work with clothing manufacturers in Leeds"
Sir Paul Smith once described himself as 'The Mythical Man Who Has Everything' and you'd be hard to begrudge him that title. There's a playfulness about him in person. A simple joy and pride in the way he runs his business. He's still very hands-on with the day-to-day running. He retains an infectious curiosity for things and people that carries over to the iconic curios, antiques and collectables that are on display throughout his shops. His Leeds store is no exception. The shelves and walls that might otherwise be stocked with socks and underwear are filled with old books, odd antiquities, classic album sleeves. It's a shopping experience, if you will. And one that's absolutely made for the architectural splendour of the Victorian Quarter.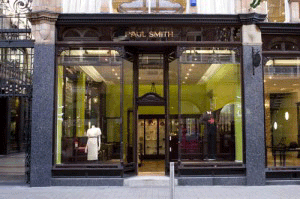 "I especially like the Victoria Quarter. Basically I've always had a soft spot for Leeds but I've never opened a shop just for the sake of opening a shop. In the early part of my career I used to work with some clothing manufacturers in Leeds – when there were still some clothing manufacturers here – sadly, most of them have fallen by the wayside. I worked with a factory on Harper Street that was willing to do the tiny amount that I wanted at the time. So I've spent a lot of time here and I like it."
"Always looking for interesting projects"
The Leeds store fits nicely into the realm of Paul Smith architectural eclecticism. One famous store in Tokyo is in a residential area and another, the legendary Pink Box in L.A., has been turning heads for 3 years. "The L.A. shop is fantastic. When I designed the shop I was aware that people don't really walk anywhere in L.A. and all the streets are really long and straight. So I thought you've got to build the Eiffel Tower to get attention, you've got to build something that people are going to go, "Wow!" when they see it otherwise they're not going to know you're there. It's amazing that it worked so well. Apparently you can hear the screeching of brakes and see people craning their necks."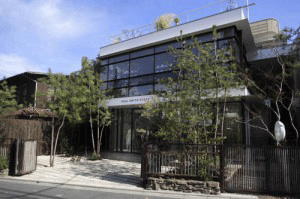 Perhaps the most remarkable store of all could be Space, in a residential area in Tokyo. Part clothes store, part art gallery it's an architectural dream of glass, steel and green bamboo. "We're always looking for interesting projects really. Everybody said we were absolutely bonkers because the shop was just surrounded by houses. But, touch wood (touches head, naturally), we're doing alright. In fact we've opened a similar shop in my home town of Nottingham in a residential house that was built in 1730. It was the townhouse of a local dignitary. We just try to do things from the heart, really."
"Dress for your age and job"
There seems to be a general, genuine affection for the Paul Smith brand. An unmistakable Englishness augmented by the unexpected. An old-time, non-cynical eccentricity coupled with modernist style. Plus, the brand is diverse, ever-changing, anything but stuck in the past. The portfolio includes watches, perfume, furniture, pens, china and rugs. Paul says: "What sums it up for me is we make suits for the head of the Bank of England, Mervyn King, and we make suits for Paul Weller. How diverse do you want it?"
I wonder out loud, as Sir Paul gets up to leave, whether he's carrying the famed rubber duck with him. Sadly not, he tells me. However, after priming the On: photographer, he produces a crisp £20 from his inside pocket. He places it on the table. Thinking this could be a gratuity from a benevolent millionaire to a hard-up journalist I reach for the note. It pings back and snaps into Sir Paul's hand on the piece of invisible elastic it is attached to. Cue raucous laughter from Sir Paul, the On: photography team, shoppers, staff – even one hard-up journalist.
As for my suit, well, Sir Paul says it's fine. That men should just dress for their age and job and that a good, softly constructed modern suit will cover you for most things a day can throw at you. It feels like David Beckham has told me I've got a decent right foot.
Paul Smith, Leeds is found in the Victoria Quarter, 17-19 King Edward Street, Leeds, LS1.
Paul Smith images © Damian Hall
Other images courtesy of Paul Smith