Whitby and the Dracula Legend
By Barney Bardsley
Whitby, on a sunny day, is just divine. This jewel of the North Yorkshire coastline twinkles prettily – fishing boats bobbing in the harbour, a broad expanse of glittering sea and a wide sky opening out beyond the jagged coastline. It is bright, bracing and endearingly picturesque. This was the lure my future spouse used, twenty years ago, to get me – Essex-born girl, city slave – to leave London and love his native Yorkshire. It worked. I was charmed in an instant.
Since then, I have been back there, year on year, always seduced by the salty sea dog atmosphere – the whip of the North Sea wind adding a keenness to my hunger for fish and chips, home-smoked kippers and fresh Whitby crab… But oh, what a dark side there is to this wholesome little set up. Husband-to-be never mentioned THAT, when he booked those tickets from Kings Cross, in a gentle wooing mood, all those years ago. And being an innocent abroad where horror is concerned, I had no idea that Whitby was the inspiration for Bram Stoker's Victorian classic, Dracula.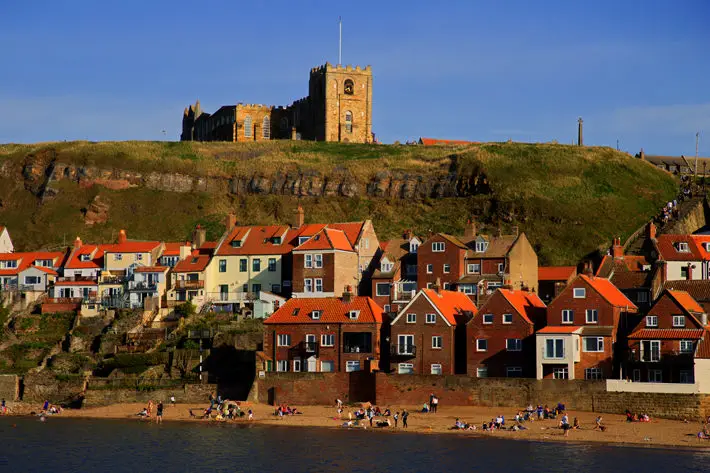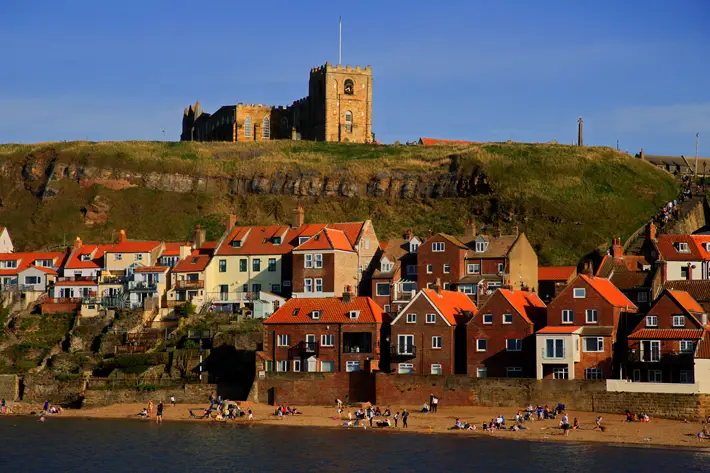 "Shipwrecked and ghostly"
The penny started to drop, however, on my very first wander in the old part of town. Because there they were: all those tiny little shops packed with fancy dress costumes, vampiric memorabilia, suitably Satanic Whitby jet (Queen Victoria's favourite mourning stone, all shiny, hard and black), and … best of all … Blimey! Those Goths! Everywhere they roamed, in tight little packs, swathed in black bondage, with those kohl-rimmed eyes, vermilion lips and milk-white (pointy sharp) teeth. What a weird and comic contrast to the jaunty trawlers in the harbour, cheerful chip shops and penny arcades! But they prove one thing, for sure: the legend of Dracula, Transylvannian king of the great undead, anti-hero of Hammer Horror and perennial guest of (dis)honour at any self-respecting Hallowe'en bash, is certainly alive and well, in the town where he was spawned.
"Dracula" the book was first published in 1897. Irish horror author Bram Stoker, wrote the story after a brief stay on Whitby's high and majestic West Cliff, intrigued by the town's stormy coast and colourful history – plus the great sight from his window, of harbour and town below, and glowering Abbey – 199 steps up – on the cliff across the bay. Thus, Count Dracula landed, one dark and stormy night, in Stoker's over-active imagination – shipwrecked and ghostly, to stalk Whitby's dark alleys, lie in the churchyard's ancient graves, and give the lovely Lucy that fatal first kiss.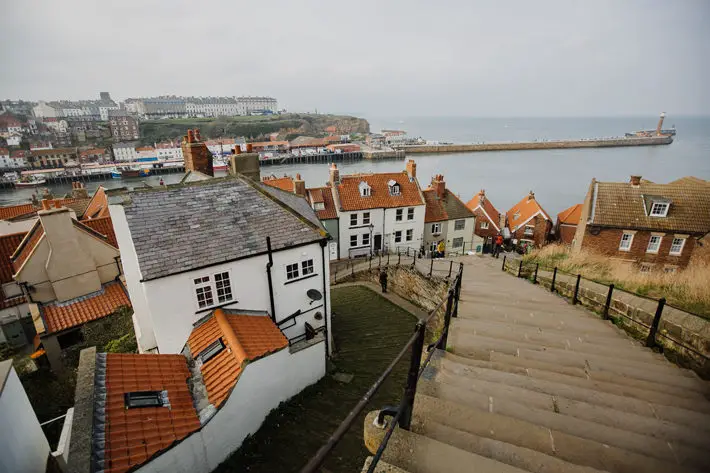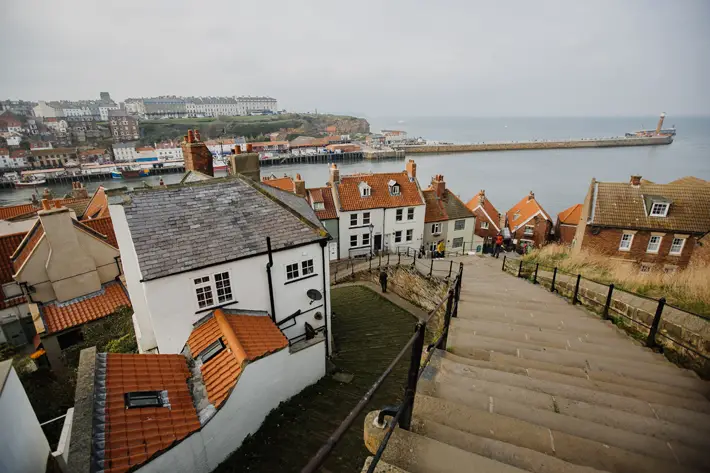 "Shape-shifting midnight visitors"
One New Year's Eve, quite by chance, some friends and I spent the night in the very house where Stoker stayed before penning his infamous story. Number Six, Royal Crescent. There is a blue plaque outside, to prove it. My daughter, who delights in all things gory, was thrilled. But apart from a couple of creaking floorboards and some noisy central heating, there was nothing remotely sinister to show for it. No shape-shifting midnight visitors. Just plenty of dazzlingly bright fireworks as the clock struck twelve. Not much good for any light-hating worshipper of the dark.
But the view that we had – the self-same one that Bram Stoker would have witnessed a hundred years before – with the bare bones of the Abbey starkly outlined against the night sky, was indeed impressive. Easy to see how this inspired Stoker to pick up his pen and conjure some devilish magic.
Not far from the Royal Crescent is the Bram Stoker Memorial Seat. Here you can walk the "Whitby Dracula Trail". Wander down through town, across the bridge on to Church Street, and then left to the Tate Hill Pier. In the story, heroines Mina and Lucy find this fateful spot charming on a bright and breezy day. But a local man knows better (they usually do.)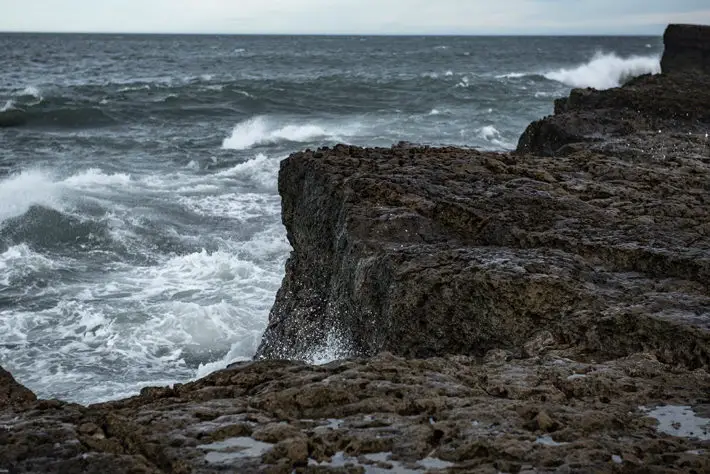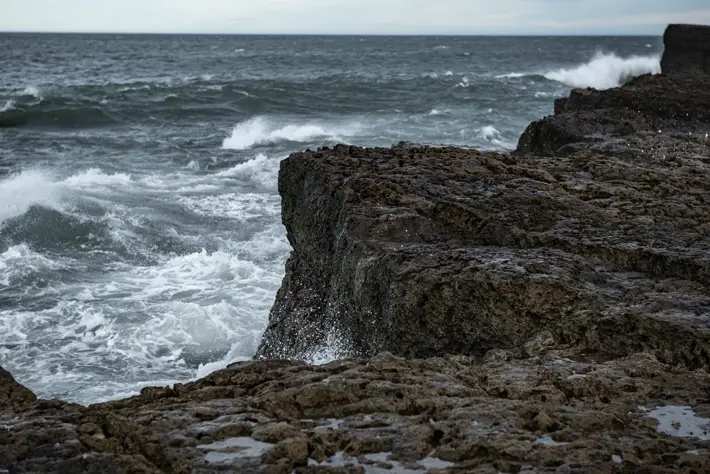 "Big black dog"
"There's something in that wind!" cried the fisherman. "It smells like death." Sure enough, sunset brings a storm. And a shipwreck brings Dracula. Leaping off onto the shingle in the guise of a big black dog. Then dashing up the church steps and disappearing among the gravestones. Later that night, Lucy sleepwalks the very same route. Only to have a dark figure come out of the gloom to kiss her, cunningly, on her lovely white neck. And that's only the saucy beginning… Blood, sex and gore – it never fails to sell.
Die-hard fans of kitsch and hyperbole might savour the "Dracula Experience" on Marine Parade. Complete with animated ship, creaking coffins and bloodcurdling sound effects. Or you can take a walk after dark with the splendidly self-styled "Man in Black", Harry Collett. He will reel you in, in his top hat, tails and shades, for four quid a thrill.
But Whitby itself is surely enough? The eerie Victorian street lamp at the base of the high, thin steps to St Hilda's; the old graves on the cliff top, inscriptions weathered, by centuries of storm, to soft waves of worn out stone; the strange shafts of light pouring through the ruins of the sacked Abbey… Only too easy to imagine that big dog disappearing around a corner, with a ghostly howl. To feel the brush of a bat wing on the edge of your cheek. So go on, the dark lord is always waiting. Take a walk on the wild side soon. (Garlic and holy water optional extras. And girls – keep those throats well wrapped up.