Top 5 DIY Wallpaper Glues and Adhesives
Learning how to mix and apply different types of DIY wallpaper pastes is a great way to develop your home improvement skills and abilities. You can use wallpaper adhesives to hang different kinds and thicknesses of wallpapers, make repairs to existing wall coverings or tidy up the edges and overlaps of your wallpaper. Wallpaper pastes also come in different strengths, so you can opt for a standard paste for light wall coverings or a heavy-duty option for grasscloths, flocks or other heavy wallpapers.
Easy-to-use DIY wallpaper pastes include:
• Ready-mixed wallpaper paste
• Ready-mixed super high performance paste
• Extra-strong all-purpose wallpaper paste
• Paste-the-wall products
• Overlap and border adhesives
Ready-mixed wallpaper pastes
These ready-mixed pastes can be used on washable, embossed papers, lining paper and cover about ten rolls of wallpaper with one pack. They are ideal for Paste the Wall wallpapers. You simply apply the paste to the wall and hang the paper – an easy and no-mess application. Due to its special formulation, it won't clump or lump together and can be applied directly, without any extra equipment needed for mixing.
Ready-mixed super high performance paste
This paste is ideal for more heavy-duty applications and textiles. It can be used with grasscloths and hessians, flocks, textured vinyl and other heavyweight wall coverings. It's ideal for all the heavy-duty wall covering projects in your home or office, is easy to apply with no mixing and can be applied directly.
Extra Strong all-purpose wallpaper paste
This is a great product that can be used for all general wallpaper projects where you need a strong bond. It comes in different sizes and can hang anything from 4.5 rolls (if you have a small space project) and up to thirty rolls of wallpaper – which is ideal for bigger projects. It can be used on most wallpapers including heavy, embossed, vinyl, and washable wallpaper. It can be mixed in twenty seconds and is ready to use in two minutes so it's very easy to use with hardly any waiting time.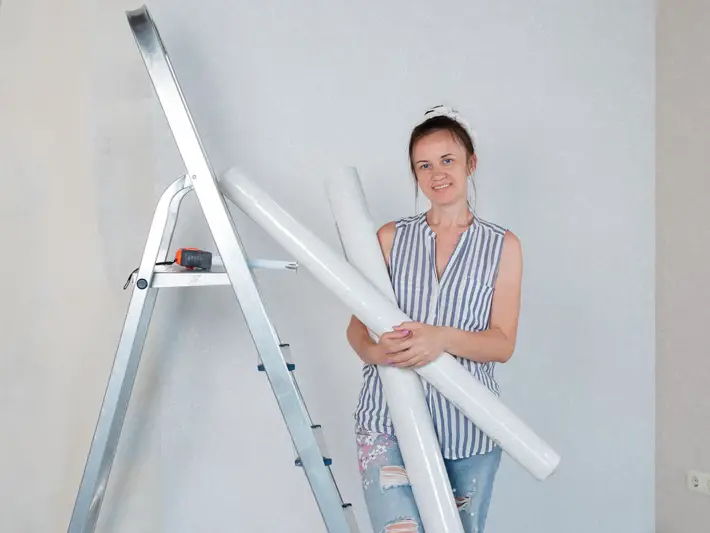 Paste the Wall Products
This handy product is suitable for Paste the Wall wall coverings and non-woven wallpaper. It takes about twenty seconds to mix and you can apply it after two minutes, for an extra strong bond with less mess. It covers about ten rolls of Paste the Wall wall coverings. It's really easy to see where you've applied it due to the pink colour of the product, so there is no waste or areas which are too thick due to over-application of paste. Simply apply it to the wall and then apply your wallpaper.
Overlap and Border adhesive
An ideal project for overlapping vinyl-to-vinyl wallpaper with a strong bond and neat finish. This product is smooth and very easy to apply, to seamlessly bond edges and overlapping sheets of wallpaper. It can also be used to make small repairs on the edges and borders of your wall coverings.
For some more wallpaper inspiration check out the latest latest wallpaper trends in different designs and colours.
The Solvite wallpaper adhesive range is reliable, durable and mixes without any mess or hassle, making it a favourite among professionals and beginners. Check out this handy page if you're ready to find a solution for all your DIY wallpaper projects.
If DIY is a new concept to you and you're not really sure exactly where to start, here are some ideas for a few basic DIY tasks that you can try with very little expertise or effort.
Need more help? Here is a DIY video on hanging wallpaper at home and some more money-saving DIY tips.
Get started with DIY wallpaper projects
Choosing the right adhesive for your DIY wallpaper project helps you to make a success of a first-time project or wallpaper revamp, without too much fuss or mess. Strong, durable adhesives can help you complete small DIY projects, easily hang all kinds of wallpaper, make repairs to your damaged wall coverings and hang small or large sections of paper in all the rooms in your home.