Silver Jewelry: Your New Summer 2022 Must-Have Accessory
If you want to look and feel your best this warm weather season then you need to have the best in designer silver jewelry to complement and co-ordinate your summer outfits. There is nothing more elegant and beautiful than well-made jewelry worn with confidence, and when you have the right accessories it is hard not to feel great.
What we love about bespoke pieces of silver and gold jewelry is that they can effortlessly elevate your outfit to the next level, and with great brands and designers creating gorgeous pieces each season you don't want to be left behind.
Now you can be the best version of yourself with great-looking silver jewelry from San Saru, and with so many choices and unique designs, there is something to suit everyone, all personalities, and beautiful souls.
Finding your glam
If you are like so many of the fabulous women in the world then your biggest issue is deciding on which pieces of jewelry to wear or even purchase, some designs and elements vary in both size and statement, so finding your fit with a variety of options is the best way forward.
There are jeweled pieces adorned with precious stones for your hands or your feet, the traditional necklaces and bracelets which you can layer or leave as a single focal point, but now with increasing popularity, the body chain is something not to miss out on.
And it pairs perfectly with both casual and smart-casual summer looks to ensure you are always well-accessorized from head to toe for every event and celebration. Let's take a look at the top designs from San Saru this season and you'll have a better idea of which piece to get for yourself, or more than one, and why not.
Body Chains
• Mishay body chain – If you want an understated wow factor this is the one for you, with both fine silver and 22K gold plate you will surely draw attention, and it elegantly completes a look.
• Damodar body chain – A 925 Sterling silver chain that is beautifully hand-finished, is adjustable so you can wear it in different positions, and the dot-dash design makes it uniquely iconic for a fresh summer look that can be styled both up and down.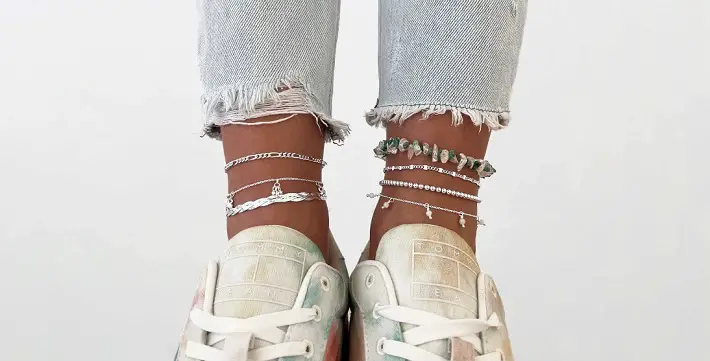 Anklets
• Akhila anklet – summer evening events will not be complete without this gorgeous 3 chain linked anklet as part of your attire. It oozes sophistication and looks exquisite both independently or layered with other subtle anklets.
• Devadas anklet – elongated and interlocking links make this anklet stand out from the crowd. The unique design shows the craftsmanship that went into the handmade intricacies and works well when layered with multiple anklets. And, it comes in both silver and gold so now you can enjoy both and be fabulous on every occasion.
• Anila anklet – this one-of-a-kind statement piece is a must-have in your jewelry collection. The natural stones are interchanged and look beautifully against sun-kissed skin. Great for looking elegantly casual for a day out on the beach with cocktails, and because each stone has a unique shape and size, this bespoke piece is just what you need to compliment your precious-stoned jewelry pieces.
Gemstone Jewelry
• Warsha bracelet – The perfect complement to the Anila anklet if you want to complete the look. A string of beautifully chosen, natural stones which go elegantly with other subtle bracelets or are worn by themselves to be the star of the show.
• Ganesh ring – the precious pink agate stone is a delicately sophisticated stone nestled on a sterling silver ring. Wear one, or many, for a touch of femininity that is confident without being overbearing.
• Kumar necklace – When worn with the complimenting Veda bracelet this rose quartz necklace is soft and chic and gives you the look of subtle opulence. A more refined natural stone, bespoke in its characteristics, and the hue is perfect for warm summer evenings watching the sun sink behind the horizon.
Earrings
• Nayath earrings – Statement pieces aren't usually this graceful, but the Nayath earring set is not like any other earring. It has a refined stone with uniquely intricate specks of color for an intrinsic look and shows how the balance of shape and size can be done in a refined way.
• Sharmila earrings – With an elongated design and gracefully handmade, these earrings give us both elegance and opulence without trying too hard. Simple and chic and a must-have staple in your jewelry box. A perfect gift.
Summer jewelry at its finest
We all know that while we may have a great-looking outfit it is never quite complete until you add the final touches, and if those are bespoke silver and gold accessories handmade with love, then the world is your oyster. Step out in style, step out in silver.