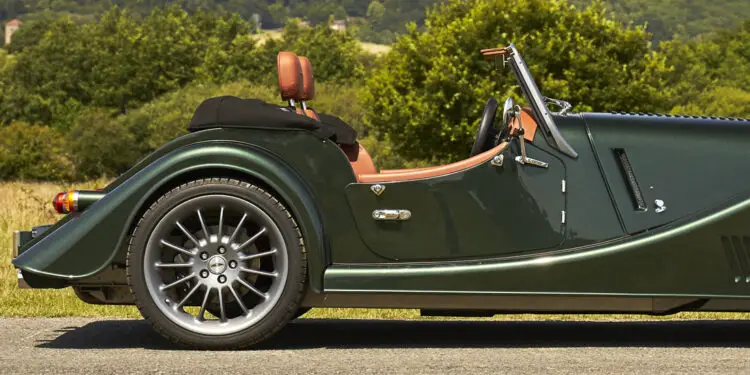 By Liam Bird
"Would you like the roof putting back up, or should I leave it down?" asks James Gilbert Morgan's PR man, with a wry smile, as he familiarises me with the idiosyncrasies of their new Plus Six's folding hood. I know Morgan drivers have a reputation for being a hardy bunch, but really? It's peeing down. He then adds "Take it easy in the wet."
Then he hands me the keys to what is Morgan Plus Six chassis number 2 – all £89,995 of it.
I've driven products of Worcestershire's Morgan Motor Company before of course. And I've a sneaking suspicion that I've sat in this particular car before – on Morgan's stand at last year's Geneva Motor Show no-less – nevertheless, I take heed of the advice. The Plus Six as James has already reminded me "is the fastest thing Morgan have built".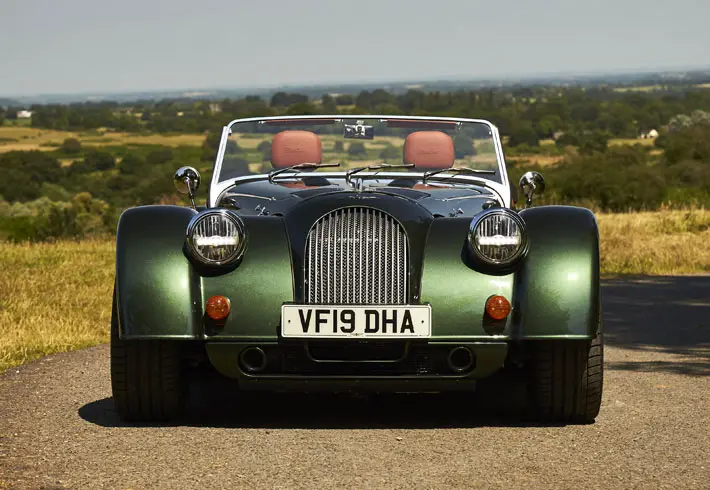 "Slipped seamlessly thorough its gears"
Also, there's the small matter of that weighing-in at just 1075 kg (dry) and packing 335bhp, the Plus Six does what it does without the aid of traction control: What it does is 0-62mph in 4.2 seconds. No one, and especially-so me, wants to become famous (Or infamous?) for writing-off someone's brand new show-stopper now do they?
I press the starter button, pull the selector back into Drive, and release handbrake – it's manual not electric, hoorah – before very gently easing out through Morgan's factory gates, on to Pickersleigh Lane, and into what thankfully little traffic a Friday morning in Malvern Link can muster. It's still raining; so hard in fact the Plus Six's trio of tiny chrome wipers struggle to clear the deluge. I'm so glad the roof's up.
As much as I can understand Mr Gilbert's concern, by the time I reach the traffic lights at the bottom of the hill I'm beginning to wonder if he wasn't perhaps being a little over-protective. The Plus Six has slipped seamlessly thorough its gears without even the merest hint of drama, and from where I'm sitting everything feels very familiar – all very Morgan in fact. Long vented bonnet? Check. Upright letterbox-like windscreen Check? Saddle stitched leather seats? Check. Offset pedals? Check. Tiny round door mirrors that shake in wind and offer little in the way of any effective rear visibility? Check. There's even oatmeal box-weave carpet, a walnut dashboard, and sliding Perspex side windows that struggle to seal out all of the elements.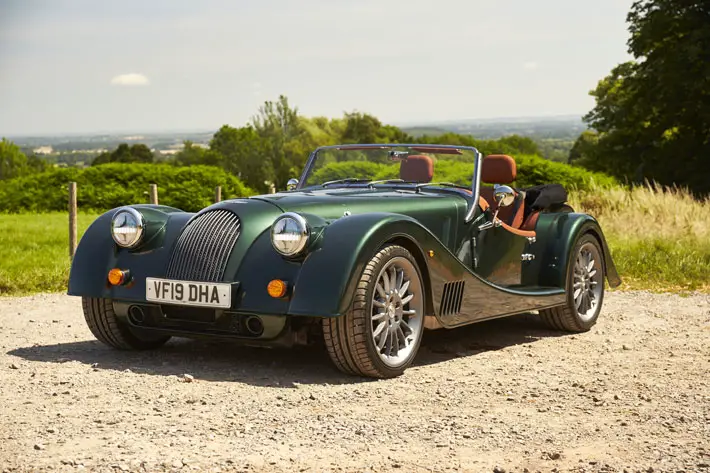 "Classically styled bodywork"
But then again, I think making the Plus Six feel all very Morgan was the idea.
It may look and, at first, feel like nearly every other Morgan that's been built before it, but make no mistakes, this is very much an all-new car. Underneath that classically styled bodywork lies Morgan's new CX chassis, the fourth new platform in Morgan's 110 year history. CX is 110 in Roman numerals. Get it?
Traditionalists fear not, there's still a handmade wooden frame – a Morgan's not a Morgan without one. It's made of Ash, as always, and you can see bits of it when you open the Plus Six's doors. But the actual chassis, the thing that holds all the oily bits in, that's made of aluminium, all riveted and bonded together to make it as stiff and as flex-free as possible.
As a result of the new underpinnings there's a 20mm extension in the wheelbase, 200mm more leg room, an 80mm wider cockpit – Morgans always feel like old fighter planes only now there's no need to hang an elbow over the door top in order "fly" one. As always there is no "proper" boot, but the CX chassis allows for a much deeper rear parcel shelf behind the seats for your overnight bags and, thankfully, your umbrellas. Suspension by a new double-wishbone MacPherson-strut derived system at the front with a four-link set up at the rear, completes the package. The Plus Six also benefits from a set of newly designed 19-inch multi-spoke wheels and electric power-steering.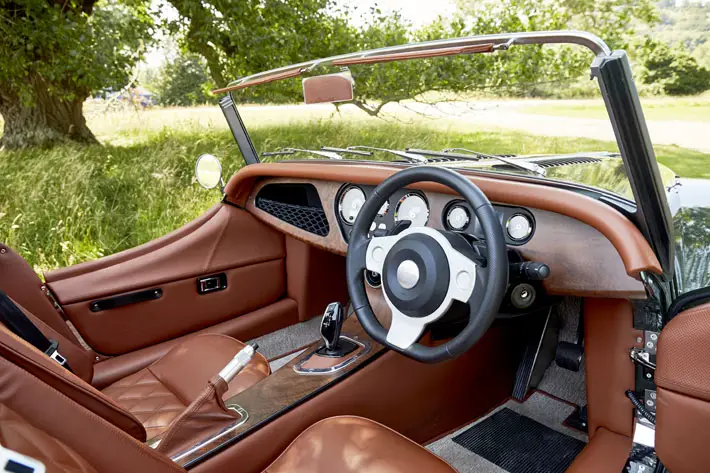 "Performance is brisk"
There's even central locking, heated seats, air-con, and Bluetooth. But don't go looking for satellite navigation, touchscreens of any kind, or a radio. Or even airbags for that matter. You do get ABS though, and the windscreen is heated too.
Power comes courtesy of BMW. Underneath the Plus Six's hand–rolled and hand punched aluminium bonnet you'll find the same straight-six, twin-turbo, 3-litre engine as that fitted to the Munich manufacturer's new Z4. It's also the same engine Toyota use in their new Supra. Needless to say performance is brisk. But it's also surprisingly refined. That B58 engine is coupled to BMW's 8 speed automatic gearbox (I knew that selector looked familiar) and, as hinted at earlier, in traffic or when you're in no mood to hurry, everything's very smooth; quiet even.
Press the Sport+ button though and things change. What at first felt like a genteel GT reveals itself as a genuine sports car. There isn't the hairy-chested brutality of the old V8 Morgans, the BMW engine is far too sophisticated for such things, but nevertheless the Plus Six is still very much what you'd call a proper driver's car. The exhaust burbles and pops on the downshifts, the steering is light – which together with the view over those curvaceous wings tops means you can place the Plus Six easily. Should you wish to, there's more than enough torque to break traction. Which, once acclimatised, means you can steer the Plus Six as much with your right foot as you can with your right hand. It really is a lot of fun."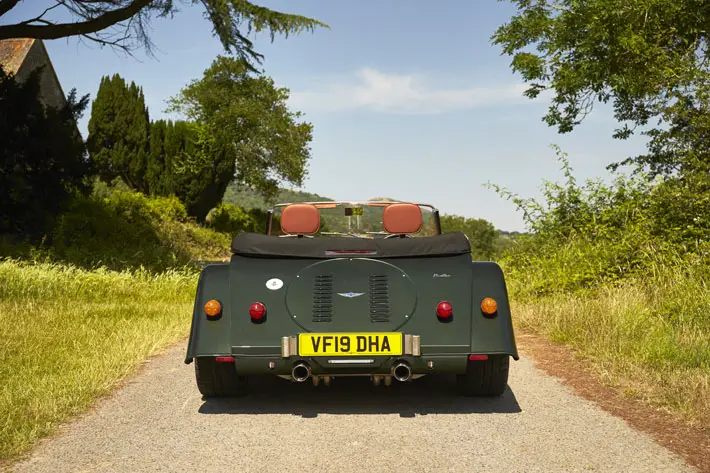 "Handmade eccentricity"
There are niggles of course. The Plus Six is maybe the most modern feeling Morgan to date but it's still noisy and draughty, and despite that new chassis and suspension its taut ride makes it bumpy over broken surfaces. You need be to pretty agile to get in and out of it too – especially so with the roof-up. And once aboard you'll find yourself sitting higher than you thought you might, as if you're on the seat rather than actually in it.
But, in a world where so many modern sports cars are so sanitised that they're beginning to lack anything that could be described as real character, the Plus Six delivers it in spades. It's a handmade eccentricity, delightful, entertaining, and yet ever-so slightly mad. But even a on a rainy day in Worcestershire, would you really want your Morgan any other way?
Morgan Plus Six
Engine: 2,998cc, 24 valve, turbo-charged, straight-six (cylinder), petrol
Power: 335bhp @ 5,000rpm
Torque: 369 lbft @1,600rpm
Transmission: 8 speed auto. Rear-wheel drive
Performance: 0-62 mph 4.2 sec
Max Speed: 166 mph
MPG: 38.2 (Combined).
Weight: 1075 kg (dry)
CO2: 170 g/km
Price: from £77,995 (First Edition version as tested £89,995)