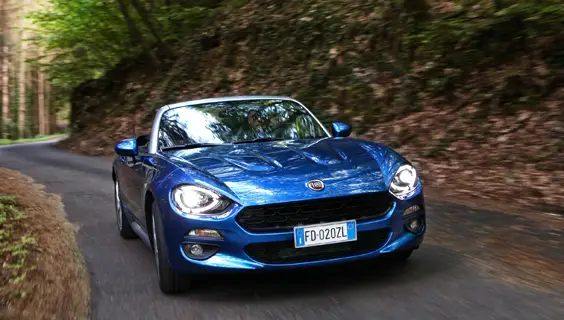 By Liam Bird
How do you feel about cover versions? Did Jimi Hendrix really do a better job of 'All Along the Watchtower' than the now Nobel Prize-winning Bob Dylan? Did Westlife croon 'Uptown Girl' better than Billy Joel? Is Aretha Franklin worthy of more R-E-S-P-E-C-T than Otis Redding? Do you prefer your Hallelujahs by Jeff Buckley or Leonard Cohen?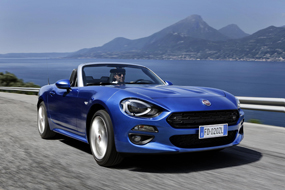 The reason I ask is because of the latest two-seater to come from Fiat. It's called the 124 Spider, and a very pretty car – as Raffaele Vallone once said of Michael Caine's Aston Martin DB4 Volante in The Italian Job – it is too.
Revealed to European eyes for the first time at the 2016 Geneva Motor Show, the 124 Spider was designed to commemorate the 50th anniversary of the unveiling of the original 124 in Turin in 1966. And, so Fiat say, the 124 Spider brings classic Italian styling and an authentic roadster driving experience to a whole new generation of enthusiasts.
Or does it? You see there's a little more to this drop-top than first meets the eye. Wouldn't you say there's something rather familiar about it? And I don't just mean that classic long-bonnet-short-tail two-seater profile either.
"Wind-in-the-hair thrills and pin-sharp precision"
That's because underneath the new 124 Spider lurks Mazda's perennial MX-5 – and that's no bad thing in my book. Mazda supply FIAT with a virtually complete set of the MX5's underpinnings to which, in Italy of course (where else?), FIAT fit their 1.4 litre turbo-charged Multiair engine, some far less angular and all-together curvier body panels, a pair of brighter-hued leather seats and associated dash trimmings, and, well, that's about it.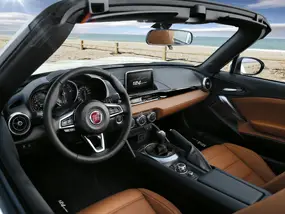 The interior switches and dials are the same as the MX5's; the voice-activated sat-nav and DAB (we drove the very Mediterranean-monikered Lusso-Plus specced 124) are the same as the MX5's; the steering wheel is the same as the MX'5's, albeit now resplendent with a Fiat's red, lozenge-shaped badge: the lack of storage space apart from a cubby between the seats, and a boot that'll just about swallow the weekend's luggage is the same as an MX5's… you get the idea.
The 124 Spider even gets the same hood-up-hood-down-with-just-one-hand-and-in-less-time-than-it-takes-to-say-everything-is-the same-as-an MX5-in-here roof, and the same deliciously snickety 6-Speed manual gear-box too. Both of which are also good things. As me, and a host of Mazda MX5 owners the world over, can assure you. That said, an auto is also available. But why would you want one in a car like this?
You'd be forgiven, then, for thinking that the Fiat 124 Spider feels the same as an MX5. And it does. And it doesn't. You still get the same wind-in-the-hair thrills and pin-sharp precision steering – although now it's a tad heavier, but there are differences.
"More to this drop-top than first meets the eye"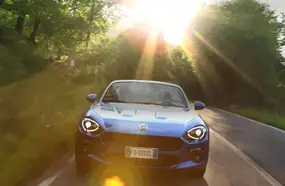 FIAT have opted for a softer suspension set-up, and because their engine is a turbo rather than Mazda's choice of naturally aspirated units (1.5l or 2.0l) there's noticeable lag. As a result the 124 feels more relaxed, and less eager perhaps. It doesn't respond so readily to the throttle. It's actually the easier car to drive. Keep it above 2000-rpm and it requires less work from you as driver than the MX5 does. But isn't that the whole point of a sports-car? Surely you're meant to work that little bit harder to gain your rewards. It's thirstier than an MX5 too. In over a week in the 124's company I never bettered 38mpg. In certain specs it's pricier as well.
Think not then of the 124 Spider as Fiat's return to building the perfect sports-car. Although I will concede it is a very good one. This pretty little sharp-suited Italian is ultimately more suited to the boulevards of Milan than it ever will be to the Monza banking.
Proof, if ever it were needed, that even though the arrangement might be the familiar, the song, when sung, doesn't always remain the same.
FIAT 124 Spider Lusso Plus 1.4 MultiAir Turbo
Engine: 1,368 cc 4Cyl, 16V turbo-charged petrol
Transmission: 6 speed Manual, rear wheel drive.
Power: 140 bhp @ 5,000 rpm
Torque: 177 lbft @ 2,250 rpm
0-62MPH: 7.5 Sec
Max Speed: 134 mph
CO2: 148 g/km
MPG: 44.1 combined
Price: from £23,295, (as driven) £23,795