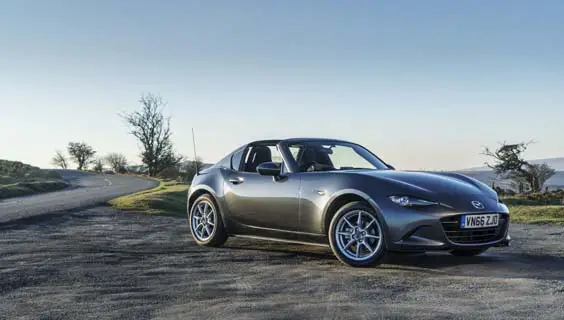 By Liam Bird
It's all very well making bold claims about a car after in what amounts to little more than a sunny afternoon's driving – and especially so if the driving took place on some of the best roads in the country. But do those claims stand up after a far longer period of time with the same car and the roads you drive day-in, and day-out?
Earlier this year I spent a glorious albeit chilly afternoon on Dartmoor in the company of Mazda's MX-5 RF after which I declared it "the definitive affordable all-season roadster." A little while later Mazda's lovely PR lady called to ask whether I'd like to spend a little longer with a the tin-top MX-5. Needless to say I said yes immediately. Time then to see if I what I said remains true. I'd booked it for a week.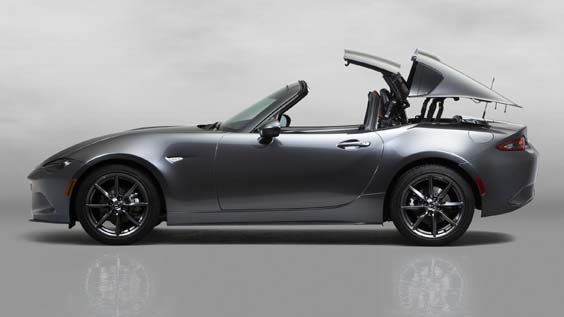 "Altogether less draughty"
Another bold statement I'm going to make is this: I actually prefer the coupe-esque looks of the MX-5 RF to that of the convertible. I know, in the world of MX5s that's somewhat contentious. Many a far more respected car-scribe than I has said that Mazda's 50mm higher and 75 kg heavier Retractable Fastback (hence the RF suffix) spoils the look of the Mazda's best-selling roadster. I say beauty is the eye of the beholder. And besides, a hard-top is more secure.
It's also quieter. Or at least it is if you keep it up. At motorway cruising speeds not only is the MX-5 RF's snug fitting (by which I mean persons over 6 feet tall should try before they buy) cabin cosier and altogether less draughty, it's far easier to hold a conversation in than the soft-top MX5. Two-up and with a couple of large but squishy weekend bags stored in the RF's bijou boot – into which the folding hard-top does not encroach I might add – and you could easily contemplate some continental cruising. Over a week and 300 miles of mixed road driving I even actually manage to equal Mazda's claimed average of 40.1 mpg – well, very nearly. I probably manage, or even better, Mazda's 0-62 in 7.4 seconds a couple of times too! Roof-up the RF makes for a worthy long-distance travelling companion.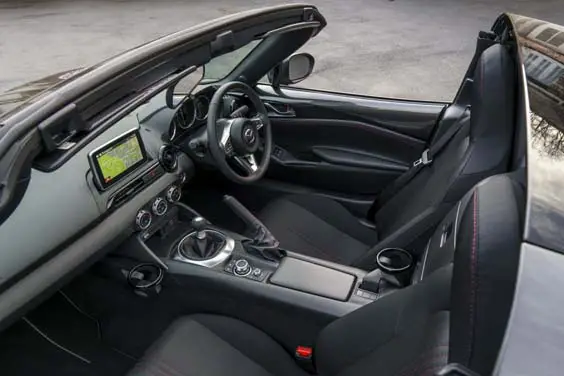 Roof down – or should I say folded away – and things are somewhat different. That's not to say bad; there's nothing more enjoyable sometimes than a little wind-in-your motoring, but…
If you're coming to the RF after being used to a fully open MX5 you might find that it's actually a little louder than the soft-top once it's hidden its origami-like tin hat. Conversations of the shouty kind are required when "pressing-on" as a result of the RF's buttresses. You'll also be working the extra Bose speakers Mazda have fitted in the headrests to the full if you like to drive with a musical accompaniment. My advice is slow down a little, take in the scenery, and enjoy the scented air.
Spirited driving aside I'd still go for the 2.0 litre version of the RF if my budget allowed. It somehow suits the hard-tops more planted, more mature nature. Speccing the extra half-litre capacity over the 1.5 also bags you a limited slip-diff, a strut brace and bigger alloys.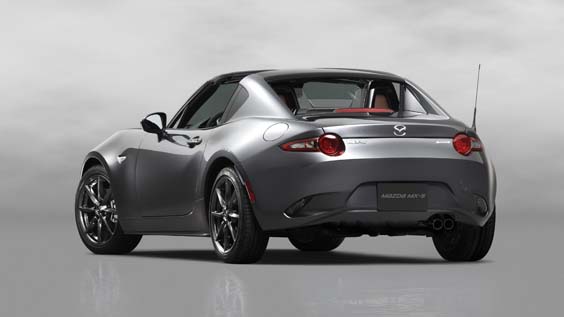 "More secure"
But what about day-to-day usability? I here you ask.
Well, it's like this. One look at the MX-5 RF is all it takes to tell you it's hopeless for carrying anything more than you, a passenger (there is ISOFIX on the second seat if said passenger needs such things) and the weekly shop. There isn't even a glovebox. But if you don't need a school-run mini bus, you can get Ikea to deliver, and you're agile enough to thread yourself into the MX-5 RF's low-slung cockpit then you really can use it every day. And, like I said, drive it carefully and it'll return non-bank-busting MPG, deliver more smiles per mile than you ever thought possible and it's more secure to boot.
The fact remains: The MX-5 RF really is "the definitive affordable all-season roadster."
Mazda MX-5 RF 2.0 160PS Sport Nav
Engine: SKYACTIV G 1,998cc, 4Cyl, DOHC 16V Petrol
Transmission: 6 speed manual. Rear Wheel Drive
Power: 158 bhp @ 6000rpm
Torque: 147.5 lbft @ 4600 rpm
Weight: 1,120 kg
0-62mph: 7.4 sec
Max Speed: 134 mph
MPG: 40.9 combined.
CO2: 161 g/km
Price: from £25,695