Jaguar F-Type Coupe 300ps – Car Review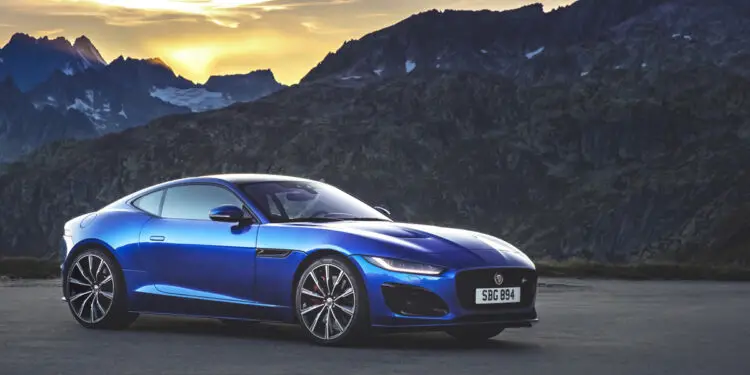 By @Liam Bird
If my memory serves me correctly, it was around this time last year that Jaguar's press department rather unexpectedly invited me to Portugal to drive the new version of their F-type. The drive was from Porto to Lisbon and, said the email, offered, "More Pastéis de Nata than you can shake a stick at." They're poor excuses I know, but a combination of existing work commitments, the relatively short notice, and flights from Gatwick (a near five hour each way trip from out here in The Far Unlit Unknown), meant – like a fool – I ended-up to turning Jaguar's invitation down. If only I knew then what was coming…
If ever there was an essential journey…
Oh well, you can't turn the clock back (and especially-so while kicking yourself, it would appear). Fortunately, though, Jaguar are still talking to me.
Last Tuesday the now not quite so new F-type was delivered here, to my door, by in man in a mask, carrying hand-sanitiser. According to those in the know, the testing of cars for journalist purposes is, under current lockdown restrictions, still permitted – as long as said testing doesn't involve unnecessary journeys, presumably?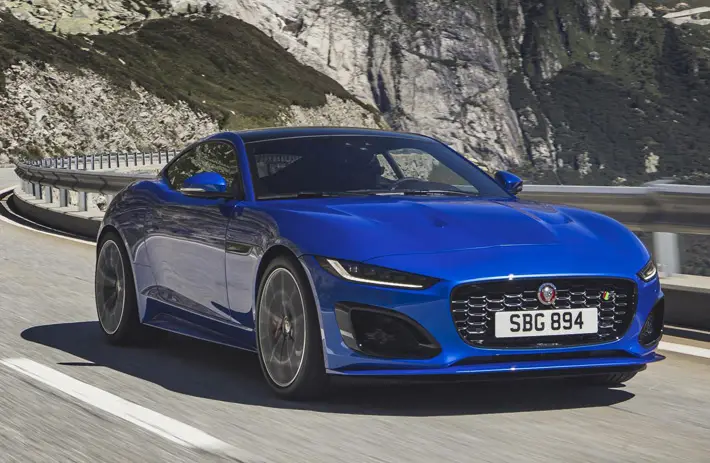 "Three-quarter visibility is near non-existent"
Still, the question remains. Was the new F-type worth the wait?
The truth is, it's not really new. Yes, it looks different, there are new sleeker LED headlamps pushed right out to the extremities of the clamshell bonnet, a deeper, wider front grille, and various other subtle nips and tucks here and there in what was an already very shapely silhouette. It's still very much an F-type, especially so from the rear, but upfront there's now even more of a resemblance to the Aston Martin Vantage. It's a bit Ferrari Roma too. Still, imitation, whichever way around it might be, is apparently the purest form of flattery.
Pop the flush fitting door handle and swing open the door, and inside, well, the new F-type feels somewhat familiar. You sit low, the view forward framed by the tick A-pillars, the view rearward framed by the sloping rear window. And the view over your shoulder… Well, there isn't one really; three-quarter visibility is near non-existent – so make sure you spec the reversing camera and parking sensors. Interior storage space is also at a premium; so best put your jacket in the F-type's wide and shallow boot, which, as long as you've bought the coupe and not the soft-top, is thankfully large enough for a long-weekend's luggage.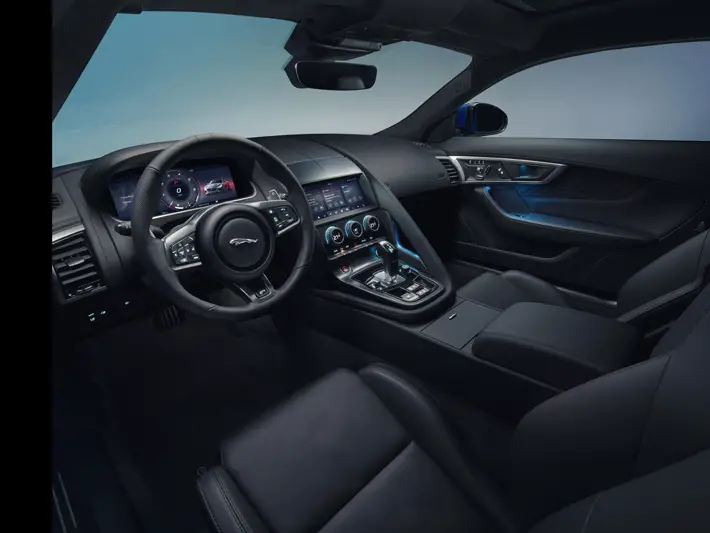 "Beautifully clear"
Interior technology has seen an upgrade, and every F-Type now comes with Jaguar's 10 inch Touch Pro infotainment system as standard. It's very clear, and simple enough to use, and thank God, there are separate, proper controls for the heating and air-con, but it does take a little (pardon the pun) acclimatisation. It's certainly not the quickest to systems to respond, nevertheless the all-important Apple CarPlay or, should you so be inclined 'Android Auto', are standard. So too DAB, Bluetooth, and a rather nice sounding 380-watt Meridian sound system.
The new multi-configurable digital dash is also beautifully clear and allows for multiple different displays; single rev-counter, kph instead of mph, trip-computer, etc. but, if you're anything like me you'll probably scroll through until you find the classic double-dial dash setting, select the trip and mpg data to go between them, and probably never trouble it again.
Press the pulsating starter button and, if your budget doesn't stretch to the fire-cracking V8, the noise you'll hear in response is a bit of disappointment. Jaguar do not offer a V6 anymore (surely the F-Type of-old's sweet-spot?), so it's up to their 296bhp, 4-cylinder unit to try and fill the gap. When coupled to their 8-speed Quickshift automatic gearbox it certainly does provide more than ample shove, but it's a shame it doesn't sound more tuneful while doing so. The four-pot sounds more like a souped-up hatchback than it does a bonafide sports car – more flatulent than fabulous.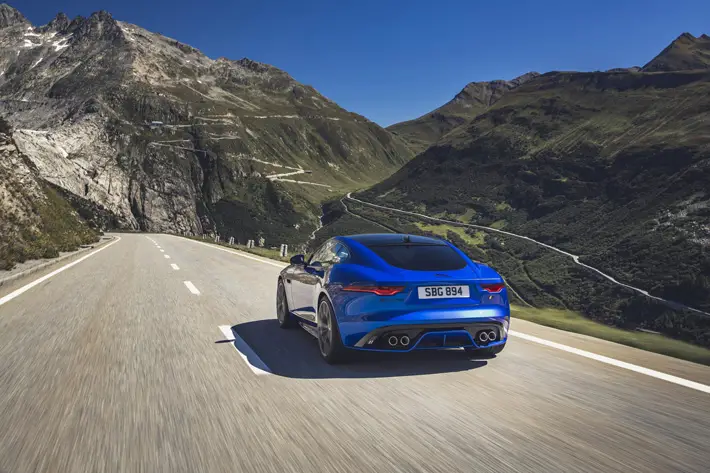 "Steering is a delight"
Fortunately, what the lesser cylindered F-type lacks in aural delights it makes up for in feel. Yes, the ride is hard on what now passes for tarmac out here in The Far Unlit Unknown, but when the going does become smoother, it really can shine. Because the smaller engine is also lighter, it aids handling – there's simply less mass to move. The steering is also a delight, linear in its action and nicely weighted and if anything, it's the F-Type's stand-out feature. A light covering of snow, a liberal dose of throttle, and the ability to switch off the traction control made for a very amusing commute.
Commuting however, as happy as it is to do it, is not really what the F-Type was designed for. A classic front-engined, rear wheel-drive sports car such as this deserves a nice open road, a mountain pass or a trip along the coast maybe. Next time an opportunity to do that comes along, F-Type or not, I won't be quite so quick to turn it down.
Jaguar F-Type Coupe 300ps
Engine: 1,997cc, in-line 4cyl, 16valve, turbo-charged petrol, with direct fuel injection
Transmission: 8-speed "QuickShift", rear wheel drive.
Power: 296 bhp @ 5,500pm
Torque: 295 lbft @ 1500- 4,500rpm
0-62MPH: 5.4 Sec
Max Speed: 155 mph
CO2: 184 g/km (NEDCeq)
MPG: 29.9 – 29.2 (WLTP combined)
Price: from £54,060 (as driven £60,425)