The Devonshire Arms' Duchess's Choice Recipe Box – Review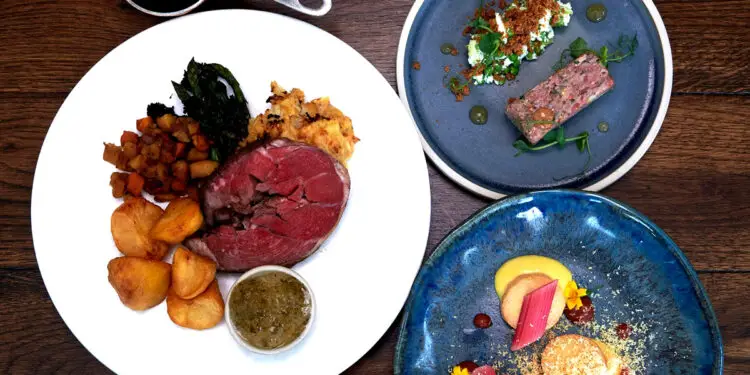 By @Roger Crow
A few years ago I enjoyed one of my favourite meals during an On: Yorkshire review of The Devonshire Arms; I was knocked out by the phenomenal surroundings, great food and excellent service.
A return trip has been long overdue, but you know what put paid to that idea. So when I heard they were doing gourmet recipe boxes and would I like to review, I didn't need to think twice.
A well-packed, chilled box arrived one Friday lunchtime, and there's plenty of goodies to tuck into.
"Terrifically tasty"
The ham hock starter takes five minutes to prepare, if that. Just snip the relevant bag; pop the pea salad, the goat's curd and the ham hock terrine in a bowl; mix together, add the apple gel and tuck in. It's terrifically tasty, and takes me back to that glorious afternoon a few years ago when we soaked up the landscapes while enjoying the amazing food. Freshness is such an over-used term in marketing, but this really ticks that box. Obviously you can have the starter, the main and dessert in one sitting, but I have the starter on the Friday night, and it's wonderfully filling.
By Saturday lunchtime I'm ready for my main, and like the starter it's really easy to prepare. Pop the oven on; place the roast potatoes, cauliflower covered in cheese, and hunk of spring lamb on a baking tray. I have the worst oven in the world, so half an hour was fine; yours may be faster.
Ten minutes before the end, boil a saucepan of water and pop your bags of seasonal veg and gravy in.
"Serve and enjoy"
Obviously tastes vary, so cook your lamb for longer depending on preference. When ready, just snip the relevant bags, pour or empty and serve with mint jelly.
The taste is phenomenal, and obviously restaurant-level quality. Fluffy roasties, tender lamb, and moreish cauliflower cheese with amazing gravy and delicious veg. I'm not an accomplished cook, but in half an hour I had a superb meal which looks like it took ages to prepare. Obviously all of the hard work has been done for you, so you just cook, serve and enjoy.
If you're trying to impress someone special in your life, just hide the boxes and they'll think you're some kind of culinary genius. There's a lot of food, so you'll not go hungry.
"Savour every mouthful"
By Sunday, having scoffed the leftovers (still amazingly tasty), it was time for dessert, and the sticky ginger sponge pudding may have only taken minutes to prepare, but again was a treat for the tastebuds. Just follow the instructions card; zap in the microwave with the ginger syrup; add the coconut and lime cream, and if 'burnt pineapple' is your thing, zap that for a few seconds and enjoy. The taste is sensational with the sponge perfectly balanced by the cool cream and sweet pineapple; it rounds off a genuinely perfect meal.
Whether you have the whole lot in one sitting or like me prefer to savour every mouthful over a few days, I'd highly recommend it. And if you're a vegan, the Devonshire Arms also do recipe boxes which should be right up your street.
Super easy, amazingly tasty and great value. I'm not surprised the Duchess of Devonshire gave her seal of approval.
Thanks Dev Arms. Lockdown suddenly got a lot tastier.
General Weekend Boxes – £60 for three-course menu for two; various menus for meat lovers and vegans (dishes can be mixed and matched for flexitarians)
Order by midnight Sunday, for local deliveries on Thurs and national deliveries on Friday (not available on Mother's Day and Easter weekends)
Mother's Day Boxes – £110 for three-course set menu for two
Order by 5pm on Friday 5th March for local deliveries on Thurs 11th; and nationwide deliveries on Fri 12th March
Easter Weekend Boxes – £110 for three-course set menu for two
Order by 5pm on Friday 26th March, for local deliveries on Weds 31st March; and nationwide on Thurs 1st April
A range of extras includes canapes, artisan baked goods, cheese boards, cocktails and Champagne
Eco-friendly packaging ensures all elements are biodegradable, compostable and recyclable  
Order online devonshirehotels.co.uk/duchess-dining