The Devonshire Brasserie – Restaurant Review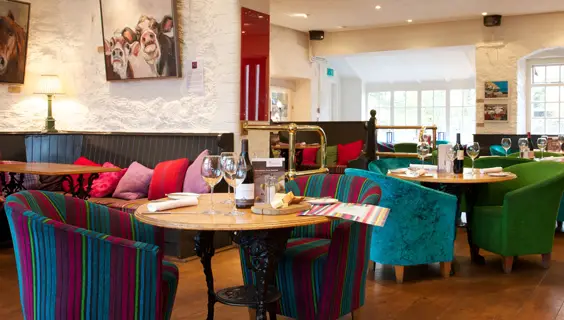 By Roger Crow
"We're so lucky having this on our doorstep," is a phrase I've repeated annually on trips to assorted Yorkshire coastal towns. Today that phrase is attached to a trip to Skipton, the home of Bolton Abbey and part of a personal quest to recreate scenes from Steve Coogan and Rob Brydon's classic series The Trip. In short: fine dining and glorious walks around iconic northern landmarks.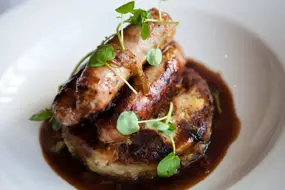 So, after a 90-minute drive, we're soaking up the postcard-worthy view through a picture window at the Devonshire Brasserie – a cosy, elegant highlight of The Devonshire Arms.
The vista is part compensation for the drive, but when our starter arrives, the stresses of travel melt away. My East and West Coast Seafood Platter is a wooden slab filled with delicious portions of mackerel pate, Bleikers smoked salmon, tempura king prawns, deep-fried Brie, dressed crab and fish goujons. Every mouthful is a delight; the sharpness of the pate balances the light, beautifully crispy tempura batter.
My partner opts for Textures of Beetroot – a mix of delicious goat's cheese, truffle dressing and roasted hazelnuts. "Who thinks to put hazelnut with beetroot? But it works," enthuses Rachel.
"A glorious combination"
I've had plenty of starters that eclipse the main, so, while sampling the house red, I wonder if this is another dish that will peak early. The 2015 La Brouette Rouge Pays D'Oc is an excellent full-bodied tipple that tickles the palate beautifully.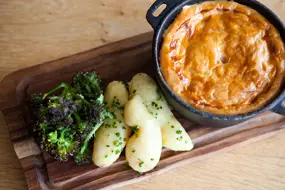 Rachel describes herself as "the world's fussiest fish eater", and from many meals where a single bone can lead to an abandoned dish, I know how crucial it is that her fish cake is perfect. However, I'm so lost in the culinary splendour of my main, Roast Chicken Breast, I'm not too worried about a bone scuppering things.
For years I've been wary of ordering chicken as a main, let down many times by arid, flavourless or overlooked meat. No such problems here. The truffle pomme purée, crispy pancetta, wild mushroom and Madeira is a glorious combination. The sides of root veg are sublime. The baby carrots melt in the mouth but aren't mushy. And as you may have guessed, the chicken is a delight.
I share a taste of the fish cake, and enjoy the feeling of split second weightlessness that all good dishes create. "Sometimes you get fish cakes that are more potato than fish, but this is delicious," explains Rachel. Minutes later the empty plate is testament to the culinary success.
"We walk off the outstanding meal with a trek by the river"
We finish by sharing cheese and crackers with onion chutney, grapes and fruitcake. Most of which is excellent, though the crackers are a little generic. It's a miniscule niggle for an eatery that boasts terrific service from Evan, brasserie manager Ruth, and junior waiter Angus.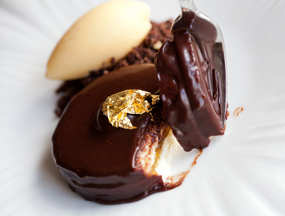 Backstage, head chef Sean Pleasants does a terrific job ensuring our first joint trip to Skipton, and hopefully not the last to the Devonshire Arms, is unforgettable.
After excellent cappuccinos and mochas, we walk off the outstanding meal with a trek by the river to Bolton Abbey at magic hour. The last rays of sunshine provide endless photo opportunities with sheep, who regard us with passive curiosity. I'd recommend allowing an hour after dinner to do the same.
Skipton's such a beautiful area, with the Abbey an obvious focal point, but there's also a charming antique bookshop nearby to peruse as dinner settles.
I wouldn't need to think twice about returning, but as there's a couple of helicopter landing pads outside the Devonshire, I should really up my game if I want to arrive in style next time.
The Devonshire Brasserie, Bolton Abbey, Skipton, North Yorkshire, BD23 6AJ
Lunch Opening Times:
Monday to Saturday: 12pm to 2.30pm
Sunday: 12pm to 4pm
Dinner Opening Times:
Monday to Saturday: 6pm to 9.30pm
Sunday: 6pm to 9pm
Excludes Bank Holidays
01756 710 710
thedevonshirearms.co.uk