Come True (2020) – Film Review
Director: Anthony Scott Burns
Cast: Julia Sarah Stone, Landon Liboiron, Skylar Radzion
Certificate: 15
by @Roger Crow
Sarah, a teenage runaway haunted by nightmares, keeps falling asleep at school and occasionally wakes up in random places, like on a park slide.
When she spots an advert to take part in a sleep study, it seems too good to be true. But of course there's more to this experiment than meets the eye.
There are times Come True feels like a mash-up of Inception, A Nightmare on Elm Street and Jennifer Lopez's The Cell. Weirdly there's also a moment reminiscent of a comic I crafted in 1993 when a young blonde woman wakes to find a shadowy bald figure with glowing eyes by her bed. Which is proof that ideas are universal, whether a film maker has seen a movie or comic, or not.
Full marks to the multi-talented Anthony Scott Burns, who wrote, directed and provided the cinematography for one of the most haunting films of the year.
Julia Sarah Stone is a terrific, natural lead; she pulls off that rare gift of acting without giving the impression of doing so.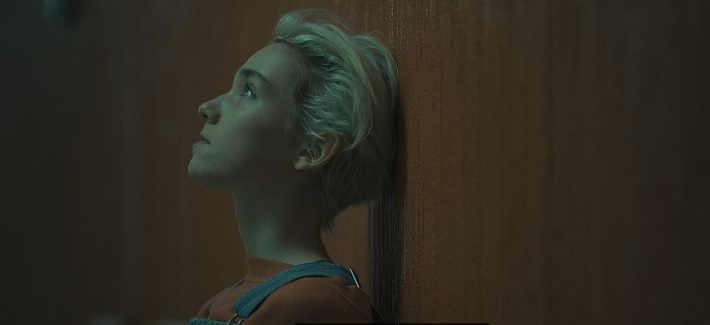 "Anything can happen"
Daniel Radcliffe lookalike Landon Liboiron is also rather good as one of the brains behind the sleep study, and those dream sequences are quite something. There's the odd jump scare, but this is a far more intelligent movie than just scenes of quiet… quiet… BANG!
While some third acts play out with yawnsome predictably, you're never quite sure where this is going. And even up to that final frame it seems anything can happen.
Come True won't be for all tastes. The odd inclusion of dreamy David Lynch-style songs seems at odds with the movie, and there's also a retro Michael Mann/eighties feel at times. Think Hannibal Lecter thriller Manhunter and you get the idea.
Given the denouement it could annoy some, but for my money it's a terrific piece of work which, like exec producer Vincenzo Natali's Cube, is bound to attract a cult following. Turn the lights off and 'enjoy'.
Come True is in UK Cinemas from 12th March, on Digital Download from 15th March & on Limited Edition Blu-ray from 5th April