Jaguar F-Type Four-Cylinder – Review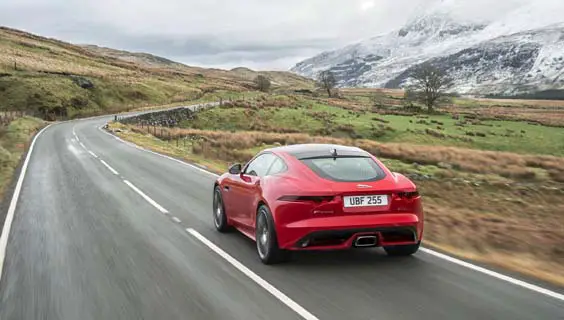 By Liam Bird
When Porsche announced they were going build their Cayman and their Boxster with four-cylinder engines rather than their more familiar (should I have said legendary?) flat-6, the car critics quite literally went into overdrive. "It'll never feel as good". "It'll never sound as good". "They've stolen its character". "A Porsche with a 4 cylinder engine – it's sacrilegious".
I'm paraphrasing of course, but nevertheless there was an outcry. Although some scribes clearly chose not to remember Porsche's 356, the 914, the 550, the 924, the 944, the 968… and a host of other critically acclaimed 4-pot Porsches. The irony of their outbursts being that these days, despite the initial scepticism, both the Cayman and the Boxster are still seen as being the best in their respective classes.
The reason I mention such things is that the whole engine downsizing thing seems to have caught on, and especially so when it comes to sports coupes and very swift soft-tops: Jaguar now offer their F-type with a four-cylinder engine.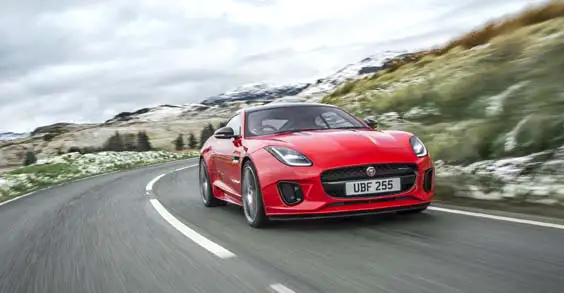 "Slimmer"
Where before you could either have your F with a V6 or a V8, you can now spec it with JLR's 4 cylinder Ingenium engine; the engine they build in Wolverhampton, alongside the ones that are used in Land Rovers – and other Jaguars too I hasten to add.
To be fair there's a bit more to it than that. Jaguar's engineers simply didn't pick any old engine off the production line and then try to shoe-horn it in. The 2.0 litre 4 cylinder unit fitted to the F-type is, in fact, the most powerful Ingenium engine ever: it produces 296 bhp and 295lbft of torque. In order to fit under the F-type's bonnet it gains a new bespoke sump, a double overhead cam set-up, its intake and exhaust manifolds have been tuned so as not to lose all of the F-type sound, it's claimed that it's 16 percent more fuel efficient than the V6 whilst producing just 163g/km of CO2, and perhaps most noticeable of all – from the driver's seat that is – it's responsible (in part at least, the 4 cylinder F-Type get its own set of unique 18" alloy wheels and new slimmer seats too) for a 52kg overall weight reduction.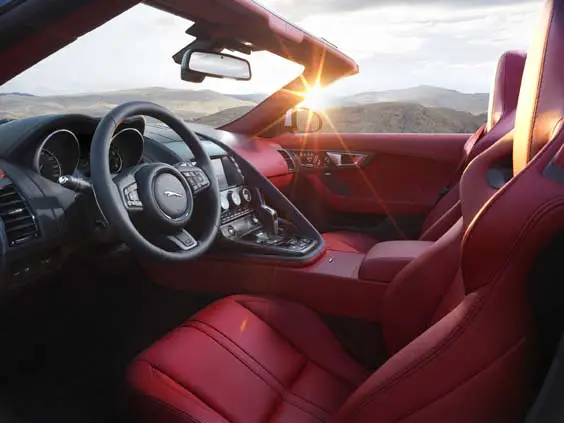 "Progress"
0-62 takes 5.4 seconds. The 4 Cylinder F-type is capable of an electronically limited maximum speed of 155mph. Fuel consumption is claimed to be 39.2mpg combined.
On Jaguar's sinuous Welsh B-road blast between Welshpool and Betws-y-Coed, via Bala, The Berwyns, and back via Blaenau Ffestiniog – the very roads in fact upon which the F-type was originally developed – you'll be glad to know we never saw 155mph (We've no reason to not believe the 0-62 times however!). And neither did we see anywhere near 39.2 mpg.
For us, high teens were as good as it got; 19.6 was the best we saw all day. But some of those Mid-Walian hills are quite steep y'know, and we were "making progress". Nevertheless once free of Welshpool's infamous one-way system what soon became apparent was just how much more alert and lively the new lesser-cylindered F-Type actually feels.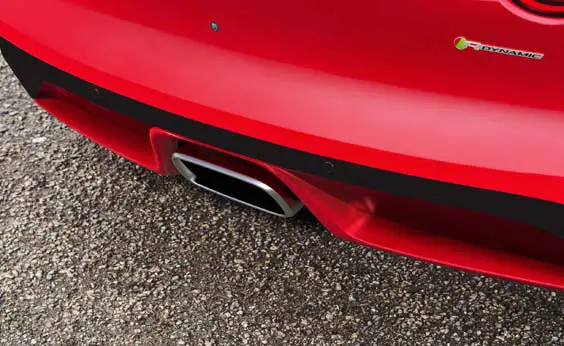 "Balanced"
Dimensionally of course it remains the same, and in places, especially on a "back-road" – as the locals call them – like all F's it can feel a tad wide. But those new 18 inch rims and some new tweaked (read softer) spring and dampers rates mean there's a new found compliance to the way in which the B-road bumps are ironed-out. Plus, because most of the weight reduction has taken place over the front axle the F-type now feels more agile. It's now far more eager to turn-in. It's more balanced. Dare I say it? It's more enjoyable. F-types of yore have always felt a bit, well, overweight if I'm honest. The diet seems to have done the world of good.
There are a few caveats. The casual observer can tell a static 4-cylinder F-type by its single tail-pipe, but they'll tell a moving one by the way it sounds. Despite Jaguar's best efforts it's far less sonorous. You can still make it pop and bang as you shift down though its eight gears, but no matter how much Jaguar's engineers have tried it just doesn't sing quite like a sporty Jag really should. The brutality of the V8 is missing. The smoothness of the V6 lost.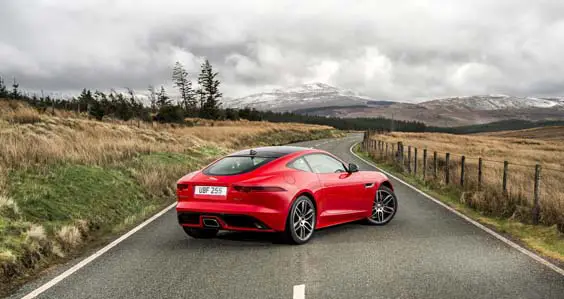 "Cruises past"
But, does any of that really matter?
Judging by the way the 4-cylinder F-type still has the power to make small boys stand agog as it cruises past them in the morning traffic (granted, our car was a white soft-top with a red interior!), the fact that the 4-cylinder F can be yours for under £50k, and that, above all, by reducing its weight Jaguar have turned their GT into a sports-car that you still wouldn't hesitate to stuff full of luggage and set off to sunnier southern climes in – plus, you might even save a few quid on fuel if you drive it carefully – we'd say not.
If anything, the 4-cylinder F-type now feels like the car you always thought the F-type should be. If anything, it's proof of the theory that perhaps sometimes a little less turns out to be a whole lot more.
Jaguar F-Type Four-Cylinder
Engine: 1,997cc in-line 4cyl turbo-charged petrol, with direct fuel injection
Transmission: 8 speed "QuickShift", rear wheel drive.
Power: 296 bhp @ 5500pm
Torque: 295 lbft @ 1500- 4,500rpm
0-62MPH: 5.4 Sec
Max Speed: 155 mph
CO2: 163 g/km
MPG: 39.2 combined
Price: from £49,900