Nightwing (1979) / Shadow of the Hawk (1976) – Film Reviews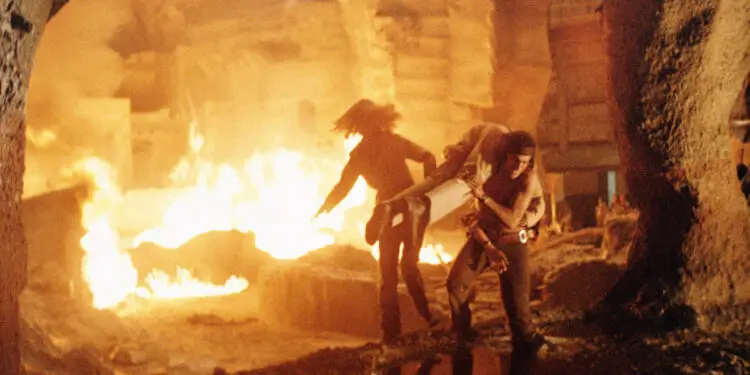 By Sarah Morgan
Native American lore is at the heart of an unusual 1970s double-bill of horror movies.
First up is Nightwing, which is less than the sum of its parts. David Warner, such a reliable face in any number of films across his long and distinguished career, which includes appearances in The Omen, The Man With Two Brains, Time Bandits and Straw Dogs, is the most recognisable member of the cast, while direction comes from Love Story's Arthur Hiller and special effects are by Carlo Rambaldi, who went on to work on Alien and ET.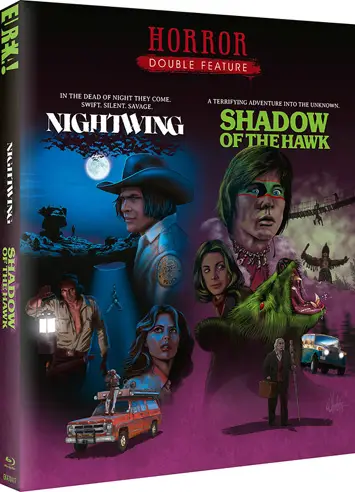 It's fair to say that Nightwing is not the best example of any of their works, although Warner does his very best while hampered with such lines as: "There's no price. I kill vampire bats, that's what I do. I find them and I kill them."
"Unnerving moments"
He plays scientist Philip Payne who turns up out of the blue after a series of bizarre and bloody events take place on a Native American reservation. He's convinced they're caused by a swarm of vampire bats which are not only murderous, they also spread the plague.
There's no explanation of how Payne knows the bats are in the area or why he loathes them so much, but ultimately it might be local boy Duran who holds the secret to getting rid of them forever.
It's not a great movie by any means, and the special effects are, by and large, pretty awful, but there are some genuinely unnerving moments that make the whole film worth a look.
Shadow of the Hawk, meanwhile, was released three years earlier in 1976, the same year that one of its stars, Chief Dan George, took on one of his most famous roles, as Lone Watie in Clint Eastwood's wonderful The Outlaw Josey Wales.
George steals that film from under Eastwood's nose with one of the most idiosyncratic and amusing performances ever seen in a western. Sadly, he fails to lift Shadow of the Hawk above average and merely looks slightly embarrassed and bored throughout.
"Ridiculous fight scenes"
He plays an ageing medicine man who must persuade his sceptical grandson to aid him in his battle against an ancient curse.
Jan-Michael Vincent portrays the grandson, and he has two of the most ridiculous fight scenes ever committed to celluloid – one involves a guy in a bear suit (it's certainly a far cry from The Revenant), the other a 'wolf' that's clearly a dog with no intention of biting anybody.
The British Columbia locations look pretty on screen, but that's about the best that can be said of it.
A shame really, because there's a good film lurking within both movies – it's just that nobody quite found them.
'Nightwing' & 'Shadow of the Hawk' are released on Blu-ray as a double feature by Eureka, £24.99