Ferrari Portofino – Review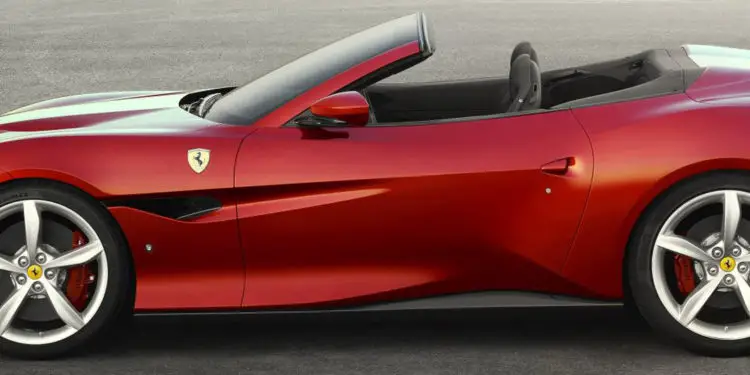 By Liam Bird
Funny, it always seems to rain when I drive a Ferrari. Last year I took a 488GTS to Barmouth and back and the deluge was near-biblical; my drive through Gloucestershire in the four-wheel drive, four seater GTC4 Lusso was accompanied by storms almost as powerful and thunderous as its 6.2 litre V12; and before that, when I drove a 458 (the 488's predecessor and my first Ferrari) it rained so hard a sink hole opened-up on the M25. But then I do tend to drive Ferrari's in the autumn.
The weather perhaps is not such a problem, and presents less of an irony maybe, when Ferrari's nomenclature is – and has traditionally so often been the case – numerical (a Ferrari's number usually refers to the swept volume of one of its engine's cylinders: 488cc x 8 cylinders = 3904cc. Get it?). But, my most recent drive in a product of Maranello just happened to be in their new Portofino, and if ever there was a name to set you thinking of warming summer sunshine.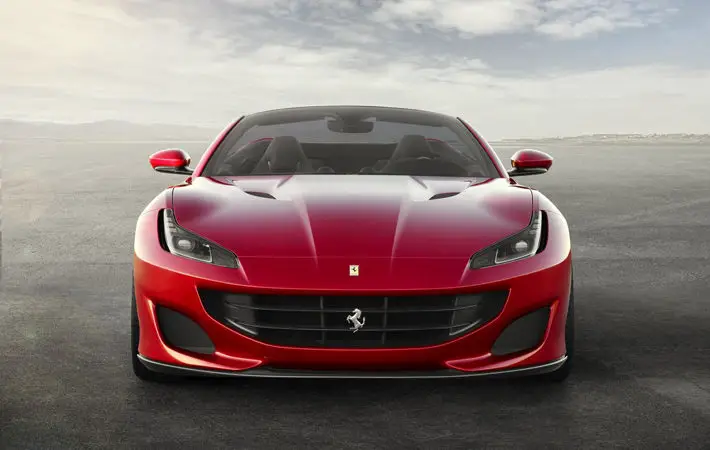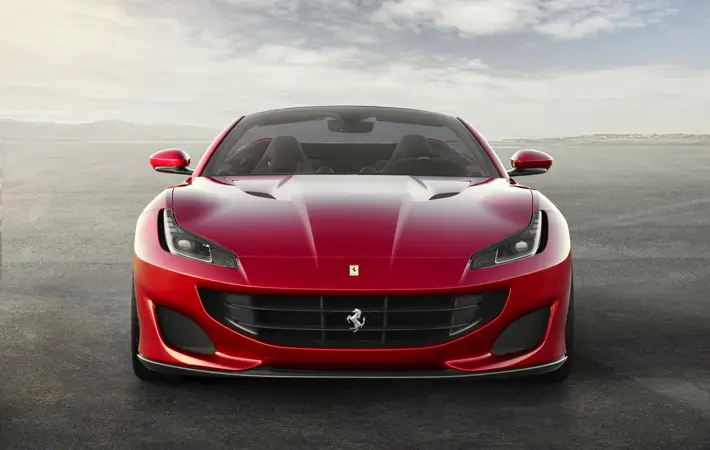 "Beautifully choreographed"
The harsh reality of such an experience being that I live significantly closer to Mid-Wales, than I do the Mediterranean. Oh well…
To add insult to injury, the Portofino, thanks to its very clever retractable hard-top, is a convertible. At speeds up to 30mph a press of a button is all it takes to electronically transform coupe to cabrio – or berlinetta into spider in Ferrari-speak. The beautifully choreographed mechanical marvel in which the roof folds before disappearing rearwards beneath the shapely deck takes just 14 seconds. And as long as you've packed light – the roof and rear window when stowed encroach on what little boot-space the Portofino has to offer – is from a driver's point of view virtually, and thankfully, effortless.
And you've got to hand it to Ferrari's design department, roof up or down the Portofino is definitely what you'd call a looker. There's more than just a hint of Ferrari's back catalogue in its styling, the F12 Berlinetta for instance, not to mention certain elements of the legendary 365 GTB "Daytona" in its silhouette too. "My" Portofino even came with optional Daytona-style seats, complete with embroidered prancing horses no less!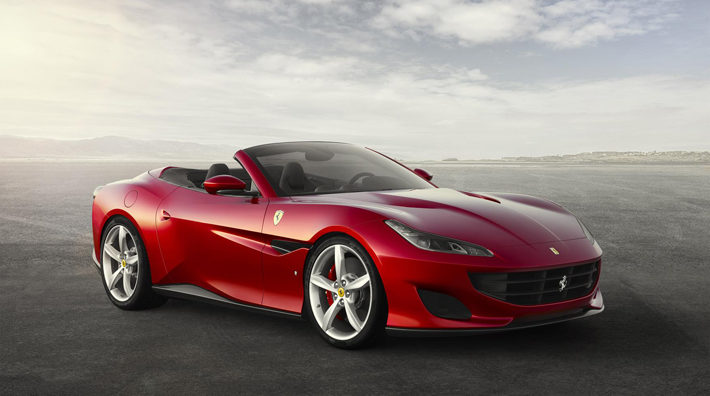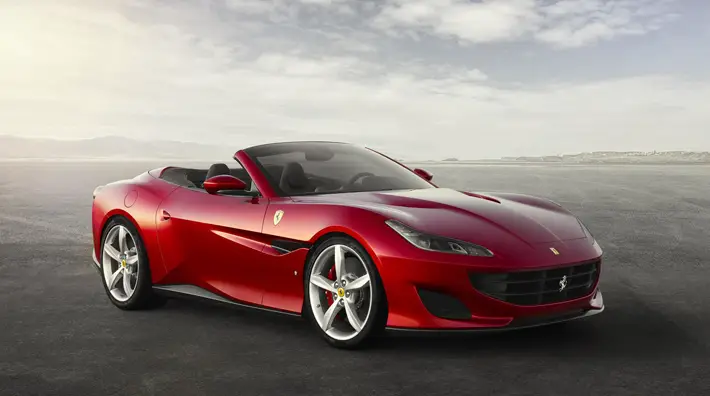 "Sprightly"
There's further familiarity to be found beneath the bodywork, which incidentally is said to be 80kg lighter and significantly stiffer than that of the Portofino's predecessor, the California T.
Power is provided by a thoroughly revised version of Ferrari's 3.9-litre, twin-turbo, 90 degree V8, which in this guise produces 591bhp at 7500rpm and 560lb-ft between 3000-5250rpm whilst emitting 245g/km of CO2. Performance therefore is sprightly to say-the-least; the 0-62mph benchmark being dispatched in just 3.5 seconds, 0-124mph in 10.8 seconds, and the Portofino missing out on entry to the 200mph club by just a single mile-per-hour. Still… surely that's plenty fast enough?
Should such trivialities be of concern to those contemplating a six-figure before-options price tag, fuel consumption – of this, the entry-level Ferrari – is a claimed 24.8mpg (combined).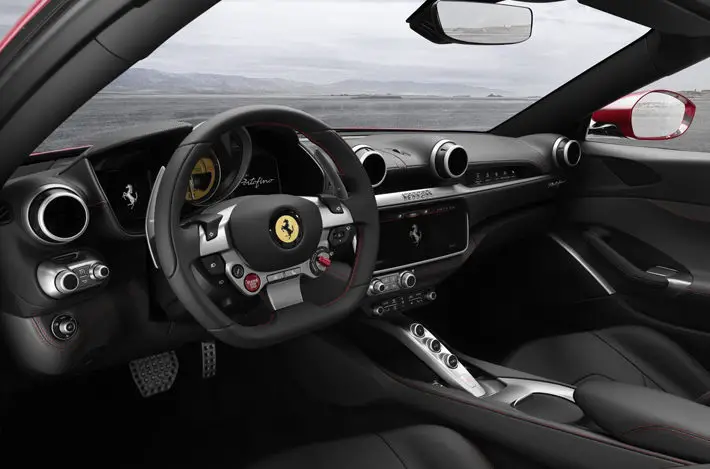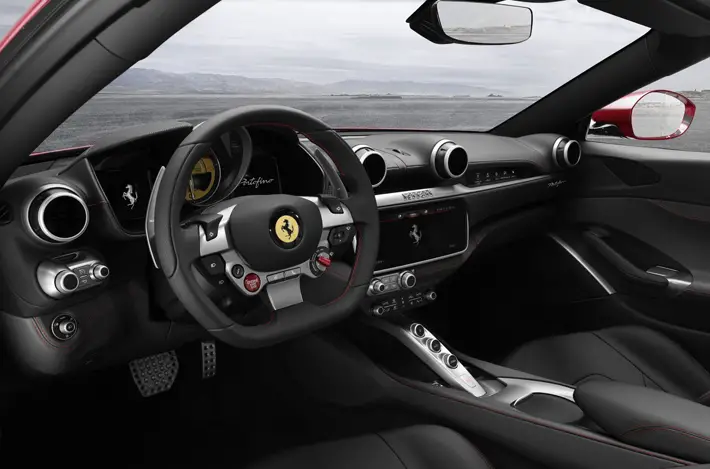 "No turbo-lag"
Speed aside, it's actually the ride and the day-to-day usability for the Portofino that impresses most. According to the Italians: "Much honing of the basic running gear, its components, and their electronic control systems has been done". They've even fitted the latest version of their magnetorheological damping system (I just had to get that word in somehow).
The result of such efforts is instantly evident. The Portofino rides with a compliance you just don't expect of an Italian thoroughbred shod with 285/35 ZR 20 rear boots. There's tyre noise of course and the worst of the British B- roads can still catch those clever underpinnings out, but make no mistakes this a very comfy car in which to soak up the miles.
It's also an entertaining one. Turn the mannettino switch around to its Sport setting and change gears yourself and the Portofino is every bit the racehorse rather than just the show-pony. There's virtually no turbo-lag at all, the electric power steering is both direct accurate, and the carbon ceramic brakes are capable of stopping you on the proverbial six-pence time, and time, again.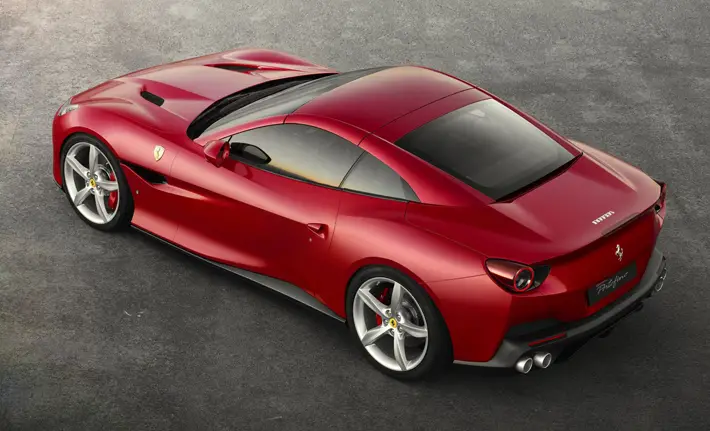 "Make you tingle"
But that's not to say that Ferrari have got the Portofino absolutely perfect. The infotainment system, for instance, feels more than a tad last-season, some of the wobbly minor switchgear is instantly recognisable from having being used elsewhere within the FIAT group, and the Portfino, trust me, is an absolute pain to reverse slowly up an incline.
And it's definitely more of a GT than it is a sports or supercar, too.
If you really want your Ferrari to thrill you, and if you can afford one, buy a 488 instead and wait until the roads are dry. It'll make you tingle all over. But, if what you really want is a Ferrari you can throw a couple of overnight bags in and then drive for hour after hour, and one that'll carry the kids too (the Portofino even has ISOFIX) then look no further than this. This is the Ferrari you'll enjoy whatever the weather.
Ferrari Portofino
Engine: 3,588 cc, V8 Cyl, 48V, turbo-charged, petrol
Transmission: 7 speed F1 dual clutch /E-diff3
Power: 592 bhp @ 7.500pm
Torque: 560 lbft @ 3,000 – 5,250rpm
0-62 MPH: 3.5 Sec
Max Speed: 199 mph
CO2: 245 g/km
MPG: 24.8 (combined)
Price: from £168,386 (car driven £249,084)