Ferrari GTC4Lusso – Review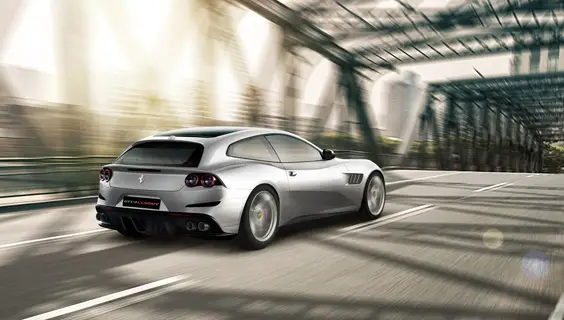 By Liam Bird
Figures were never really my strong-point, so let's get them out of the way first shall we?
Ferrari's GTC4Lusso is a 680bhp, 12 cylinder, 4-seater, 4-wheel-drive, 4-wheel-steer, 0-62 in 3.4 seconds, 0-125 mph in 10.5 seconds, 208 mph all-out super-coupe. It weighs 1,920kg, has a 7-speed dual-clutch gearbox (in fact it has 2 gearboxes, we'll get to that later), and is nearly 5 metres long and very nearly 2 metres wide. It costs £231,310.
That's before options, incidentally. Should you desire such things as carbon fibre front air vents, carbon fibre sill covers or a carbon fibre steering wheel complete with LEDs, rest assured Ferrari will charge you handsomely and accordingly in each case.
Those lovely Scuderia Ferrari shields on the front wings for instance, they're a £1,056 option. A leather boot carpet, that's £1,920. Brake calipers in the same colour as the bodywork (in our case blue) £864. A sports exhaust is £480 – seems like a bargain. Hifi upgrade, that's £3,552, plus another £2,400 it you want Apple CarPlay too. I could go on.
The panoramic glass roof fitted to "our" car is definitely worthy of mention, should you feel the urge it'll set you back £11,520. And no, it doesn't open. The options alone on the GTC4Lusso Ferrari were kind enough to lend me for a long weekend came to £48,912.
"Sublime"
And then there's the fuel consumption: 18.8 mpg – if you drive it "carefully" that is. Who drives their Ferrari "carefully"? I know, it's a different world, especially so for a working-class boy like me who's old enough to remember – just – when that kind of money could buy you a whole Ferrari. The £120 of super unleaded fill-up every 300 miles or so takes some getting used to too.
Viewed solely in cold, hard, figures you could be easily forgiven if you thought the GTC4Lusso a tad ridiculous. But then again, if you chase a ball for a living or play the markets wisely its cost is immaterial; little more than a week's wages. And besides you've probably got more than a few other cars too. All things are relative after all.
Buying and owning, or in my case just borrowing, a Ferrari transports you (please pardon the pun) into a different world. And honestly, the GTC4Lusso is sublime.
There's no other car quite like this. A Bentley Continental, a Porsche Panamera, or an Aston Martin Rapide S can't seat 4 in such comfort – they simply don't offer as much rear legroom. A Rolls Royce Wraith won't go around corners in anywhere near the same way, and neither for that matter will a Bentley Mulsanne, or a Maserati Granturismo. The GTC4 Lusso even has a boot you that can actually store (more than likely bespoke) luggage in; the rear seats even fold down.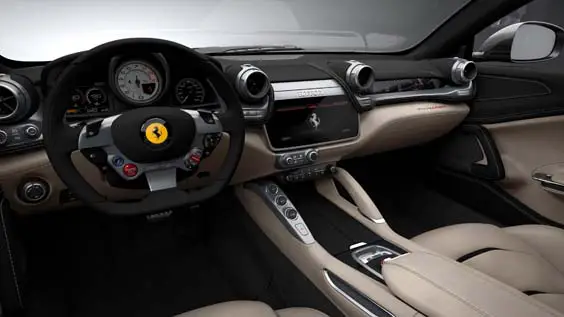 "Extremely rapid"
And as I mentioned earlier, it's four-wheel drive. That second gearbox is a two speed 'power transfer unit' (PTU) that sits ahead of the engine and is driven directly from the crankshaft – with two wet clutches, one for each front wheel. The lower gear works during first and second on the rear, or main gearbox, the higher gear in third and fourth. Trust me, nothing this side of a Learjet will get you and three friends to your Ski Chalet in Klosters quicker.
And of course it sounds magnificent. It's a Ferrari. What did you expect? Under that near airfield sized bonnet sits a naturally aspirated V12. It's an all-alloy work of art, and it's been mounted a long way back so the there's 52/48% front /rear weight distribution. Twist the steering wheel mounted manetino around to sport and the throttle response is instant.
And yet it's not intimidating. Yes, this is an extremely rapid car should you want it to be – drop a gear or three via the aluminium paddle shifters and this prancing horse really will gallop. Grip is prodigious and although it's a grand-tourer first and sports car second it rarely complains, despite its size, if you need to press on. It's surprisingly agile.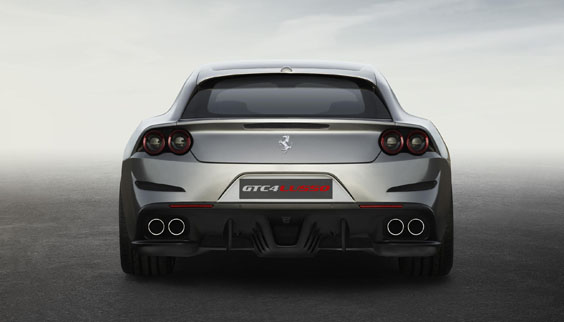 "What an experience"
The ride too is far suppler than you might have expected. Yes there's tyre rumble – look at the size of them – and the steering wheel doesn't have enough reach adjustment for it ever too feel not too far away. But once clear of the morning traffic and with the Magnaride dampers set to bumpy road (I kid you not) you feel like you drive this car all day long, and then well into the evening.
The interior has been designed and crafted from the finest materials – it smells wonderful – and should you choose to spec it, front seat passengers not only have their own touch-screen dashboard atop the glovebox, but also full access to the infotainment system, accessed via the centrally mounted and beautifully clear 10.25" central screen. They can set the sat-nav, choose the tunes, set the temperature and heated seat settings, make a phone call, or just sit back and see how fast their going and in which gear. It's what Ferrari call calls 'democratizing the driving experience'.
And what an experience it is. The noise of the engine, the aroma of the leathers, the performance, and of course the reactions of the bystanders; Ferraris somehow draw people's praise and glance like no other car.
It all adds up to make driving the GTC4Lusso an event: an experience to be savoured, an experience to be enjoyed. However much you try, you simply can't put a price on that.
Ferrari GTC4Lusso
Engine: 6,262cc V12 Cyl 48V petrol
Transmission: 4 RM EVO/ 4WS / 7 speed F1 dual clutch /E-diff
Power: 680 bhp @ 8000pm
Torque: 514 lbft @ 5,750rpm
0-62MPH: 3.4 Sec
Max Speed: 208 mph
CO2: 350 g/km
MPG: 18.8 (combined)
Price: from £231,310 (car driven £280,222)